Galoya Plantations is set to rewrite Sri Lanka's energy history by producing CNG (CH4) using molasses-based vinash, a by-product of the sugar industry which can be used as an alternative to LPG.
Since the 1970s, sugarcane in Brazil has been used as a source of energy for electricity and biogas (Biomethane). Today, many cities, including Narandiba, Pirapozinho, and Presidente Prudente, with a combined population of 264,000 people, use Biomethane instead of LPG.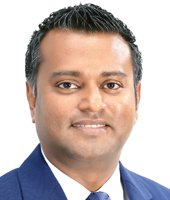 Danesh Abeyratne
"We have successfully completed the R&D in this regard," said Executive Director of the Galoya Plantation Company, Danesh Abeyratne.
He said that some sugarcane-producing countries use this technique to produce CNG from molasses-based vinash as a substitute for LPG.
"We also hope to follow this successful pattern and introduce cooking gas from sugarcane to the local market, as it is at least 50% cheaper than LP gas," Abeyratne said.
Global researchers have confirmed that molasses, a by-product of the sugar industry, has a high concentration of carbohydrates that can be broken down anaerobically to produce biogas.
Gal-Oya Plantations Distillers, which once produced the popular 'Gal Arrack,' will once again begin producing local spirits, including 'Sugarcane Vodka,' with an eye on the export market.
Abeyratne said that they had to wait nearly 15 months to obtain the licence to produce local spirits after commissioning the plant in January 2017.
The distillery complex is designed to produce 21,500 litres of ethanol, 10,000 M3 of biogas, 7,000 MT of compost per day, and various other by-products.
Due to their increased production, they have conserved savings of around USD 95 million for the country, which would otherwise have been allocated to import ethanol.
"The highest production in the history of Hingurana Sugar Industry was 15,735 MT in 1978. With unwavering dedication and strategic collaborations, we have achieved prominence and posted a Profit After Tax of Rs. 5.6 billion for the 2022/23 financial year and expect to increase to Rs. 6.1 billion PAT for 2023/24 FY," he said.
Abeyratne said that they have paid around Rs. 1,430 million in taxes to the Government since its launch, including Rs. 600 million as corporate income tax for 2022/23.
Gal Oya Plantations resumed operations after 15 years.