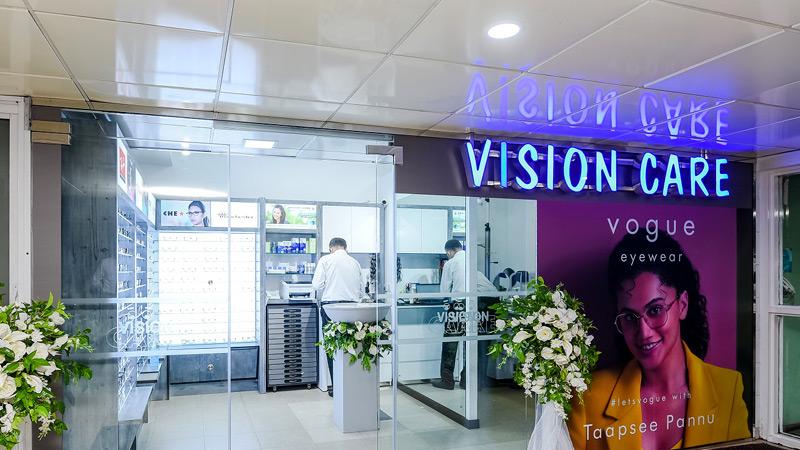 6thJune 2023, Colombo:Vision Care, Sri Lanka's largest vision and eye wear solutions provider,expanded its islandwide network with the opening of its latest branch located at Asiri Surgical Hospital, Colombo 05. Asiri Surgical Hospital is one of the pioneers in private healthcare offering a wide range of specialized surgical services and latest medical treatments with modern, advanced technology.
The new branch was ceremonially opened by Vision Care's Chairman DasanthaFonsekaand Managing Director JanakaFonseka,in the presence of several Vision Care staff members and well-wishers.
Located at Asiri Surgical Hospital,No. 21, KirimandalaMawatha, Colombo 05, the new branch offers ample parking and a fresh modern look along with a wide selection of products and services including spectacles, sunglasses and contact lenses. It is outfitted with state-of-the-art eye care equipment expertly handled by Vision Care's well-trained, highly-experienced professionals. In addition to eye care solutions, customers will find a wide range of high-quality, stylish sunglasses and frames for every budget and lifestyle.They can choose from top international eye wear brands such as Ray-Ban, Vogue,Emporio Armani, Polo Ralph Lauren, Polaroid, Vintage, PolarSun, and many others.
With over 30 years of service excellence, Vision Care is in the process of expanding its network of branches with the aim of serving as many Sri Lankans as possible. All Vision Care branches are guaranteed to provide the best quality eye care solutions to customers. The company intends to continue to add new branches and upgrade existing ones in the future in order to bring Vision Care's world-class products and services to their customers' doorstep, thereby enabling them to easily and safely access eye and hearing care of international quality.