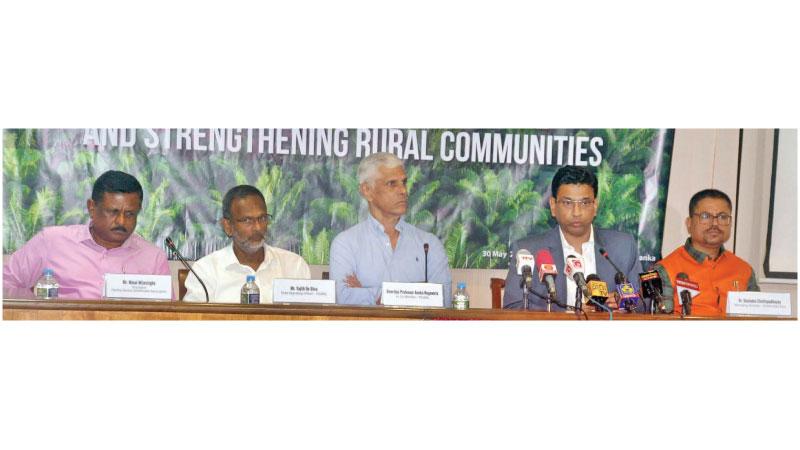 India, which is one of the largest consumers of palm oil, spends around USD 6 billion annually to import palm oil, said Managing Director, Solidaridad Asia, Dr. Shatadru Chattopadhayay.
He said that to reduce this huge import bill and to make India self-sufficient in palm oil, Indian Prime Minister Narendra Modi has launched a mega plantation drive of palm oil cultivation spanning millions of acres.
"Sri Lanka also spends around USD 200 million to import palm oil and the island too should consider the lifting of the current oil palm cultivation ban (imposed by a previous government) and start replanting.
"By doing this Sri Lanka will be transforming a lost opportunity into a lucrative and sustainable industry, he said at a press conference hosted by the Asian palm oil Alliance, a multilateral body representing the industry in Asia," Chattopadhayay said.
He said that one common myth against the cultivation of palm oil is that it dries up water resources. "If this is correct why India would launch a mega program to grow palm oil along with countries such as Indonesia, Malaysia and Philippines and African countries," he asked.
With over Rs. 11 billion in direct and indirect contribution to Sri Lanka's GDP, the oil palm plantation and milling sectors play a pivotal role in the nation's economic landscape.
"Approximately 60% of this economic impact stems from the plantations, while the remaining 40% arises from the milling sector. These sectors create over 5,000 employment opportunities, supporting the livelihoods of around 21,000 individuals," Chief Operating Officer, POIASL (Palm Oil Industry Association of Sri Lanka), Yajith De Silva
"As a result of the high-value crop and outsized demand for palm oil, the industry also has the potential to generate high-income employment, with an average monthly income of Rs. 185,000 per employee." This is significantly higher, in many instances by a factor of two, when compared with workers involved in tea, rubber, coconut and other plantations.
President Haritha Derana Smallholder Association, Nimal Wijesinghe said that if the government grants approval to replant palm oil, many farmers can get involved in this lucrative business and soon the government would be even in a position to do away with the Samurdhi recipients for them.
"It is crucial to thoroughly evaluate the economic benefits associated with oil palm cultivation, along with its present and potential future contributions to GDP, rural development and alleviation of poverty," said Ex Co Member, POIASL and Emeritus Professor Asoka Nugawela
"Instead of misguided policies, without proper assessment, we should consider the positive impact palm oil can have on our nation's sustainable development," he said.