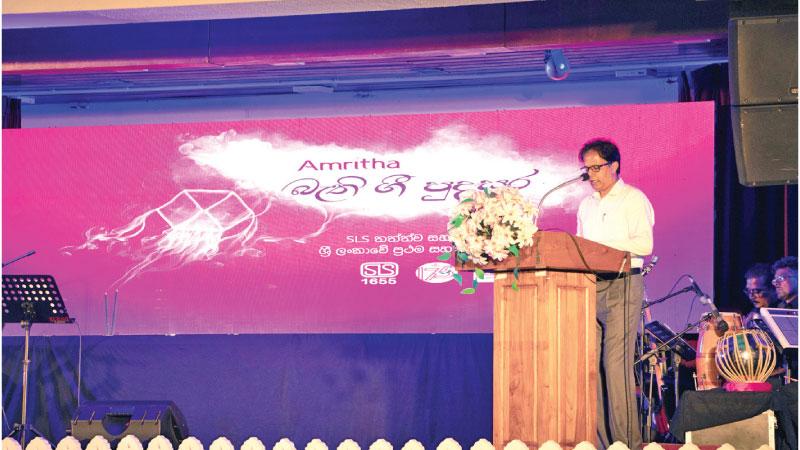 Darley Butler & Company, one of the leaders in the local incense sticks market, launched "Amritha Bathi Gee Pudasara" for the promotion of Sri Lankan Bodu Bathi song literature at the Sri Lanka Foundation Institute in Colombo recently.
Under the initiative of, the head of the Atamasthana and the head of the Sanghanayake of Nuwara Kalaviya, Ven. Pallegama Hemarathana Thera and the guidance of Prof. Pathegama Gnanissara Thera and Prof. Praneeth Abhayasundara, many guests, including lay guests, experts in the art field, and the management of Darley Butler Company, also participated in this ceremony.
This album, 'Amritha Bathi Gee Pudasara', produced by Darley Butler Company Limited for Sri Buddha Year 2566 Sambudhu Themangula, has been created with the contribution of many skilled and talented artists in the Sri Lankan music industry. Dr. Nanda Malani, artist Latha Walpola, Sangeet NipunSanathNandasiri, Sunil Edirisinghe, T.M. Jayaratne, Ishaq Beg, Dayan Witharana, and Shanika Sumanasekara have contributed, and the lyrics have been penned by Balangoda Ananda. Maitreya Maha Nahimi, Ven. Rambukkana Siddhartha Thera, Professor Praneeth Abhayasundara, Sunil Sarath Perera, Kularatne Ariyawansa, Mahinda Dissanayake, Samudra Vettasinghe, and Vajira Mahakanumulla's creative contributions have been made. It is also special that all these songs have been composed by Dr. Rohana Weerasinghe, Navarathana Gamage, and Mahinda Bandara, the most renowned musicians in Sri Lanka.
The art of Sri Lankan Buddhist devotional music is an art that has many identities that we have inherited. The 70s and 80s are known as its greatest period due to the contributions of many brilliant creators of that era. At a time when this tendency is slowly disappearing in the present generation, Darley Butler Company presents this 'Amrita Bathi Gee Pudasara' collection of songs with the contribution of many talented and expert creators to the people in the hope of giving them the opportunity to experience the Bodu Bathi Gee.
One of the objectives of this work is to make the creators understand the value and social need of the art of creating Bodu Bakthi songs in a background where the trend of creating Bodu Bathi songs is slowly fading.
Commenting on this unique event, Anura Mannapperuma, Amrita Brand Manager, said, "As Darley Butler company, our ultimate goal is to do something good for society. In that work, we have been able to become the first product to win the SLS standard certificate in the local incense product market. Going beyond business excellence and creating righteous people with discipline in society, the aim of our 'Amrita Bathi Gee Pudasara' hymn is to take the essence of Buddhism to them through a hymn.''