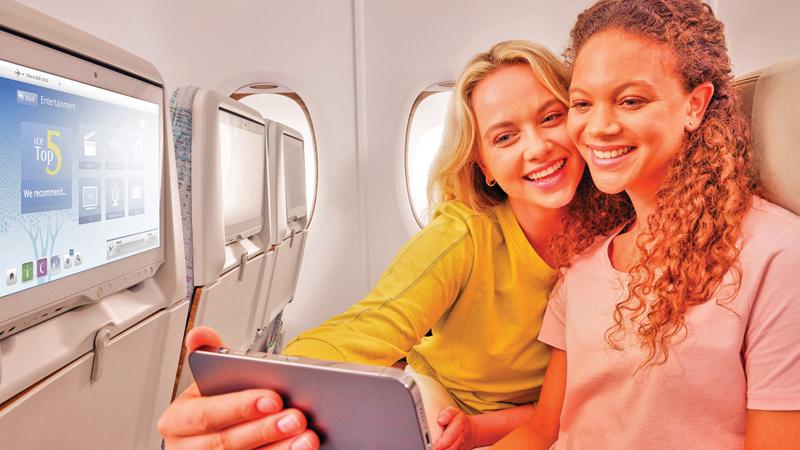 Dubai, UAE: A recent enhancement to Emirates' inflight connectivity means that all Emirates passengers in every class of travel can enjoy some form of free connectivity once they sign up to Emirates Skywards. The development has resulted in an additional 30,000 Economy Class passengers connecting to complimentary onboard wi-fi every week.
Emirates has to date invested more than US$ 300 million dollars into onboard connectivity.
All Emirates Skywards members in every class of travel can now enjoy some form of free connectivity. Skywards members, whether Blue, Silver, Gold, or Platinum tier, travelling in any class, whether Economy, Premium Economy, Business or First Class will enjoy free app messaging. Additionally, First Class passengers will have unlimited free internet if they are Skywards members, enabling them to shop or work online while inflight, as will Silver, Gold and Platinum Skywards members travelling in Business Class. Platinum Skywards members have complimentary internet access in all classes.
The increase in free connectivity has been very well received by Emirates' passengers following changes in January 2023 and the airline today sees an average of 450,000 users per month.
This represents a 30% increase of passenger use in 2023 versus the same period last year. Currently almost 10% of all passengers are utilising the complimentary onboard wi-fi. On routes through the Americas, almost 20% of passengers connect to wi-fi onboard, and on European and Africa routes the usage is over 11% of all passengers.
SVP Retail, IFE and Connectivity, Patrick Brannelly said, "Emirates has persistently worked with our service providers to optimise and improve the connectivity experience. In March we delivered about 55% more data per customer session compared to early 2022 despite the number of sessions increasing by 68% in the same period. We will continue to work to invest in upgrades and enhancements, and our A350 aircraft will arrive with the next generation of satellite connectivity already equipped."