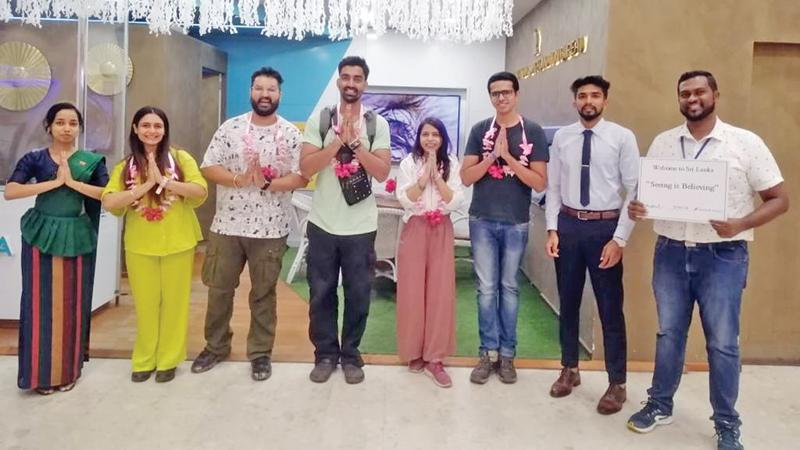 Leading hospitality and travel entities in the island including Cinnamon Hotels and Resorts, Walker's Tours, Aitken Spence Hotels, Aitken Spence Travels, Jetwing Hotels, and Jetwing Travels, have teamed up with the Sri Lanka Tourism Promotions Bureau and SriLankan Airlines to unveil a influencer campaign titled "Seeing is Believing," to increase the number of tourist arrivals from India.
This strategic collaboration aims to showcase the beauty and wonders of Sri Lanka as an unrivaled travel destination for Indian tourists.
By harnessing the popularity and reach of Indian influencers, this campaign seeks to capture the attention of millions of potential travellers and ignite their desire to experience the enchanting sights and experiences Sri Lanka has to offer.
Around 50 influencers/content creators are due to tour the island in batches during the year, on specially curated itineraries, to suit their travel interests and followership. These influencers were selected by Sri Lanka Tourism Promotion Bureau through a stringent process from among 150 potential influencers.
The influencers will embark on an immersive journey, sharing their authentic experiences as they explore Sri Lanka's iconic landmarks, rich culture, tantalising cuisine, and breathtaking natural beauty.
Minister of Tourism and Lands, Harin Fernando said, "We are thrilled to receive such a proposal from heads of such esteemed organisations with the objective of promoting Sri Lanka as a dream destination for Indian travellers. Through 'Seeing is Believing,' we hope to showcase the hidden gems, extraordinary experiences, and warm Sri Lankan hospitality that awaits them. This campaign is a testament to our collective efforts to reignite tourism and foster stronger ties between India and Sri Lanka and will be an excellent model to carry forward with rest of the partners."
Chief Executive Officer of SriLankan Airlines, Richard Nuttall said, "We have always supported destination promotional endeavors and we are happy to collaborate with all the like-minded entities in the latest initiative, 'Seeing is Believing' campaign.
India is our single largest market with nine connecting points and we have always valued its stature as a leading tourism generating market for Sri Lanka.
"We are hopeful that a program of this scale would have immense positive impact in positioning Sri Lanka as a viable short haul destination to Indian leisure travelers," he said.