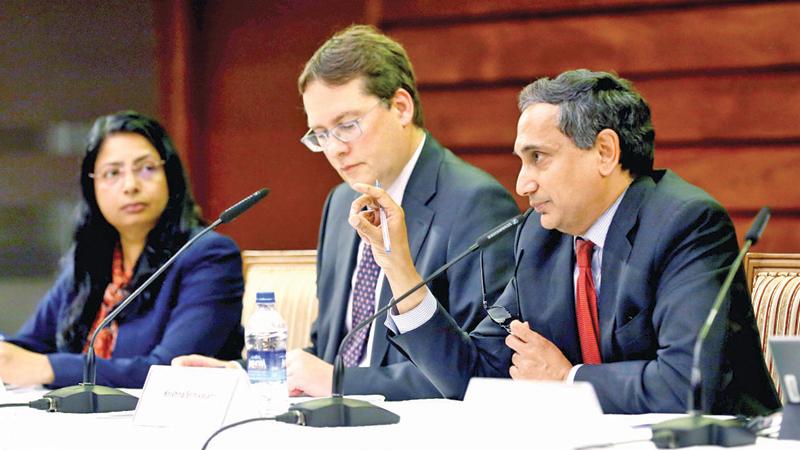 Sri Lanka's authorities are engaged in their surveillance exercise over the financial system to look at the quality of the assets that the banks have and what implications they have in terms of capitalisation levels.
"These surveillance exercises have shown that there is financial stability in Sri Lanka at the moment and we are comfortable with this," said Senior Mission Chief for Sri Lanka, Asia and Pacific Department, IMF Peter Breuer, at the IMF Press conference in Colombo on Monday.
Sri Lanka had to meet a number of prior actions some of which were quite extensive and Sri Lanka made all of them. "So, it's important to recognize the fact that Sri Lanka did show commitment to the IMF reforms efforts."
Addressing corruption and improving governance are some of the key pillars of Sri Lanka's IMF program and the government seems to be addressing these issues in the right direction as well.
Director of the Asia and Pacific Department, IMF, Krishna Srinivasan said that it's an important part of the program to restore debt sustainability.
"We do have a keen interest on the domestic economy, the domestic financial stability and the financial system continue to work and that they are stable.
Anti-corruption and governance reforms are imperative to ensure the hard one gains from the reforms benefit the Sri Lankan people.
Sri Lanka is also strongly looking at curbing corruption and to this effect the country has entered the 'The Governance Diagnostic Exercise' program and is the first country in Asia to do so. Governance Diagnostic is something which we have done for a few countries and this will identify key governance weaknesses and corruption vulnerabilities.
Sri Lanka has already started implementing many of the challenging policy actions in these areas. It is now essential to continue the reform momentum on the strong ownership of the authorities and the Sri Lanka people more broadly. Economic impact of reforms on the poor and vulnerable needs to be mitigated with appropriate measures.
"In this regard, we welcome the authorities' firm commitment to strengthen social safety nets, including through a minimum spending floor, while targeted spending through the new social registry and establishment of objective eligibility criteria."