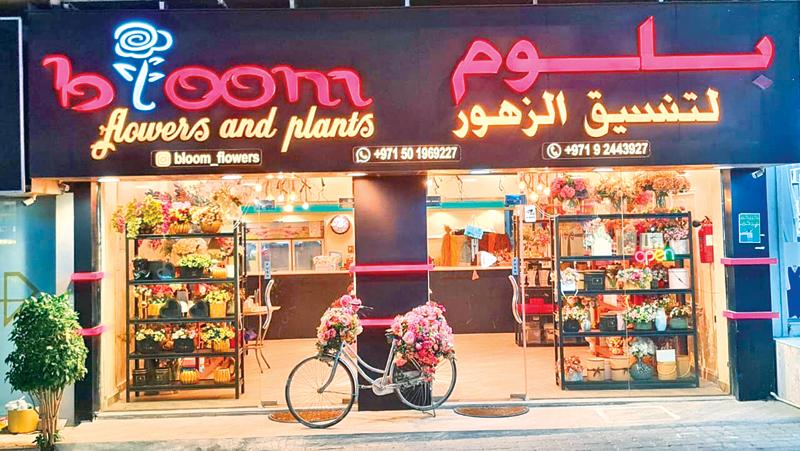 Hailing from a hamlet in Tissa and born to a family of six, she had a passion towards fauna and flora even during her teenage days.
During the early 1980s there were no major openings to pursue her dreams of converting her passion for fauna and flora to a profession.
Hence Damayanthi Punchihewa (Angel) though very disappointed with the situation in Sri Lanka never gave up and focused her attention overseas to pursue her dream.
At this time her two elder sisters, Lalitha and Jayanthi were working in the UAE and she pleaded with them to find her some opening where she could get herself involved in her passion.
The two sisters first got Angel to Fujairah, UAE and then after a brief layover found her a job at a flower shop in Fujairah under an Iranian lady entrepreneur.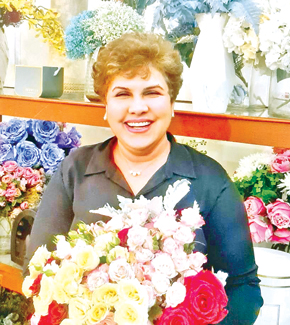 Damayanthi Punchihewa (Angel)
"This was a dream come true for me and I worked with dedication and introduced several novel features to the flower shop which made it a much sought after place in the city. The owner too was very happy with my work and I was given a good pay hike and additional responsibility."
"However, I felt that I could start on my own and resigned after working with dedication for nearly 14 years. My Iranian lady boss was very unhappy with my decision and I was given only half of my due gratuity."
"I was breaking down due to this and stayed indoors in isolation for several weeks. At one time I wanted to pack up and come back to Sri Lanka but I did not want to burden my parents. However, with my 'Never say Die' attitude I opened a grocery store under the name 'Lanka Grocery'.
"It was a success and using all my savings and the gratuity money I received, I then started moving to the horticulture business starting my own flower shop, 'Bloom Flowers and Plants' in Dibba, Fujairah. This was opened 60 km away from the place I worked as I did not want to compete with them or duplicate their business."
"But this was not a success as there was not a single walk-in customer for almost two months. One day by chance I met a Sri Lankan chef Tyronne David and hotelier Niranjala Liyanage and through their contacts I started supplying flowers to hotels."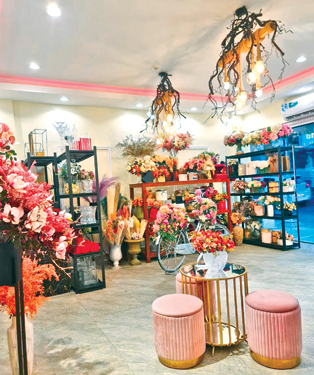 "I never gave up hope and then slowly customers started coming in and due to increased business I expanded my shop and commend direct flower imports through agents in the Netherlands and some African countries to meet increased demand. I also imported foliage from Sri Lanka."
"Being a single mother I had additional responsibility to look after and educate my son which I did successfully and today he is reading for his masters in Biomedical Engineering in Ukraine. He is currently in Germany.
"However, due to some unforeseen circumstances I had to fold up my grocery operation and open a Sri Lanka restaurant alongside my flower shop.
"With the remarkable success from these two ventures I reinvested my profits in properties in Sharjah and Sri Lanka. "Now I plan to expand my restaurant business (Sausiri restaurant) and also open a second flower shop in a different Emirate," said Punchihewa.
Asked why she is not keen on launching a venture in Sri Lanka, she said that today Fujairah is like her second home and prefers to do business there. "However, I bring most of the profits back to Sri Lanka and I am engaged in several CSR projects in Sri Lanka to give back something to my motherland."
"My business involves providing fresh flowers for walk-in customers, private and corporate functions, weddings décor and gift wrapping and also artificial and dry flowers," she said.
She recalled with sadness that she was ridiculed and looked down upon specially by Sri Lankans in Fujairah when she lost her job and the flower shop did not have any customers. "But I was determined to continue and this brought me success."
"If you have a passion for some field you should be bold and start your own business, do not give up when there are challenges, but continue and then success will come your way."
She said that Sri Lanka's horticulture industry has a huge potential to gain forex and more local entrepreneurs should look at exports.