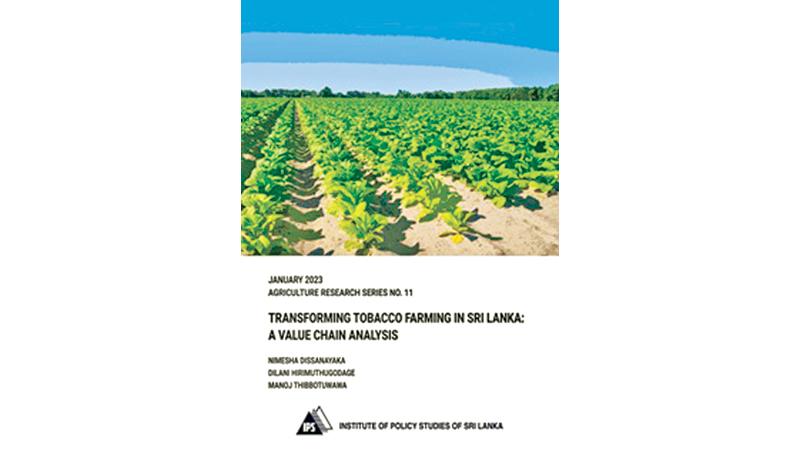 A new publication from the Institute of Policy Studies of Sri Lanka (IPS) finds strong evidence that tobacco farming is not a particularly lucrative enterprise for most smallholder tobacco farmers in Sri Lanka.
The study notes that tobacco farmers can earn better profits from cultivating other crops such as chilli, brinjal, carrot, bitter gourd, cabbage and big onion. The IPS study examines the potential for transforming tobacco farming through possible alternative cropping strategies in Sri Lanka. As such, the findings of this study will be of particular relevance to policymakers in Sri Lanka in their efforts and strategies on shifting farmers away from tobacco production to more economically, socially and environmentally sustainable crops.
The latest IPS publication, 'Transforming Tobacco Farming in Sri Lanka: A Value Chain Analysis', is authored by Nimesha Dissanayaka, Dilani Hirimuthugodage and Dr Manoj Thibbotuwawa. As part of a drive to reduce tobacco use, the Government declared in 2017 that tobacco farming would be banned in the country by the end of 2020 and initiated a program to convert tobacco farmers to alternative crops. However, the timeline for the ban has already lapsed without desired outputs.
Although the Govt monitors tobacco cultivation, it doesnot support tobacco production as similar to the other crops cultivated in Sri Lanka. The latest statistics indicate a significant decline in both the tobacco cultivated area and production, leaving only 1,142 hectares, a mere 0.04 per cent of agricultural land and a production of 9,224 MT in 2020. Thus, this research explored the possibilities of transforming tobacco farming in Sri Lanka using secondary and primary data from a sample survey. The study finds several crucial features of tobacco farming that should help policymakers better evaluate any potential of transforming into alternative cropping strategies.
The study presents the following recommendations, which are based on a four-element framework - identifying alternatives, enhancing productivity, facilitating commercialisation, and strengthening policy:
The National Agricultural Research System (NARS) should be deployed to determine the suitability of identified alternatives considering production, marketing, commercialisation, and policy potential.
New technologies that have the potential to enhance agricultural productivity and income and to build the resilience of farmers should be developed and applied through timely and reliable extension services.
Investments should align with inclusive business models and value chains such as Public-Private-Producer-Partnerships (4Ps) to facilitate commercialisation. The farmer organisations could be strengthened to involve in agriculture marketing and build links with modern value chains.
Strengthening the policy framework to create an enabling environment for these new livelihoods and business strategies through targeted policy and resilience-building action is vital. These include developing the rural agricultural financial markets and financial literacy of farmers that can further incentivise small farmers.
The authors said that these supply-side measures could be complemented with demand-side measures to disincentivise the manufacturers, such as laws, penalties and taxes to prevent existing non-tobacco farmers from joining the industry. They further stressed that continuing price increases through tobacco taxation should be adopted with greater awareness creation.