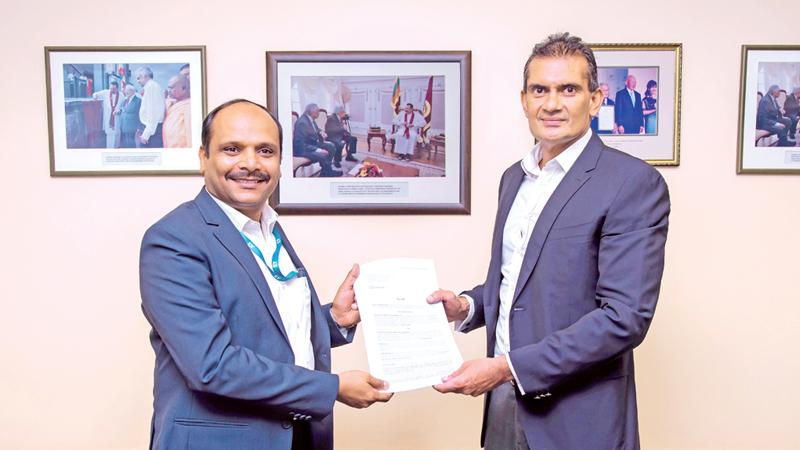 EY Global Delivery Services (EYGDS), a dynamic and truly global delivery network, opened a facility at the World Trade Centre, Colombo.
EY GDS consolidated the move by signing a lease agreement with Overseas Realty (Ceylon) PLC, the owner, developer and manager of the iconic World Trade Cente, Colombo last week.
EY GDS will offer business and technology consulting and audit services anchored on advanced digital skills via the facility at WTC Colombo. From technology consultants to qualified accountants, EY GDS offers various career opportunities that evolve with industry trends. In Sri Lanka, they will hire talent with next-gen and emerging technologies and skillsets, including – Cloud, Big Data, AI /ML, Cyber, data and analytics and Chartered Accountants for this new venture.
'We are very excited to commence the EY Global Delivery Services journey in Sri Lanka with an office in WTC, Colombo. At the outset, EY GDS Sri Lanka will provide technology and business consulting and audit services, complementing our existing global strength and enabling us to serve EY clientsmore holistically, "said Mukul Pachisia, Global Operations Leader, EY GDS.
Supported by over 65,000 professionals in 19 cities across eight countries- including Argentina, China, India, Hungary, the Philippines, Poland, Sri Lankaand the United Kingdom – EY GDS continues to increase its presence in key markets across the globe.
"We are excited to welcome EY GDS to our prestigious list of tenants at the WTC Colombo and provide an opportunity to experience the best of design, facilities and services to enhance their business performanceStated Mr. Pravir Samarasinghe, Group Director /CEO of Overseas Realty (Ceylon) PLC.
Uniquely located in the heart of the Central Business District, the twin towers of the World Trade Center comprise 39 floors housing 750,000 sqft of prime "A"Grade office space.
The WTC Colombo is the exclusive license holder for the global trademarks "World Trade Center"and "WTC"owned by the World Trade Centers Association.
The World Trade Center, Colombo, completed its refurbishment program in April 2021 to provide superior facilities and services to tenants and visitors, which is a strong testament to the company's dedication and commitment to excellence in providing quality office space. Further, the iconic landmark building continued to operate uninterrupted 24/7 during the pandemic.
Since its inception, the World Trade Center, Colombo has remained Colombo's most coveted commercial landmark, as well as the most sought-after business address hosting the largest business-to-business network under one roof.