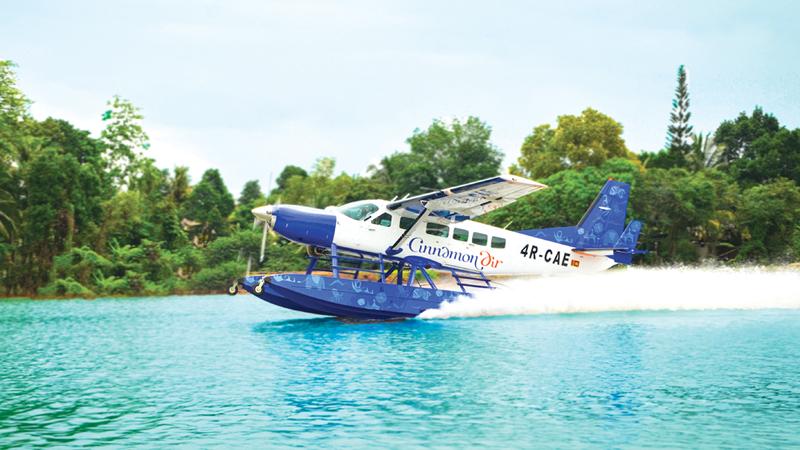 Domestic airline, Cinnamon Air launched the construction of a new aircraft maintenance hangar at the Bandaranaike International Airport (BIA) recently.
Relocation to the new hangar will enable Cinnamon Air to conduct aircraft maintenance activities at a location adjacent to its own terminal, thereby being the only domestic airline to have its own terminal and hangar within the precincts of BIA.
"At Cinnamon Air, we are continuously exploring new avenues to enhance our service by streamlining our operations," Director, Saffron Aviation (Pvt) Limited (the company that operates Cinnamon Air) Bernard Goonetilleke said.
"By undertaking aircraft maintenance operations at the new hangar adjacent to our own passenger terminal, among many other benefits contributing to enhanced operational efficiency, we will be able to substantially shorten aircraft taxiing times between the two points, which currently involves crossing the runway used by international flights.
"By implementing infrastructure improvements such as relocation of our maintenance Hangar, we are preparing ourselves to deliver a more streamlined service when the demand for domestic air travel in Sri Lanka resumes. Although the tourism industry, the key demand creator for our service, has declined due to the pandemic, we are confident that it will recover in the near future, as indicated by improvements in regions such as Western Europe, North America, and the Australian continent, key origins of high-end tourists visiting Sri Lanka," he said.
Cinnamon Air owned and operated by Saffron Aviation (Pvt.) Limited, is a joint venture between Sri Lanka's largest listed conglomerate, John Keells Holdings PLC, MMBL Leisure Holdings (a member of MMBL-Pathfinder group), and Phoenix Ventures (parent of the Brandix Group).
Since the beginning of its domestic airline operations in 2013, Cinnamon Air maintained its own fleet of Cessna 208 series amphibian and fixed wheeled aircraft with a team of experienced professionals at a hangar within the premises of the Sri Lanka Air Force base in Katunayake.
While being located in Katunayake, Cinnamon Air leased the site for the new hangar from Airport and Airport and Aviation Services (Sri Lanka) (Pvt) Limited, which was previously used by SriLankan Airlines for SriLankan Air Taxi operations.