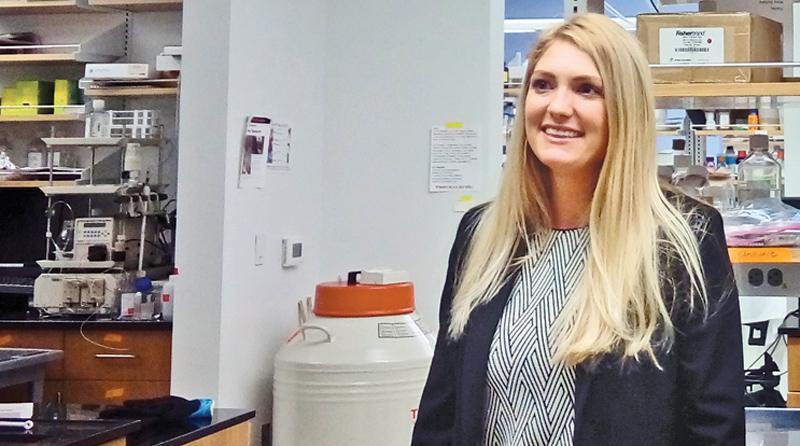 Once a contender for the 2012 Olympics, Vandy PhD holder Sinead Miller launched her company, Path Ex, out of Vanderbilt University in Nashville, in order to invent a life saving device that could cure sepsis, one of the most common killers in hospitals.
Sinead Miller looks every inch a star with her long blonde hair, confident posture and the dress. But she is so much more than a pretty face. She is one of the new faces of the emerging 'entrepreneur generation' of Nashville in Tennessee state, US.
At 27, Miller is creating waves with her new venture – Path Ex- which is planning to produce and market a drug-free solution for sepsis, a life-threatening illness caused by the body's response to an infection. Once fully tested and developed, this device that clears bacteria and associated toxins from the blood through a process that resembles kidney dialysis, will be a new breakthrough in the global medical field.
Sepsis develops when the chemicals the immune system releases into the bloodstream, to fight an infection, cause inflammation throughout the entire body instead.
Severe cases of sepsis can lead to septic shock, which is a medical emergency. There are more than 1 million cases of sepsis each year, according to the Centers for Disease Control and Prevention (CDC).
This type of infection kills more than 258,000 Americans a year, according to health reports. She hopes the cost of the device would be around USD 2000 'which is a huge saving in the health sector.'
Miller who has earned a PhD in bio medical engineering from the Vanderbilt University of Nashville is now backed by her university's innovation centre - The Wond'ry – to continue with her research which she began as a young university student several years ago.
Clinical trials
Miller says her research will continue for another year as clinical trials should be completed to meet stringent regulations on medical devices of the US.
The Sunday Observer met Miller at her laboratory of the Wond'ry during a recent visit sponsored by the US Department of State. Miller plans to introduce the medical device first in the US and in Europe subsequently. "We want to work with Europe and already we have had some discussions with prospective partners," Miller says.
This young professional's quest for figuring out how to cure sepsis began following an unfortunate accident in which she was badly injured.
That was in 2010 in the Netherlands. Competing internationally for USA Cycling, Miller was a well-known cyclist at the top of her game, and eying the 2012 Olympic Games.
Her Olympic dreams shattered when a collision resulting in traumatic brain injury ended her career. 
"This kept me away from cycling races, although I yearn to be back in the races. I am passionate about bicycles and motor bikes."
It took two years before she recovered enough to end outpatient visits and go back to school, earning her bachelor's in biomedical engineering from 'Indiana University-Purdue University Indianapolis'.
She set her eyes on a new path- determined to continue her studies in the bio medical field. Miller has experienced pain every day since the accident, but she's learned techniques to manage it that allow her to do research.
She chose Vanderbilt in 2014 for her PhD because she wanted to work with Professor of Biomedical Engineering Todd Giorgio and also was quite impressed with the 'entrepreneur friendly' set-up of Vanderbilt.
Healthcare
"I was a cyclist in my whole life until I met with the accident and suffered brain injury. So I was never able to recover from that injury and now I cannot continue to race at the 100 percent level.
Yet I discovered a kind of a new passion and what I wanted to do next –was to make a positive impact on health care for others. So I chose to get into bio medical engineering – as I realised that was the best area for where my passion was," she said explaining the objective behind her venture.
Soon she realised she had academic qualifications, skills and attributes to become an entrepreneur. "I grew up with a passion for cycles and I trained to be a cyclist with a lot of hard work, dedication and commitment. Although I am out of races now, these attributes help me in a great way to contribute to a different field. I learned a lot through races, which in return help me to go through my entrepreneur life."
The attributes she refers to have been gained through her cycling profession which she began at the age of 4, with the influence of her Superbike motorcycle racer father – Rex Miller.
While continuing with Vanderbilt research the university obtained intellectual property (IP) rights for the medical device which was developed by Miller. As she developed her company which is currently based at the university premises, Millar obtained exclusive IP license through the university.
When asked about the cost of IP rights she said, "In this venture, IP is the most important thing and it is quite expensive." Talking about the support she gets from Vanderbilt she says, "it is a huge benefit to be with Vanderbilt; we have resources, knowledge, professors and it is a great place to be."
Vanderbilt University's efforts to increase entrepreneurship among its students and faculty have been well recognized by the Tennessee state. The Wond'ry, the name of the school's innovation center, recently teamed with the Vanderbilt Institute in Surgery and Engineering to win a five-year, $500,000 National Science Foundation grant to become an Innovation Corps site," according to a news release.
Miller's company Path Ex so far has got funds through the Tennessee government, National Science Foundation and through a few individual investors. "We hope to raise more funds from investors this year," she said indicating that 'this year is crucial for them to develop the product at the commercial level.'
The writer travelled to Nashville as a guest of the US State Department.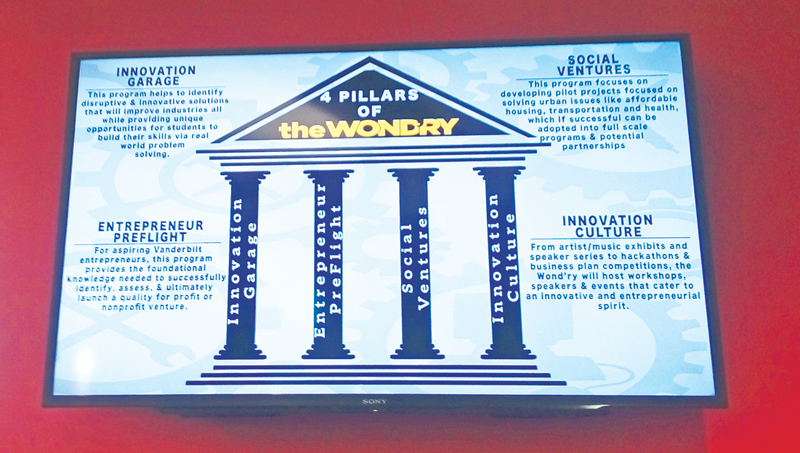 The Wond'ry promise