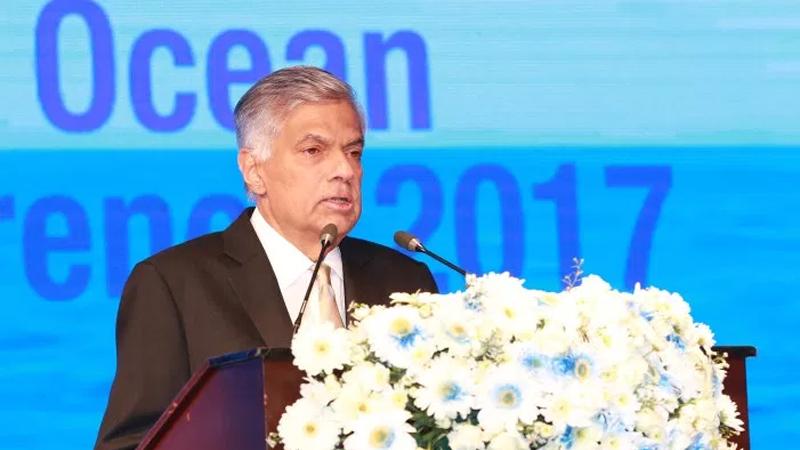 Businesses in Asia must grow for intra-regional trade to develop, Prime Minister Ranil Wickremesinghe told guests at the inauguration of the second Indian Ocean Conference in Colombo last week. For this purpose there has to be capital for expansion, a scarce commodity in the region, he said.
"This is why I have called for the establishment of an Indian Ocean Development Fund. This Fund will make financial resources available to national development banks which will promote growth and expansion in the region by providing capital for business expansion," he said.
He said that in Jakarta, the IORA (Indian Ocean Rim Association) also emphasized on the Blue Economy of the Indian Ocean. While other oceans in the globe are experiencing a decline of fish stocks, that trend is not visible in the Indian Ocean.
"As I speak today, many fishing fleets of countries, where fish trade is an industry continue to harvest fish stocks in the Indian Ocean. These fish stocks are of great and growing importance to the bordering countries for domestic consumption and export.
The premier highlighted the importance of the Indian Ocean in terms of off-shore oil production.
"It is estimated that 40 % of the world offshore oil production comes from the Indian Ocean with large reserves of hydrocarbons being tapped in the offshore areas of Saudi Arabia, Iran, India and Western Australia. Beach sands rich in heavy minerals and offshore placer deposit are actively excavated by Sri Lanka and other bordering countries," the premier said.
He urged that collective effort must be taken to protect this valuable resource.
"The recent UN Conference on Oceans concluded that preserving the health of the oceans is vital for the existence of mankind. In order to avoid irreversible damage to the oceans, IORA must coordinate efforts by all member countries to address over-fishing, pollution from offshore and land-based activities, biodiversity and habitat loss," Prime Minister Wickremesinghe said.
Referring to the security in the region he said the creation of wealth and enhanced economic activity in the Indian Ocean region will not only bring benefits but will pose enormous security challenges to all of us. It is evident that most of the world's armed conflicts are presently located in the Indian Ocean region.
The waters of the Indian Ocean are also home to continually evolving strategic developments, including the rise of regional powers with nuclear capabilities. Conflicts in the Gulf, unrest in Iraq and Afghanistan, rise of violent extremism, growing incidents of piracy in and around the Horn of Africa loom over our region. Given the rising conflicts in the Middle East and West Asia, the world's major powers have deployed substantial military forces in that part of the Indian Ocean region.
In our view, the vital Sea Lanes of Communication in the Indian Ocean that fuels the global economy needs to be open for all and must be used for mutual benefit in a sustainable manner. It is essential to maintain peace and stability in the Indian Ocean region which ensures the right of all states to the freedom of navigation and over flights, that unhindered lawful maritime commerce are conducted in keeping with current international laws and regulations. In terms of the maritime build up taking place in the Indian Ocean, we see major players such as India, Australia, USA, China, and Japan envisaging various projects ranging from ocean excavation to placing remote sensors for ocean research. The latter three are increasing their forward naval presence. Naval power will play a greater role in regional maritime affairs. This will in turn lead to naval power competition, with plans for sea control as well as sea denials.
As you would be aware, there are 10 critical choke points in the Indian Ocean that remain vulnerable to air and maritime encounters and possible terrorist attacks by non-state actors. Given the rising conflicts in the Middle East and West Asia, the world's major powers have deployed substantial military forces in the Indian Ocean region. This trend will continue for some more time until the world community gets together and resolves the causes for these conflicts.
These traditional and modern security concerns are yet to be addressed internationally. Articles 34 – 56 of UNCLOS are insufficient to deal with the concerns that are related to freedom navigation in the Indian Ocean. Therefore, Sri Lanka intends working with all our partners in creating a shared vision for economic and security engagement. We remain convinced that a code of conduct that ensures the freedom of navigation in our ocean will be an essential component of this vision. In this regard, as I mentioned earlier Sri Lanka will soon commence exploratory discussions on convening a meeting to deliberate on a stable legal order on freedom of navigation and over flight in the Indian Ocean.
Taking such a course of action will enable the littoral states to take the initiative to manage competition and determine our own fate.
"We believe that maintaining freedom of navigation is of paramount importance for Sri Lanka to become the hub in the Indian Ocean. It is only then that we can reap the full benefits of our strategic location as well as the availability of ports on all coasts and two international airports with good land connectivity.
The air and sea connectivity will naturally promote logistics. Colombo will also be a center for offshore finance and business. Finally, Sri Lanka will offer a competitive platform for manufacturing and services," the premier said.