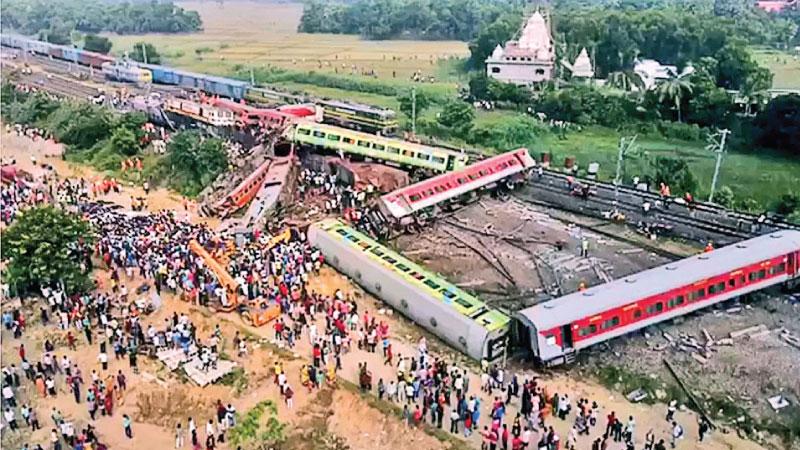 The Shalimar-Chennai Coromandel Express train had entered a wrong track moments before the mishap at Bahanaga Bazar station in Balasore district, Odisha, India on Friday evening in which more than 260 people died and 900 injured, officials said.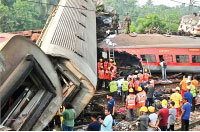 Quoting preliminary inquiry, railway officials and Odisha police personnel who visited the train mishap spot said the Coromandel Express hit a static goods train by entering the loop line instead of proceeding on its mainline towards Chennai. "This could be because of a human error in signalling. The Coromandel Express had a green signal to move on the mainline towards Chennai," an officer said.
After it collided with the static train at a speed of 130 Km per hour, its engine mounted atop the goods train and all its 22 coaches got derailed. At least three coaches of the Coromandel jumped on to the parallel track and hit the tail end of Sir M Visveswaraya Terminal-Howrah Superfast Express (12864) which was crossing the station at the same time, around 7 p.m. Under its impact the two coaches of the Howrah bound train and three of the Chennai bound train suffered the maximum damage and reported the highest casualties, the officials said.
While visiting the mishap site, Railway Minister Ashwini Vaishnaw said a high-level inquiry committee has been formed which will investigate in detail the reasons causing the mishap.
The Commissioner of Railway Safety will also conduct a probe.
Railway Minister Vaishnaw said rescue work is already over while the Indian Railways had started the restoration job. Odisha Chief Minister Naveen Patnaik and his West Bengal counterpart Mamata Banerjee too had an on-the-spot assessment of the situation. Prime Minister Narendra Modi was scheduled to visit the spot last evening. (TOI)
---
President expresses deep sorrow

President Ranil Wickremesinghe has conveyed his heartfelt condolences to Prime Minister Narendra Modi and the people of India following the tragic multiple train collision in Odisha State.
In a letter addressed to the Prime Minister of India, President Wickremesinghe expressed his profound sadness upon learning about the devastating incident. He emphasized that the people of Sri Lanka stand united in their sympathy and support for India during this difficult time.
The President extended his condolences to the Government of India and the bereaved families who have suffered an unimaginable loss. He also expressed his wishes for a swift recovery to those who have been injured. The President assured Prime Minister Modi that the thoughts and prayers of Sri Lankans are with the families of the victims, and hoped that they would find the strength and resilience to overcome their grief.