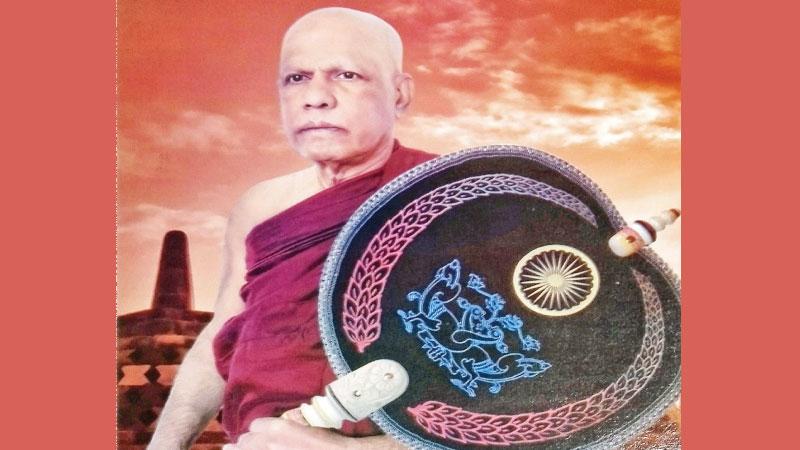 Viharadhipati of Ketumati Vihara in Manchester and Buddhist Vihara in Leeds in UK and Sumanasaramaya in Tulawala in Sri Lanka, Ven. Pidiwille Piyatissa Maha Thera has been appointed Chief Sanghanayake of England by the Karaka Maha Sangha Sabha of Malwatte Maha Vihara, Kandy of Siyam Maha Nikaya.
The new Chief Sanghanayake will be accorded a reception at Sri Sumanasaramaya, Tulawala at 2.30 pm on June 10, said Viharadhikari of the temple Ven. Moragolle Anuruddha Thera.
Born into a farmer family of eight children in a remote village called Pidiwilla in Vanni Hatpapptu in the Kurunegala district, the young boy Herath Bandaralage Ranbanda had his primary education at Maha Vidyalaya at Karambe.
The boy was ordained as a samanera at the age of 14 years in September 1967 under the name Pidiwille Piyatissa at Abhinavaramaya in Tulawala.
Later he had his secondary education at Sashthrodaya Pirivena in Sandalankawa where he qualified for university education having passed the GCE (AL) examination.
Ven. Piyatissa received his higher ordination at the Uposathagaraya at Malwatte Maha Vihara on June 23, 1973.
Later, while studying in the final year at the University, he received an appointment as the English teacher at the Pirivena of the Colombo Hunupitiya Gangaramaya.
Thereafter, he was proceeding with studies leading to the award of Master of Philosophy degree at the Postgraduate Institute of Pali and Buddhism , when he had to accept an invitation to be in charge of the Buddhist temple in Dar es Salaam in Tanzania.
While serving as the incumbent of Dar es Salaam Buddhist temple, Ven. Piyatissa actively engaged in Dhammaduta activity in the neighboring countries like Zambia and Kenya.
The Ven. Thera handed over the incumbency of the Dar es Salaam Buddhist temple to Ven. Develegama Dhammasena Thera in March 1988 and proceeded to the United Kingdom to take up Dhammaduta activity there.
Ever since then, Ven. Piyatissa has been actively engaged in Dhammaduta activity both in UK and some European countries while functioning as the Viharadhipati of both Manchester and Leeds Buddhist temples.