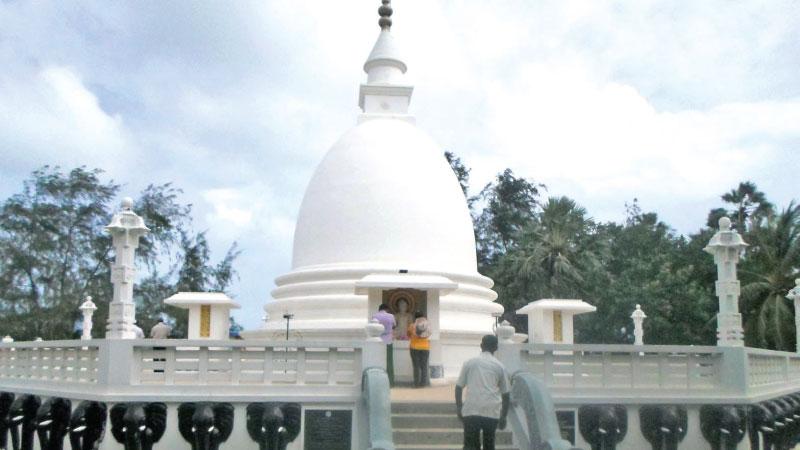 Dambakolapatuna Sangamitta temple is one of the important and historical Buddhist centres in the North that created religious reconciliation among communities.
This sacred site is 20 kilometres away from the Jaffna town and 10 kilometre away from Kankesanthurai.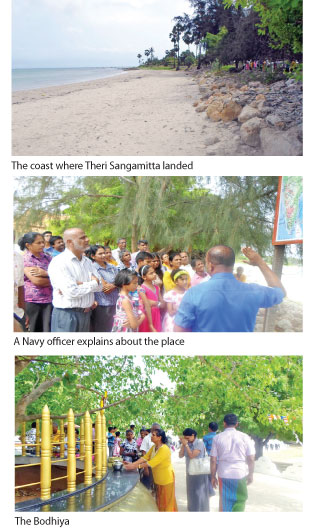 Dambakolapatuna is considered as the place where Theri Sangamitta landed with the sacred Bo sapling. According to historical records, King Devanampiyatissa (250-210 BC) visited Dambakolapatuna to welcome the guests. The Bo sapling was later planted in Anuradhapura. It came to be known as the most sacred Jaya Sri Maha Bodhiya. A temple called "Jambukola" was built here by King Devanampiyatissa to commemorate this event.
The Mahawansa says that the king prepared a harbour and a road between Anuradhapura and Jaffna to welcome the sacred Bo sapling and the king and a large group visited the harbour waiting for the arrival of the ship.

Pura Vidya Chakrawarthi Ven. Ellawala Medhananda Thera states in his book Negenahira Palatha Ha Uthuru Palatha Sinhala Bauddha Urumaya that the main harbour in Jaffna during the Anuradhapura Kingdom was Dambakolapatuna and today it has a Tamil name as Sambilithurei. He said that King Devanampiyathissa had done many constructions in Jaffna. A Bo tree was also planted at the Dambakolapatuna but later it was destroyed.
It is also recorded in the chronicles that Prince Aritta and his team boarded a ship from Dambakolapatuna to go to India to meet the Mauryan emperor. After he met the emperor, he returned to the same harbour.
There is no resident bhikkhu at the Dambakolapatuna Sangamitta temple at present. The site is maintained by the Navy. Chief Incumbent of Nagadeepa Vihara, Jaffna, Ven. Navadagala Padumakiththi Thera serves as the caretaker of the temple.
Even the ruins of the ancient temple are not in existent. Sculptures, paintings and stupas that you will find there have been recently built.