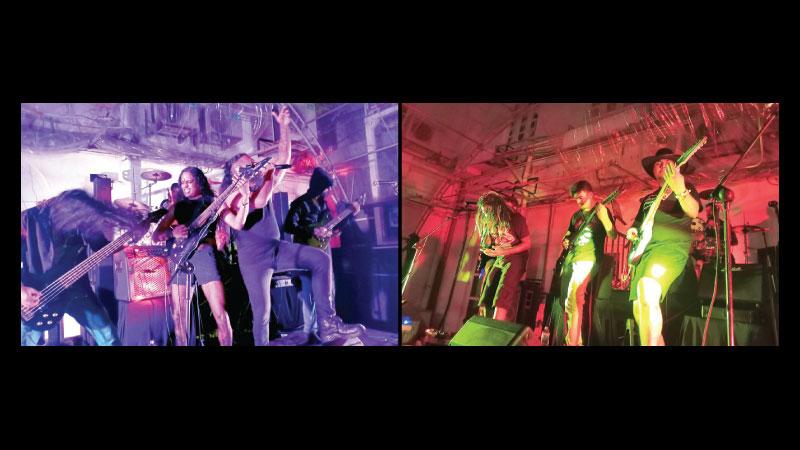 Local rock and metal bands shook Chatham Street to the core recently as they took the lofty stage at the Joint Pub and Grill with vigour. 'Simply Heavy' was another stopover for Stigmata's busy season playing up and down Colombo's many venues with a host of diverse opening acts in tow. Friday gigs are a rare treat and the itinerary didn't disappoint with leading ladies of metal like Shehara, Dineli and Shayne taking center stage and cooking up a storm (no pun intended).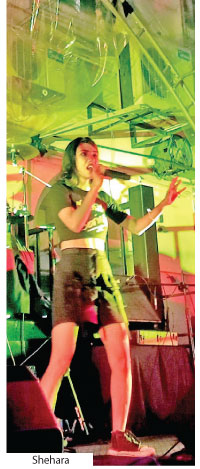 The venue was tight but jam-packed with rockers and metal heads. The only setback was the Temple Tree in the middle, but it added to the Joint's rustic vibe as it sat snuggly in the shadows of Fort's old behemoths.
Princess of Sri Lankan Metal Shehara opened the night, switching from her melodies and guttural growls. She performed Broken Wings, I Would Never and Beyond the Clouds for a massive ovation.
Next was Eshantha Perera from Constellation. He mounted the precarious 'drummers nest' perched high on the lofty stage with his friends to voice over a thunderous stickmanship. Eshantha ran through a power set and got the crowd singing Ariels by System of a Down and exited with a Lamb of God cover Blackened the Cursed Sun with Shavin from Stigmata taking over the drumming.
Wagon Park made an appearance after an eight-month hiatus and had the venue hopping with their brand of Rock n' Roll. Riyal Riffai (Dot Dotay, Paranoid Earthling and Orange Mango) took over the bass and added his groovy tones to the mix while vocalist Buddhi de Mel entertained the crowd with cricket bat antics and slipping off for drink mid guitar solo.
Stigmata rounded up the night with their new stuff and couple of classics from Hollow Dreams and Silent Chaos Serpentine, with guest performances by Pranil Abeysinghe (Sevexth) and Dineli Philips. The band is 23 years old and has aged like fine wine onstage and in studio since their humble Rock Saturday roots. Shayne and Tenny's guitar synergy was astounding as their aesthetics; from the lady's fishnet goth girl style to the lead guitarist's foreboding hooded trench coat – a throwback to the early 2000s industrial and Marilyn Manson fair.
Stigz hit off Alyssa with a bang and Metallica's 'Creeping Death' off their album Ride the Lightning timed perfectly when the monsoon rains started hitting the canopy.
The venue had a blast of Andura that was more traditional than metal as the tom toms mimicked Kandyan drumming. Guest stars Dineli Philips displayed her great range and Pranil dodged around the drummer's nest growling out Swinemaker from Silent Chaos Serpentine. The night came to close with a cover of George Michael's Faith which gave Limp Bizkit a run for their money (or the nookie?) and Dineli hitting off a Sepultura Cover with frontman Suresh.
Overall what an evening it was; the venue was packed despite the gloomy weather and rockers kept coming to see bands play. Diversity was a high point with a decent mix of ladies and gents enjoying a good dose of rock and metal on a rare Friday gig. The Stigz will be back onstage in July.