"Andare" is a name written in golden letters in our history. It is not a fictitious character.
In the old days of the Sinhala Kings, it had been a tradition to have a jester at the Royal Court. His job was to keep the members of the Royal family, courtiers and others at the court entertained and make them laugh.
Andare is believed to have been born in Devinuwara in the Matara District. He was the second son of Palawinnage Palliyaguru, an accomplished linguist and the teacher at the Church of Devinuwara appointed by the Dutch.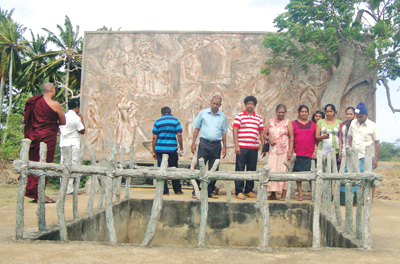 Andare's tomb and monument
Andare was a court jester employed by the King Rajadhi Rajasinghe in the 18thcentury. According to the Southern Provincial Cultural Ministry Andare had served under the king for 17 years from 1881 to 1898.
Folklore has many stories woven around Andare and the pranks he had played on the King, his Ministers and even the queen. As a mark of respect, the King had conferred on him an honorary name, that is Sadda Vidda Palanga Pathira Rajapakse Wickremasinghe Muthunayake.
On your way to Kataragama, you can visit his tomb at Udamalala village. A statue of Andare has been built at the Udamalala junction. You have to turn left at this junction and proceed about one kilometer along the gravel road to reach the place.
The Southern Province Cultural Ministry has built a tomb and a monument in 2001 at the place where Andare is said to have died with a sculpture showing how he died with arms stretched.
He had the skill of composing instant verses to suit any situation. He also had a superior intellect that aided him in turning situations to his favour. His witty acts and satirical comments entertained royals and commoners alike.
According to folklore, Andare had died of thirst on a trip to his hometown.
It is said that he had muttered the following verse before his death.
"Ride Kale Ran Kothale Beepu Mata
Nikam Kale Pan Nethiviya Pipaseta
Kotta Metta Enda Ethirili Thibu Mata
Mehemath Kal Yada Palu Weera Gas Yata'
"I, who used to drink water in golden goblets and silver pots
Haven't got at least a single drop of water even in an ordinary pot to quench my thirst
I, who used to sleep on comfortable beds with pillows and bed sheets
Have to lie under Paluweera trees without any comforts today in this manner
It is said that hearing the death of his favourite Court Jester, the King immediately visited the place of his death and seeing the corpse with all his limbs spread wide made the king smile and said "Dear Andare, You are making me laugh even after your death"