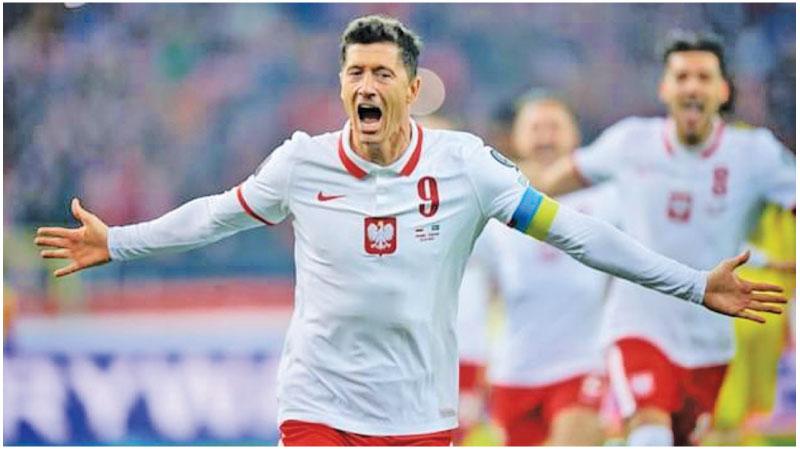 Robert Lewandowski is a professional footballer who captains the Poland National team and plays as a striker for La Liga club Barcelona. Recognized for his positioning, technique and finishing, Lewandowski is considered one of the best centre-forwards of all time, as well as one of the most successful players in Bundesliga history. He has scored over 500 senior career goals for club and country.
In his international career for Poland since 2008, Lewandowski has earned 138 caps and played at the UEFA European Championship in 2012, 2016, and 2020, and the FIFA World Cup in 2018 and 2022. He is the all-time top scorer for Poland with 78 international goals, and the third overall men's international goal scorer in Europe, behind Cristiano Ronaldo (118) and Ferenc Puskas (84).
Lewandowski secured the Best FIFA Men's Player Award in 2020 as well as in 2021, becoming the first Polish player to win the award. Besides, he won the UEFA Men's Player of the Year Award in 2020 and has been named to the UEFA Team of the Year twice. He is the third-highest goal scorer in the history of the Champions League and has been named the VDV Bundesliga Player of the Season a record five times.
He won IFFHS World's Best International Goal Scorer Award in 2015 and 2021, IFFHS World's Best Top Goal Scorer Award in 2020 and 2021, and IFFHS World's Best Top Division Goal Scorer Award in 2021. He also won the IFFHS World's Best Player in 2020 and 2021 and the European Golden Shoe for the 2020/21 and 2021/22 seasons.
Lewandowski has been named the Polish Footballer of the Year a record ten times and the Polish Sports Personality of the Year three times. He is the second-highest goal scorer in the Bundesliga with over 300 goals (only behind Gerd Muller's 365 goals). He has reached the century mark quicker than any other foreign player, and remains the league's all-time leading foreign goal scorer.
In 2015, while playing for Bayern, he scored five goals in less than nine minutes against VfL Wolfsburg, the fastest by any player in Bundesliga history as well as any major European football league for which he was awarded four Guinness World Records.
He has won the Bundesliga Top Scorer Award in seven seasons, most prominently in the 2020/21 Bundesliga where he scored 41 goals in a single campaign, breaking Gerd Muller's previous Bundesliga record of 40 goals (1971/72).
After being the top scorer in the third and second tiers of Polish football, Lewandowski moved to top-flight Lech Poznan, helping the team win the 2009/10 Ekstraklasa. In 2010, he transferred to Borussia Dortmund, where he won two consecutive Bundesliga titles and the league's top goal scorer award. In 2013, he also featured with Dortmund in the 2013 UEFA Champions League Final.
Prior to the start of the 2014/15 season, Lewandowski joined Bayern Munich, on a free transfer where he won the Bundesliga title in every one of his eight seasons. Lewandowski was integral in Bayern's UEFA Champions League win in 2019/20 as part of a treble. He is one of only two players, alongside Johan Cruyff, to achieve the European treble while being the highest goal scorer in all three competitions.
Player Profile
Lewandowski is widely regarded as one of the greatest centre-forwards of all time. An accurate and efficient finisher with his head and both feet, Lewandowski is a prolific goal scorer, which has led him to be dubbed "Lewangoalski."
A well-rounded forward, he is said to possess almost all the necessary qualities of a traditional number nine: height, strength, balance, pace, intelligent movement, and proficiency with both feet. He primarily operates as a goal-poacher in the penalty area, due to his positional sense, ability to shoot first time, strength in the air, and powerful shot with either foot.
His excellent technical skills, quick feet, proficient dribbling, vision, and physique also enable him to hold up the ball with his back to goal or win fouls for his team in useful positions; despite often functioning as a lone-centre forward or as an out-and-out striker.
He can drop into deeper roles on the pitch, to create space for teammates with his movement, or surprise defenders by making late and sudden attacking runs into the area. Lewandowski is an accurate penalty taker and has repeatedly shown coolness and composure on the spot.
He is also capable of scoring from long range, and has been known to take free kicks. In addition to his playing ability, Lewandowski has also been praised for his outstanding work-ethic, fitness, mentality, and discipline, both on the pitch and in training.
Personal Life
Lewandowski's father, Krzysztof was a Polish judo champion, and played football in the second division. His mother, Iwona, is a former volleyball player for AZS Warsaw and later vice-president of Partyzant Leszno. His father gave him the name "Robert" to make it easier for him when moving abroad as a professional footballer.
His wife, Anna Lewandowska, won the bronze medal at the 2009 Karate World Cup. They married on June 22, 2013 in the Church of the Annunciation of the Blessed Virgin Mary in Serock. They have two daughters. Lewandowski is a practising Catholic and met Pope Francis in the Vatican City in 2014.
In October 2017, the day after scoring to help Poland qualify for the 2018 World Cup, Lewandowski finished his Bachelor of Physical Education (BPhEd) with coaching and management at the Academy of Sport Education in Warsaw, concluding a decade of studies.
In addition to his native Polish, Lewandowski also speaks English and German. Lewandowski and his wife, have supported, donated, and raised money for various charitable organisations and for children, including Children's Memorial Health Institute in Warsaw. In 2014, he was named a UNICEF Goodwill Ambassador.
Growth and Career
Lewandowski was born in Warsaw on August 21, 1988 and grew up in Leszno, Warsaw West County. He took his first steps in football as an unregistered player for the local club, Partyzant Leszno. In 1997, he joined MKS Varsovia Warsaw, where as a teen he played for seven years.
Later, he moved to 4th tier side Delta Warsaw, where he finally managed to play in the first team, scoring four goals at the end of the season. In 2006/07, Lewandowski was the Polish third division's top goal scorer with 15 goals helping Znicz Pruszkow to win the promotion. The next season, he was the top scorer in the Polish second highest division with 21 goals.
Lewandowski began his international career with Poland under-19 in 2007. He also made three appearances for Poland's under-21 team, against England, Belarus, and Finland. His debut for the senior national team came on September 10, 2008, three weeks after his 20th birthday, against San Marino where he scored a goal in a 2–0 away win in the 2010 FIFA World Cup qualification.
Playing in Warsaw in the opening match of the UEFA Euro 2012 tournament against Greece, Lewandowski scored the first goal of the competition and was named the 'Man of the Match.' He played in all three games for Poland in the tournament.
Lewandowski scored two penalties in the 5–0 win against San Marino on March 26, 2013 during the 2014 World Cup qualifying campaign, his first match as the Captain of Poland. On September 7, 2014, in Poland's first UEFA Euro 2016 qualifier, away against Gibraltar, he scored his first international hat-trick, netting four goals in a 7–0 win. On June 13, 2015, he scored another hat-trick in Poland's 4–0 defeat of Georgia, with the three goals scored within the space of four minutes.
On October 8, 2015, he scored twice in a 2–2 draw away to Scotland, opening and equalising with the last kick of the game to eliminate the hosts. Three days later he headed the winner in a 2–1 victory against the Republic of Ireland, qualifying Poland for the tournament finals in France. Lewandowski ended the campaign with 13 goals, a joint European Championships qualifying record with David Healy's tally for Northern Ireland in UEFA Euro 2008 qualifying.
At UEFA Euro 2016 in France, Lewandowski did not have a shot on target until the last-16 match against Switzerland in Saint-Etienne. Following the 1–1 draw, he scored his team's first attempt in the penalty shootout victory that sent them to the quarter-finals for the first time.
Poland's Top Scorer
On October 5, 2017, Lewandowski scored a hat-trick in a 6–1 win over Armenia to take his tally to 50 goals for Poland, to become the all-time top scorer for Poland. On October 8, he scored a goal in a 4–2 win over Montenegro taking his tally to 51 goals. He finished the 2018 FIFA World Cup qualification campaign with 16 goals, a record for a European World Cup qualifier.
At the 2018 FIFA World Cup, he played every minute in all three matches, against Senegal, Colombia, and Japan. On June 19, 2021, in Poland's second group match of UEFA Euro 2020 against Spain, Lewandowski scored the equalising goal in a 1–1 draw; becoming the first Polish player to score in three consecutive European Championships.
At the 2022 FIFA World Cup, Lewandowski missed a penalty in the first game against Mexico. However, in the second match against Saudi Arabia, he scored his maiden goal at a FIFA World Cup as his Poland downed the first match giant killer Saudi Arabia 2–0. He scored his second World Cup goal on a penalty in a 3–1 loss to France in the round of 16.
Club Career
In 2008, Lech Poznan signed Lewandowski from Znicz for 1.5 million PLN. In his first season in the Polish top division, he was second in the goal-scoring charts with 18 goals and became the top scorer in the second season with 18 goals and helped his team win the 2009/10 championship.
He joined Borussia Dortmund in 2010, signing for a fee around €4.5 million. On December 17, Lewandowski scored his first hat-trick in Bundesliga. He set club's new record of the longest scoring streak, having scored in 12 consecutive league games. On April 24, Lewandowski became the first player to score four goals in a Champions League semi-final beating Real Madrid 4–1.
In 2014, Lewandowski signed with Bayern Munich. He scored his 100th Bundesliga goal on his 168th appearance, a league record for a foreign player. He also reached 10 goals in the opening seven matches; a feat only achieved before by Gerd Muller. The victory in Cologne was also Bayern's 1,000th win in the Bundesliga. He achieved fourth place at the 2015 FIFA Ballon d'Or awards.
On November 27, Lewandowski became the third-fastest player to score 50 goals, after Lionel Messi and Ruud van Nistelrooy in the Champions League. He also became the all-time top scorer in the DFB-Pokal finals with six, surpassing Gerd Muller on five.
Lewandowski also became the first in Bundesliga history to score in each of the opening nine, ten and eleven matches of a season, surpassing the record of eight set by Pierre-Emerick Aubameyang. On November 26, Lewandowski scored 4 goals in under 15 minutes as Bayern defeated Red Star Belgrade 6–0, setting a record for the fastest time to score four goals in a Champions League match.
On February 25, 2020, Lewandowski equalled Cristiano Ronaldo's record of nine away goals in a season in Europe's top club competition. He also became the second player ever to win the European treble while being the top scorer in all three competitions, repeating Johan Cruyff's achievement with Ajax (1971/72).
On January 17, 2021, Lewandowski became the first player in Bundesliga history to score 21 goals after just 16 games, beating Gerd Muller's 20 goals during the 1968/69 season. On May 22, he broke Gerd Muller's 40 goals (1971/72) with his 41st goal in Bayern's 5–2 win over Augsburg. He finished the season with 48 goals in 40 matches in all competitions, reaching the landmark for the sixth time.
Lewandowski kicked off his 2021/22 Bundesliga season with a volley-shot equaliser in a 1–1 opening fixture draw against Borussia Monchengladbach, making him the first player to score in seven consecutive Bundesliga opening games.
He also scored his 15th Bundesliga hat-trick in a 5–0 win over Hertha BSC, setting a new club and German record for the most consecutive appearances in all competitions with a goal at 16, surpassing the previous record of 15 held by Gerd Muller (1969/1970).
He scored more than 300 goals with Bayern Munich in all competitions. On September 18, 2021, Lewandowski scored in his 13th consecutive Bundesliga home match against VfL Bochum, surpassed the previous league record of 12 held by Gerd Muller (1969/1970) and Jupp Heynckes (1972/1973).
On November 23 Lewandowski opened the score with in a 2–1 away win against Dynamo Kiev in a Champions League, becoming the first player to score in nine consecutive games in two separate seasons of the competition. Lewandowski finished second in the 2021 Ballon d'Or award, behind Lionel Messi and received the Striker of the Year award by the France Football magazine. On December 17, Lewandowski set the Bundesliga record for most goals in a calendar year with his 43rd.
On January 15, 2022, Lewandowski scored his 16th hat-trick and 300th Bundesliga goal in a 4–0 away win over 1. FC Koln. On March 8, Lewandowski scored a hat-trick in a 7–1 win over Red Bull Salzburg, making it the earliest hat-trick ever scored by a player from the start of a Champions League match. Lewandowski's three-goal extravaganza within 11 minutes against Salzburg also ranks as the quickest hat-trick ever scored in the knockout phases of the Champions League.
With these goals he took himself beyond the 40-goal mark in all competitions for the seventh consecutive season. He also broke the Bundesliga record for most away goals in a single season with 19 goals. On July 16, Barcelona reached an agreement with Bayern Munich for Lewandowski's transfer. Lewandowski signed a four-year contract for a fee of €45 million, becoming the most expensive Polish player in history and Bayern Munich's most expensive sale of all time.
On September 7,2022 in his first game with Barcelona, he scored a hat-trick in a 5–1 victory over Viktoria Plzen, becoming the first player in history to score a Champions League hat-trick for three different clubs. On September 11, he scored his sixth league goal of the season in his sixth match for Barcelona, in their 4–0 win over Cadiz, breaking Cristiano Ronaldo's record of scoring five goals in five consecutive league games in La Liga.
(The author is an Associate Professor, International Scholar, winner of Presidential Awards and multiple National Accolades for Academic pursuits. He possesses a PhD, MPhil, and double MSc. His email is [email protected])