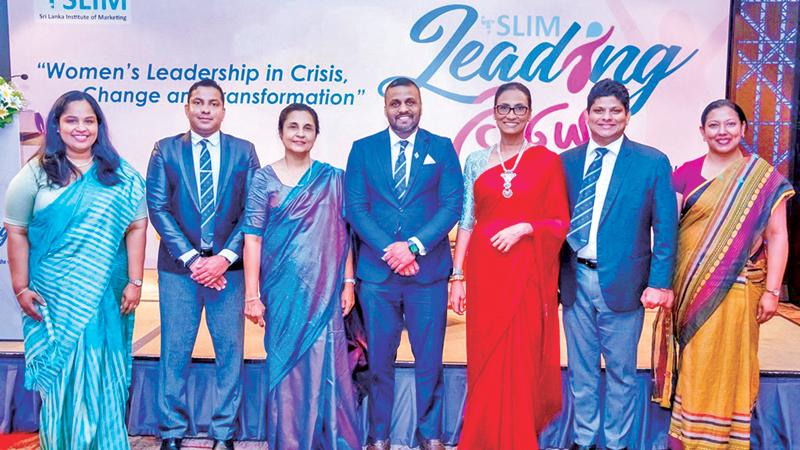 The Sri Lanka Institute of Marketing (SLIM) recently hosted the annual 2023 panel discussion in celebration of the International Women's Day at Hilton Colombo Residences, for the fourth consecutive year. This year's topic for the forum was Women's Leadership in Crisis, Change and Transformation, and the keynote address was based on Unlocking Women's Leadership Potential in Crisis, Change and Transformation.
The Leading Liyo initiative has been significantly influenced by the leadership of Professor Maduka Udunuwara, who served as the Project Chair for Sustainability Projects at SLIM for the year 2022/2023. Her prominent role as a female leader has considerably impacted the program.
The moderator for the panel discussion was Dr.Dilhan Jayatilleke - Executive Committee Member for SLIM. Panellists for the forum included Sen Prof. Chandrika Wijeyaratne - Vice Chancellor, University of Colombo from 2019 April to 2022, Kimarli Fernando - Former Chairperson of Sri Lanka Tourism, and .Rumal Fernando - Head of Customer Service and Logistics, Unilever Sri Lanka Ltd.
As the National Body for Marketing in Sri Lanka, SLIM is committed to encouraging and empowering women to take on leadership roles and drive the country's economy forward. Through initiatives such as Leading Liyo and the Leadership Development Program, consisting of seven modules, SLIM provides a platform for women to shatter glass ceilings and elevate their skills and knowledge from managerial to leadership development. The forum also launched Episode 3 of the Leadership Development Program which is now calling for applications from aspiring women leaders from both the private and public sectors.
Commenting on this year's panel discussion, the President of SLIM, Nuwan Gamage said, "SLIM's aim is to bring attention to the importance of creating avenues for women to take on leadership roles and drive Sri Lanka's economy forward. We are committed to empowering women and promoting workplace gender equality through initiatives such as Leading Liyo our Leadership Development Programme."
Gayan Perera, VP of Events and Sustainability also commented, "I am proud to lead initiatives that encourage and empower women to break through glass ceilings and take on leadership roles. Our Leadership Development Programme, which comprises seven modules, provides a blueprint for women to develop essential skills and knowledge needed to elevate their managerial skills to leadership development."
Sanath Senanayake, CEO/ED SLIM said, "Leading Liyo is committed to promoting Gender Equality, as outlined by the United Nations Sustainable Development Goal 5. We offer a comprehensive platform that empowers women by providing access to various fields and opportunities. Our Leadership Development Program comprises 7 modules that have been thoughtfully designed to enhance the skills and knowledge of aspiring women leaders in both the private and public sectors."
Project Chairperson - Sustainability - SLIM, Prof Maduka Udunuwara said, "Encouraging women to have confidence in their abilities and promoting gender balance in the corporate world is crucial for driving progress. At SLIM, we offer the Leading Liyo Leadership Development Program as a platform for women to develop their skills, voice their thoughts and unlock their potential."
-DP