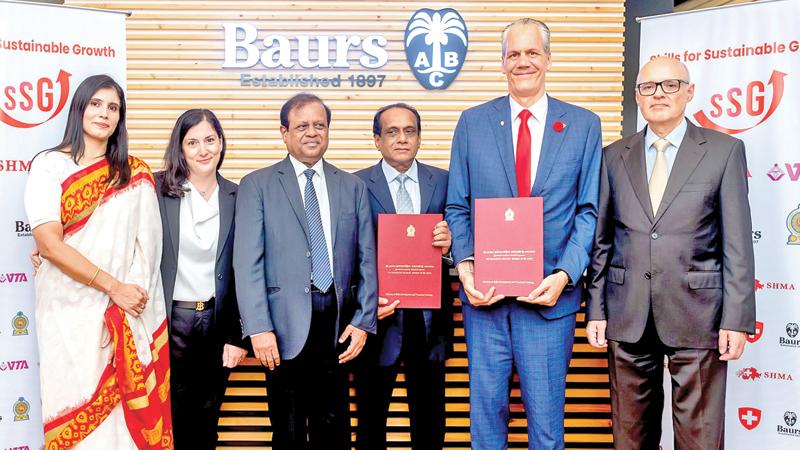 Swiss Hospitality and Management Academy (SHMA) of A. Baur and Co. (Pvt Ltd)., also known as Baurs recently signed an MoU with the Vocational Training Authority of Sri Lanka (VTA) under the Education Ministry to implement its Skills for Sustainable Growth (SSG) project among selected learning centers across the country.
This partnership marks a significant milestone, following its ongoing discussions with VTA since 2019. The planning phase is already underway and SHMA is currently evaluating and selecting existing learning centres of VTA, building on their infrastructure and reach, with the aim of uplifting learning capacities and aligning the current learning content, curriculums and teaching methodologies to that of international standards.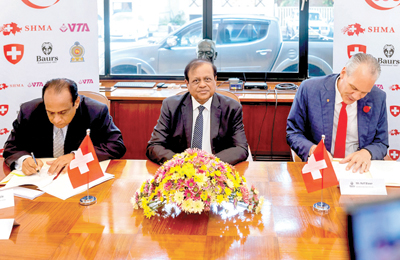 MoU signing
With its first phase running from last year up until 2025, a total of 2,240 students will be trained and the lecturers at the VTA learning centres will go through a Train the Trainer program, which will enhance their teaching skills to embrace newer and practical approaches that deliver a hands-on learning experience to the students. The focus will go beyond just grasping technical skills to also include personal development and language training.
The aim of the entire SSG initiative, which is based on a public-private funding partnership, is to strengthen and match the learning standards in the country to that of the global industry, to enable fast-track routes to employability in 9 months with the learning taking a hands-on practical approach, and to minimise or bridge the widening skills gap.
The internationally aligned qualification delivered through this initiative will help various unskilled and semi-skilled young men and women in Sri Lanka including providing migrants with a skill set needed for better employment opportunities. The program is developed on a 'Plug & Play' basis, giving more practical and feasible learning modules and methodologies for the learner and learning center.
Site visits have already begun, with a pool of 22 centres across 16 districts across the country, to select the most feasible centers to kickstart the SSG project. By July 2023, six centers will be selected and 240 students will see themselves equipping with the skillset required today in the world of hospitality management over a period of nine months.
The skills development project is established to align and implement a Swiss Vocational Skills Development (VSD) curriculum.
The project will take a lead in bridging the skills gap, instill quality education standards, encourage female participation, and make Sri Lanka not just a most sought-after talent destination for hospitality but also one of the best tourist spots. These will undoubtedly go onto strengthen the economy further.