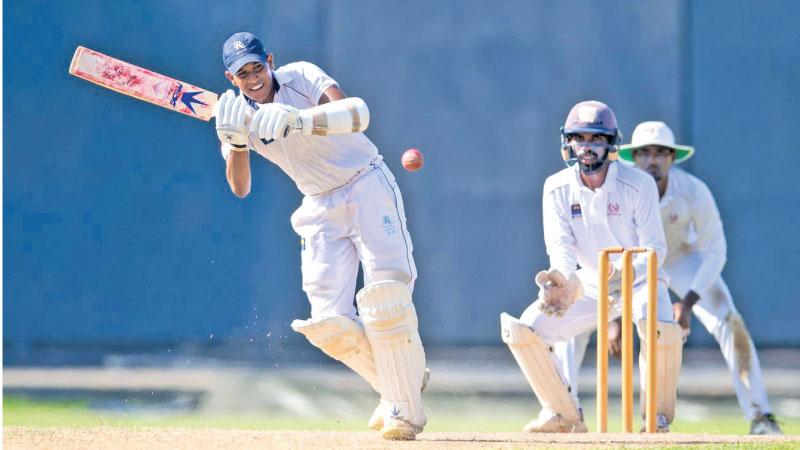 Former S. Thomas' College batting allrounder Dellon Peiris has begun to see the brighter side of cricket after learning the finer points of the game and declared the player of the tournament at the concluded Sri Lanka Cricket under-23 youth championship as he led his Ragama Cricket Club to the runners-up prize.
"I learnt how to play against the flow of the game and more significantly I am extremely convinced that my approach to the game has changed.
"I can strive to tackle circumstances with a lot of confidence. That's what I took away from this (under-23) competition and I think of myself as a different kind of player now than I did before the U-23 competition" said Peiris in an exclusive interview with the Sunday Observer.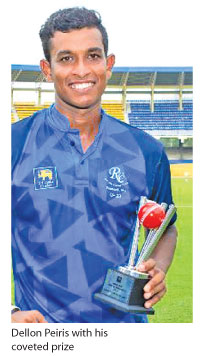 Not many other than his team-mates will know the toil and tears that Peiris underwent to bow out with a mission accomplished that is the dream of every player who has set his sights on some day playing for his country.
But Peiris is not the kind of player who will want to rest on his laurels knowing very well that the road ahead will not make him relax.
"God was always there for me and I am extremely happy and delighted that I was able to become the player of the tournament and I think the hard hours and a lot of focus and determination paved the way towards achieving this final goal," revealed Peiris.
He will never forget the day at one of the matches when his team was grasping for breath at five wickets down for just 84 runs against Police SC and he had to stand up to the occasion that proved a turning point in his career. The situation was make or break and Ragama CC would have not had a passage into the semi finals.
"You can say it was one of my special innings during the season. It was a decider to the semi finals and I went in at 84 for 5. We reached a fighting target of 201 and were able to win on first innings," Peiris recalled with relief.
But Peiris was unstoppable if not at the crease then with the ball in hand bowling his left arm spinners as he took a match bag of 12 scalps in another match against Kandy Customs.
"When it comes to my best spell definitely it would be the match against Kandy Customs. I was able to pick up a match bag of 12 wickets and help the team post an innings win over them", he said.
"I must thank my club for believing in me and for trusting me to take Ragama CC to a final. It was after the first game against Colombo Cricket Club (CCC) that the boys clicked together and played good interned cricket by winning two outright wins consecutively."
Ragama CC met and beat Tamil Union Cricket and Athletic Club in the semi finals that booked them a date with Moors SC in the final last week.
"Something I liked as a captain during the tournament was that regardless of the situation someone put his hand up and delivered in the end and I learned that cricket is a game of uncertainty and you got to fight hard until the last moment," said Peiris paying a tribute to his team-mates.
But how did Peiris feel when his school lost their traditional match against Royal College with him not out in the middle for the blue-black-and-blue team.
"It was sad to see the trophy going away from the Thomians. But it is part and parcel of the game and what matters most is how hard you are willing to fight till the last moment. So it does not matter about losing a game," said Peiris who hung up his schoolboy cap four years ago.