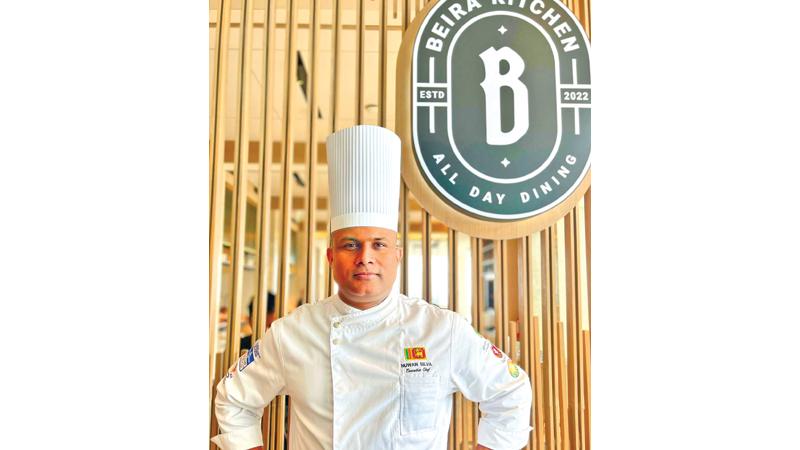 The recently-launched Courtyard by Marriott Colombo, part of Marriott Bonvoy's extraordinary portfolio of 30 hotel brands, has appointed internationally-acclaimed Chef Nuwan Silva to take over the reins as the new Executive Chef.
Nuwan Silva has over 20 years of working experience in the hotel industry and is a proven high achiever in the culinary world with medal-winning performances in the Culinary Olympics (Germany), Culinary World Cup (Luxembourg), Asia Culinary Cup (Singapore), Food Expo (Maldives) and Culinary Art Sri Lanka. He is an Executive Member of the Chefs Guild of Sri Lanka, Chefs Guild of Oman, Life Member of Golden Horseshoe Culinary Team Canada, Member of World Association of Chefs Societies, and a Committee Member of Bocus D' Or Sri Lanka.
Nuwan has been a part of the Marriott Family in the past having been employed at JW Marriott and Courtyard by Marriott, Kuwait. He was then attached to Heritance Ahungalla, Adaaran Prestige Water Villas Maldives, Bentota Beach by Cinnamon Bentota, Cinnamon Citadel Kandy, Jetwing Vil Uyana, Sigiriya, Al Falaj Hotel Muscat and Pandanus Beach Resort & Spa. His most recent appointment was at Ramada by Wyndham Colombo Sri Lanka as the Director of Culinary.
Sharing his thoughts, Nuwan Silva stated, "My journey as a chef started over 20 years ago as a trainee chef. Over the years, through sheer hard work and determination, I was able to rise up through the ranks at some of the best hotels in Sri Lanka and overseas. I have also been fortunate to join the Marriott Family a while back and I am thrilled to become a part of it once again in my new role as the Executive Chef at Courtyard by Marriott Colombo. Being a new hotel in Colombo, there are ample opportunities to make a name for the hotel when it comes to our culinary creations and enhance our guests' Courtyard experience. I am eagerly looking forward to the challenges ahead in this latest phase of my career."
Nuwan has a comprehensive knowledge of culinary art competitions, international cuisines such as Continental, Italian,French,Mediterranean,Arabic,Indian, Asian and Sri Lankan, and an innovative approach for setting for customised dining experiences.
He has extensive experience in multiple related areas including culinary art, menu designing, kitchen administration, resource procurement, staffing, training and monitoring, HACCP and many others.