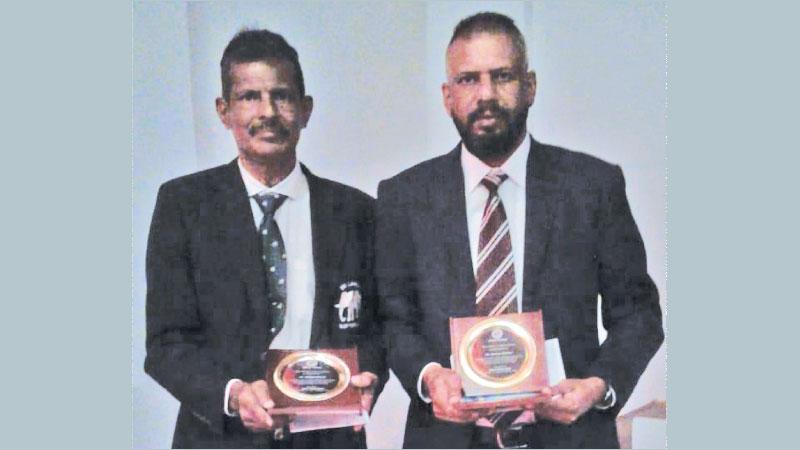 Zahira College celebrated their Road to Glory rugby that will reach a hundred years next year.
The event was marked with their Annual Rugby Night celebrations that took place at the school's Ghaffoor Hall by rewarding their teams that have done well this season. The most eye-catching event was the awarding two of their stalwarts with mementoes for their yeomen services rendered to rugby.
One of them was Hisham Abdeen who began his schooling at Zahira College before shifting to Isipathana College where he graduated in rugby.
He was recognized for his contributions to the game that made him a legend who captained Sri Lanka having also scored 80 tries during his career.
According to the principal of Zahira College, Trizviiy Marikkar, Abdeen had also scored eight tries in one match. He also said that Abdeen had served the game for 17 long years with much energy and dedication and as such deserved to be presented with a memorable award.
The other player who was presented with a memorable award was Nazeem Ghaffoor who first played for Zahira and later at club level. He then took to coaching at Zahira and remained there for 16 years and produced six national rugby players while guiding Zahira to be promoted to the top level as at present.
In his address to the people who had gathered at the Hall, Marikkar said that sport is an important part of a student's life that will help him learn to accept victory with grace and defeat in the same spirit.
"There is also a great demand for students who are engaged in schools rugby. In the past too Zahira have produced players who represented the national team. Some have even gone on to become leading coaches," noted Marikkar.
"The College teams have done brilliantly well in the season compared to the previous years. After a long period of hard work the first fifteen rugby team emerged with impressive performances and came back with its title in the division A. The junior teams too were very active during the season," said Marikkar.
"There are some schools who grab players from other schools and the Ministry of Education is looking to draft a law to prevent drafting of players from other schools," added Marikkar.
Zahira is also in the process of building three more sports venues with the aim of helping their students pursue with the game they like. Presently they are actively involved in 22 sporting events and there is a dire need for venues to train their sportsmen.