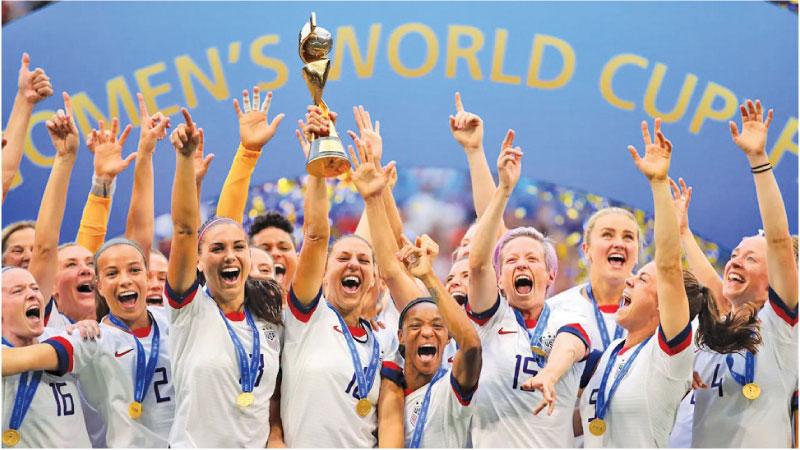 The prize money for this summer's Women's World Cup, hosted by Australia and New Zealand, will jump to $110 million, FIFA announced Thursday.
Most of that money, the organization said, should go to the players—a significant boost in payout from the $30 million awarded in 2019 and $15 million divided among participants in 2015.
While the figure is nearly double the $60 million initially planned for this year's tournament, it's still a far cry from the $440 million paid out in the 2022 men's tournament in Qatar.
At the FIFA Congress on Thursday president Gianni Infantino said the organization hopes to distribute equal prize money between the two tournaments by the 2027 Women's World Cup.
"As a father of four beautiful daughters, I know very well how much attention we need to give women in our lives," Infantino said.
"Our ambition will be, of course, to be able to have equality in payments for the 2026 Men's and 2027 Women's World Cups."
The total payout at this year's Women's World Cup will hit $150 million, with $40 million allocated to preparation and club benefits. This year's tournament will be the first to feature 32 teams, expanding from the 24-team format used in 2019 and 2015. The tournament allowed just 16 teams in 2011.
Fifpro, the global professional players' union that represents 65,000 men's and women's soccer players worldwide, sent a letter to FIFA last fall calling for equal prize money at the upcoming 2023 Women's World Cup.
The letter also addressed tournament conditions and guaranteed redistributions of the FIFA prize money to players.
In many countries, women's national team players do not have contractual agreements with their national federations to receive a portion of the money their team wins.
"Through the voice and solidarity of players around the world over months and years of campaigning, significant progress has been made in the conditions, prize money and prize money redistribution for the 2023 FIFA Women's World Cup," Fifpro wrote in a statement issued Thursday. (Sportico.com)