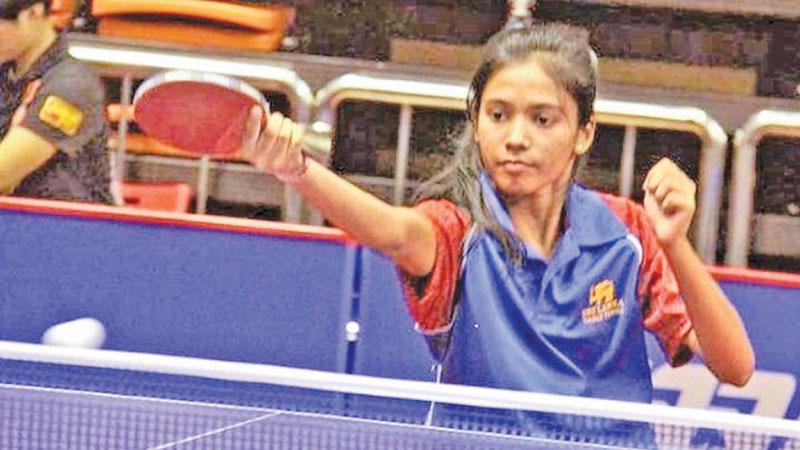 She was an outstanding table tennis player from Mahamaya Girls College Kandy and placed among the top four overall female players in Sri Lanka in 2018.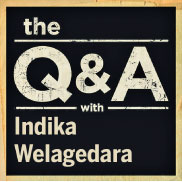 She was the number three ranked player in the under 18 girls category in 2018, ranked third as an under 12 exponent in 2013 and was selected to represent Sri Lanka against India.
She is the unmistakable Ochini Tehana Dissanayake who was the Junior Nationals under 15 Champion in 2015, girls' doubles under 18 Champion and represented Sri Lanka as the team captain at the World Junior Table Tennis tour which was held in China.
Ochini was also selected for the South Asian cadet and junior table tennis championship which was held in Pakistan and had the rare honour of becoming champion gold medalist at the National Schools tournament in 2013, 2014 and 2015 and was also a bronze medallist at the National Sports Festival.
She was the team captain and won the silver medal in the individual event at the 43rd National Sports Festival in 2016 the year in which she was ranked number one.
Ochini is the daughter of St. Anthony's College Kandy cricketer Nandana Dissanayake who played for the College First XI team with Marlon von Haght as captain and the sister of Antonian cricketer Janiru Dissanayake, who has turned out for Colts Cricket Club in Colombo as well.
"As I kept on playing I started to love what I was doing. Some start at a very young age and some at an age when they know what they're going to do. In my case I think it is destiny which made me choose TT", Ochini said in an interview with the Sunday Observer.
Excerpts of the interview:
Q: What made you enter the world of sports?
I think it's my destiny. I was too small to understand those days when I took my first steps into sports. My loving mother being an old Mayan (Mahamaya Girls School) was a great influence I think
Q: Who has supported you the most?
Actually there's a big list of names. I think the major roles were played by my beloved parents, my only brother, coaches and teachers. As I said there are many who helped me
Q: What made you choose this difficult sport of table tennis?
As I mentioned earlier I think it's my destiny. Every professional athlete chooses a sport at the beginning without much knowledge on what he or she is going to go through. I started playing TT when I was in grade one.
I had no idea of what's coming but to be honest as I kept on playing I started to love what I was doing. Some start at a very young age and some at an age when they know what they're going to do. In my case I think it is destiny which made me choose TT
Q: What are your leisure time activities?
I grew up in an environment where lots of animals are found. So it is a habit of me to observe what they're doing and having close chats with my mother is also what I do when I'm free
Q: What would you say are the top priorities in your life?
I give first place to my family. Then come studies and TT
Q: What was your most unforgettable moment or incident?
The first day I was called up to play for the Sri Lanka table tennis team
Q: What's your favourite holiday destination?
London
Q: What would you say has been the greatest accomplishment in your life?
Up to now everything I have built up in front of my name and I have yet more to accomplish in the future
Q: Who is your favourite sports personality?
The great Roger Federer
Q: If you had one day left to live, what would you do?
My family is the most important thing to me in my life, so I'll go out with my family and spend time with them
Q: What's the best compliment you have received?
Pat on the back from my mother and saying "duwa... well done, long way to go" must be the best compliment I have received thus far
Q: Are you happy with all your achievements?
Yes, very much
Q: Who's your favourite singer?
Ed Sheeran
Q: What's your favourite song?
Photograph by Ed Sheeran
Q: Who do you sometimes compare yourself to?
I don't compare much. So I'd say if I do compare myself with someone else, then it will be my yesterday with my today
Q: What's your favourite movie?
Despicable Me 3
Q: Who is your favourite actor?
Tom Cruise
Q: Are you doing what you believe in, or are you settling for what you are doing?
I'm doing what I believe in. Because I think without believing you cannot achieve any milestones in life
Q: How would you describe yourself in two words?
Simple, diligent