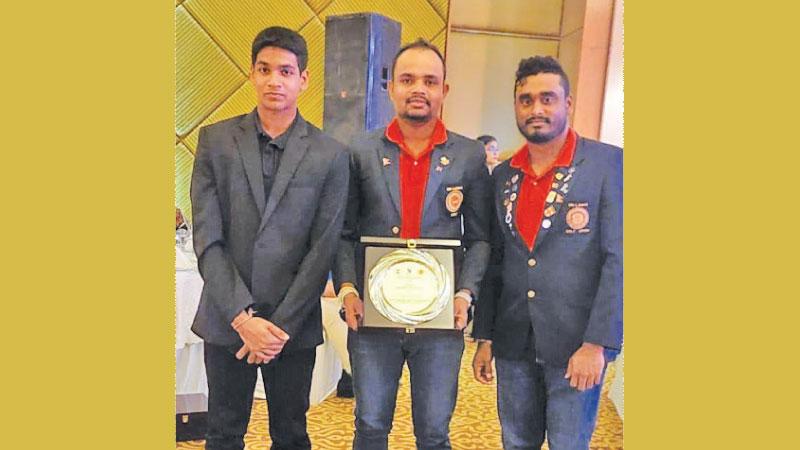 Chalitha Pushpika of the Sri Lanka Navy played consistent golf through the four rounds and was the best finisher among the Sri Lankans to be placed 13th with a total 302, 14 over par, 18 strokes behind the champion Aarav Shah at the Bangladesh Amateur Golf Championship that concluded on March 14 at the Kurmitola Golf Course.
Shah from Australia ended as the champion returning a score of two under par 70.
The final round began with Subash Tamang of Nepal in the lead by three strokes. But Shah played immaculate golf in the final round to finish with his third two under par 70 score and finished with a comfortable three strokes lead. Young Tamang probably succumbed to the pressure and carded a three over par 75.
Reshan Algama the 15-year-old left hand golfer making his debut representing Sri Lanka performed with much credit improving with each round carding a 3 over par 75 in the final round to finish in 24th place jointly tied with Chanaka Perera the experienced former Sri Lanka champion ranked number one in Sri Lanka.
Reshan's performance was all the more worthy as in his debut appearance on a challenging golf course playing among seasoned golfers from many parts of the world, he held his nerve and rose to the occasion and proved the selectors' decision to pick him was justified.
Reshan playing the Kurmitola Golf Course which is up to international standards for the first time clearly over shadowed the experienced Chanaka Perera who has played the same course many times.
Chalitha Pushpika 9 strokes clear of Reshan and Chanaka justified his selection and more is expected from the senior amateur golfers representing Sri Lanka.
However, the emergence of Reshan and other juniors including Nirekh Tejwani who is the current Sri Lanka amateur champion who beat Chanaka Perera last year, gives hope for the future of amateur golf in Sri Lanka, the platform and springboard to the Professional Golf Tour internationally.