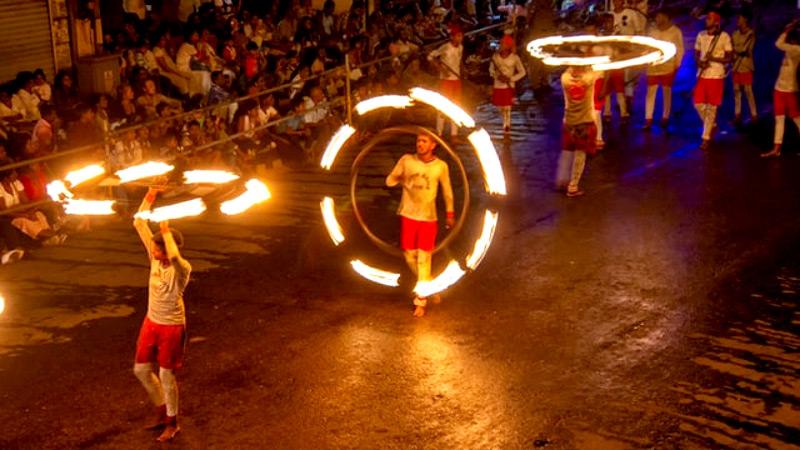 From being a sidekick of tourism to become one of the leading new industries in the world, events tourism has come a long way to prove its potential in many countries by boosting their economies as well as social aspects over the years. Recently as the buzz of event tourism blows across our island nation, it gained a lot of attention and hype towards the industry where now the country is ready to take event tourism to next level. Let's have a look at how Sri Lanka can have the best out of this gem of an industry and what needs to be done to make the best out of it.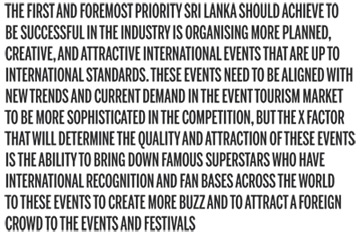 The first and foremost priority Sri Lanka should achieve to be successful in the industry is organising more planned, creative, and attractive international events that are up to international standards. These events need to be aligned with new trends and current demand in the event tourism market to be more sophisticated in the competition, but the X factor that will determine the quality and attraction of these events is the ability to bring down famous superstars who have international recognition and fan bases across the world to these events to create more buzz and to attract a foreign crowd to the events and festivals.
Most of these events are based in Colombo or major suburban clusters around the island. Having more sightseeing locations and attractions such as malls, theme parks, museums, or any like of those that can attract tourists to visit around in between an event that they travel for, will be an extra fun experience for them as well as, this will help Sri Lanka to earn an extra income.
Sporting events
Promoting franchise-based sporting events such as Lanka Premier League (LPL) by having a more global presence and excitement in the competitions and marketing the mega showdowns across the target audience to influence them to visit the country and experience the sporting events will be another strategic move that will be vital to reach and attract a good number of audience to the country and to boost the economy due to the high earning capability that these kinds of sporting events hold.
Bringing down new technology and resources for events while upgrading facilities and infrastructure that are required for quality event tourism is vital to edge out the competition and get more visitors engaged in event tourism in Sri Lanka. This will allow the country to produce more quality and exciting events that are up to international standards and are able to provide its audience with an experience non-other than the best possible.
Keeping up with the event industry across the globe and its ever-changing trends will be crucial for Sri Lanka to be optimised and productive in the global arena. Inspiring entrepreneurs and businesses to invest in event tourism while empowering people and companies who are already in the events and tourism industry to do more creative and mega events will help Sri Lanka to be competitive in the market.
Event tourism is not limited in scope to entertainment events or sporting events. It will spread its range to other important types of events, for those people will fly from one country to another such as international-level business events, conferences and exhibitions. If Sri Lanka can host or even facilitate events while promoting Sri Lankan cultural and national events around the globe as well to attract tourists to come and experience those, it will be a great source of income for the country and along with that, it will create a lot of opportunities due to its positive effects on the country.
Marketing campaigns
Launching marketing campaigns across the globe to promote and market all kinds of events Sri Lanka conducts is another requirement Sri Lanka needs to attract more foreign audiences. This can even be done in collaboration with foreign countries and agencies to promote Sri Lanka as a premium and branded destination for event tourism. This will do a world of good for the country to gain a global presence as a preferred event tourism market in the world. This will even encourage overseas companies to come to Sri Lanka and host events.
Collaborations are vital for a country that is involved in the event tourism industry to do mega events that have the capacity to earn money from bringing down people from every corner of the world as well as will be more convenient to bring down big-name stars to the events in Sri Lanka or even to get latest technologies related to the industry.These kinds of collaborations can either be with a government entity or even with private international firms that can pull off any scale event. This will lead the country to do more macro-scale events where more revenue will be generated.
A common accusation South Asian countries get when it comes to event tourism is unreasonable prices they charge from tourists, while the output is not worth the price they pay. This will be a great opportunity for Sri Lanka to seize the market if Sri Lanka wants to move forward and move fast with event tourism. Sri Lanka can turn around this trend by establishing and implementing a fair price and service quality policy.
Research and development
If Sri Lanka wants to be creative as well as raise the bar of standards to be a front-runner in the event tourism industry, the country should find a way to invest in more research and development on all important aggregates of event tourism. This will help grow the industry to discover new management, technical and organising methods related to events and tourism as well as to discover new and advanced technologies that will be influential and how to combine them for the maximum benefit of all the parties that will be involved in the event tourism industry by being innovative and creative.
Educating locals about event tourism and its importance, especially to the persons who are involved in the tourism and event management industry will be helpful towards the growth and expansion of event tourism in the local arena.
Government influence on the industry to help, guide, and positive control is a must. If the Government can influence event tourism from end-to-end, it will strengthen the industry to perform at the height level. The influence of the Government needs to be from the promotion of the industry to providing support for the event tourism such as funding, sponsoring events as well as event planners and tourist companies, who are making this mechanism work to expand their scope and perform more efficiently and effectively.
The Government also can be instrumental in the success of event tourism in Sri Lanka by implementing a structural method to connect the event industry and the tourism industry to create a better event tourism market such as creating event-based tour packages along with tourist agents and companies.
Launching projects through the tourism ministry is another possible approach for the Government to help towards the growth of the event tourism industry. Apart
The most crucial need that requires government intervention in event tourism is to ensure its quality and standards by setting up regulations and law enforcement. This approach will ensure safety, quality and standards of event tourism.