The Sri Lanka-Russia Friendship Festival, dedicated to the 65th anniversary of the establishment of bilateral diplomatic relations, held at the Colombo Public Library recently.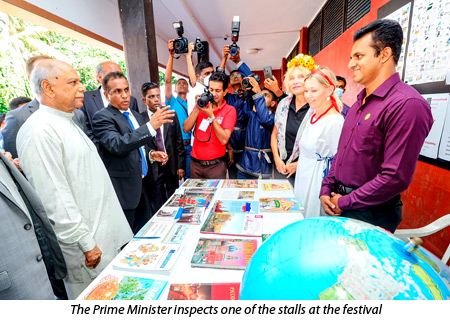 Prime Minister Dinesh Gunawardena who joined the opening ceremony of the festival recalled his visits to Russia and the time he headed the executive committee of the Sri Lanka-Russia Friendship Society.
"I am glad that the Russian House is doing such a great job of strengthening and developing bilateral humanitarian, cultural and educational cooperation, and I am sure that the interest in Russia that volunteers from among the Sri Lankan youth demonstrated during the organisation of this Festival is another confirmation of our friendship and mutual understanding," the Prime Minister said.
Also participating in the opening were Alexey Budanov, Charge d-Affaires of the Russian Federation in Sri Lanka, heads of Diplomatic missions and diplomats of the Embassies of Vietnam, Iran, Cuba, Nepal, the Republic of the Maldives and South Africa, the leaders of the Sri Lanka Friendship Society and the Association of Sri Lankan Graduates from Socialist Countries.
A delegation of the Peoples' Friendship University of Russia arrived in Colombo to participate in the festival. Members of the delegation played an active part in the presentation of higher education opportunities in Russia, in particular, RUDN, and also organised an Olympiad in basic subjects for applicants, the winners of which will receive an advantage when entering RUDN on a free basis within the quota of the government of the Russian Federation.
The festival has become one of the largest projects of the Russian House in Sri Lanka and was traditionally organised with the sponsorship of representatives of the business community from among the members of the Alumni Association, together with volunteers of the Russian Club - a youth association under the RCSC aimed at consolidating the Sri Lankans who are interested in learning the Russian language, culture and history of Russia.
Thematic pavilions dedicated to Russian culture and literature, education, science and the Russian language, Russian history and its diplomatic relations with Sri Lanka allowed guests to learn more about Russia and its rich heritage. Open lectures and workshops in the Russian language, art, tasting of Russian cuisine, photo exhibitions, presentations, competitions attracted great attention of the public.
Of particular interest were the master classes of the Russian School of Ballet and Dancing, conducted with the participation of a professional choreographer from Russia, Oxana Karnovich.