The Sri Lanka Under-19 team concluded their three-week tour of England with the third Youth ODI in Leicester yesterday. Although Sri Lanka U-19 won their two-Test Youth series, England U-19 bounced back to take the U-19 ODI series.
England U-19 had an exciting three-wicket win over Sri Lanka U-19 in the first Youth ODI played in Worcester earlier this week. Sri Lanka U-19, put into bat, did well to continue their batting form from Youth Tests to limited overs making 248 for 9 in their game reduced to 48 per side game.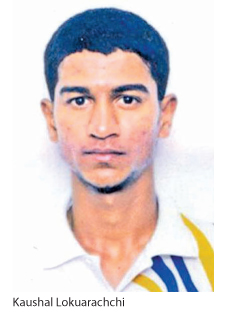 But the game was further affected by rain and the home team's target was further reduced to 172 from 24 overs.
Shevon Daniel who had 155 in the second youth Test, continued his superb form with a fluent 54 off 64 balls (one six and five fours). Anjala Bandara (44), Malsha Tharupathi (37) and opener Abisheak Liyanaarachichi (33) too made useful contributions.
England U-19 lost their last five wickets for 72 runs, but still managed to reach their revised target with five balls to spear – thanks to an explosive 49 off 37 balls by wicket keeper batsman Alex Horton. He was ably supported by Danial Ibrahim (32 off 21 balls) and captain Ben McKinney (31 off 32 balls).
The second U-19 Youth ODI between Sri Lanka and England too was affected by rain which permitted only 35 overs per side. Ranuda Somaratne (81 off 80 balls with one six and five fours) and opener Hasitha Amarasinghe (71 off 81 balls with seven fours) had some solid batting after being put into bat by England U-19.
Sri Lanka U-19 was given a healthy 125-run third wicket partnership by Somaratne and Amarasinghe after the visitors lost their second wicket with only 22 runs on the board after 6.1 overs.
But their total of 211 for 6 in 35 overs was surpassed by the home team on the DL method. England U-19 were 202 for 6 when rain stopped play once more but their scoring rate was good enough to earn a sweet seven-run victory.
Meanwhile, the 2022 Observer SLT Mobitel Most Popular School Cricketers of the Year will end by this Friday - September 16.
Kaushal Lokuarachchi became the second schoolboy from St. Peter's College to win the coveted Observer Schoolboy Cricketer of the Year Award in 2001 for his fine performances in the inter-school cricket season 2000-2001.
Lokuarachchi has played for major teams after his school career such as Bloomfield Cricket and Athletic Club, SSC and Twenty-20 tourneys with a great deal of success.
Lokuarachchi played 21 ODIs and scored 210 runs with a best being 69 and a batting average of 14.00. He bowled 1,011 balls and captured 31 wickets at an average of 23.38, best bowling 4 for 44 and held five catches.
The Observer-Mobitel Schoolboy Cricketer of the Year contest reached new horizons with the dawn of the new millennium.

Kaushal Lokuarachchi became only the second cricketer from St. Peter's College to win the Observer Schoolboy Cricketer of the Year in 2001. St. Peter's after a long lapse produced the first Observer Schoolboy Cricketer of the Year way back in 1981 when Rohan Buultjens became the third to win the title after Ranjan Madugalle (1978-1979) and Arjuna Ranatunga (1980) and the first Peterite to do so.
In 1981 Buultjens not only created history but also shattered the dreams of World Cup winning captain Ranatunga who if not for Buultjens would have won the title three times in a row, a record which is yet to be established. Ranatunga also won the title in 1982 after bagging it in 1980.
Kaushal Samaraweera Lokuarachchi, born on May 20, 1982, is a right-handed batsman and a leg-break bowler. Unfortunately, he was banned by the Bangladesh Premier League anti-corruption tribunal for 18 months and was not involved in cricket since then.
Having made an exceptional start to his career as an all-rounder when he was a schoolboy, Lokuarachchi was made part of the Sri Lankan squad after the 2003 Cricket World Cup. He is primarily a leg-spinner, and it was thought that he would be able to cement a regular place in the team.
After he sustained an injury in a car crash in August 2003 which killed a woman, he was given a four-month disciplinary ban by Sri Lanka Cricket (SLC).
Having steadily made his return during the 2004 Provincial Tournament, he drifted back into the team and having seen Muttiah Muralidaran suffer from a shoulder injury he won a place in the team for the one-day series against South Africa in the Champions Trophy.
Lokuarachchi made his Sri Lanka debut in less than two years after winning the Observer Schoolboy Cricketer of the Year title. His maiden appearance for Sri Lanka was a One Day International on April 6, 2003 against Kenya in Sharjah in a triangular tournament.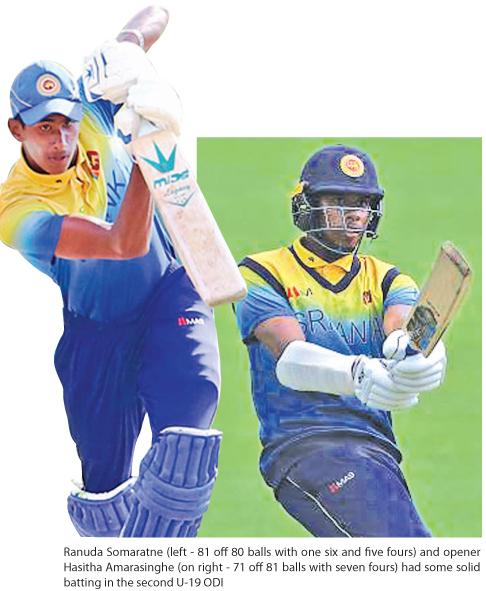 Nineteen days later, Lokuarachchi made his Test debut for Sri Lanka in the drawn first Test against New Zealand at the Premadasa Stadium in Colombo scoring 28 not out batting at number nine. His last match for Sri Lanka was on October 13, 2007, an ODI against England at the Premadasa Stadium won by the home team by 107 runs.
Lokuaracchchi, unfortunately belonged to an era where there were two other right-arm leg spinners also vying for a berth in the Sri Lanka national team. The presence of Upul Chandana and Malinga Bandara meant that 'Loku', as he was affectionately called by his team-mates, had no place in the national team which also had magical off spinner Muttiah Muralidaran, who remains Test cricket's highest wicket taker with 800 scalps.
Lokuarachchi was forced out of action for two months after undergoing surgery on his dislocated right index finger in late November 2007.
He sustained the injury while attempting a return catch off Ravi Bopara during England's first innings against a Sri Lanka Board President's XI in Colombo. Initially it was feared he had sustained a fracture, but it was later known that the blow had dislocated a knuckle without severing the surrounding tendons.
A thrilling unbeaten stand of 139 in 18 overs between Lokuarachchi and Chamara Kapugedera powered Sri Lanka 'A' to a five-wicket win against Bangladesh 'A' at the Colts ground in Colombo. They were in trouble having lost half their side for 146 in pursuit of 285, but the sixth-wicket pair was so dominant that the winning runs came with 39 balls to spare.
After a superb batting effort from Bangladesh, guided by half-centuries from Jahurul Islam and the captain Tushar Imran, Sri Lanka needed a strong start to their chase. Michael Vandort and Dilruwan Perera added 62 for the first wicket in decent time and the total raced to 105 for 1 in the 16th over.
Bangladesh then fought back through Farhad Reza, the medium-pacer, who claimed three quick wickets - all leg-before wickets and produced the run out of Perera for 56.
Suddenly the momentum had swung, but as quickly as the visitors had gained a foothold they lost it again. Young Lokuarachchi slammed 11 fours in his 56-ball innings - including four in one over off Reza - while Kapugedera, who missed out on a World Cup place, was slightly more sedate in his vital 63.
It had been a day dominated from the start by the bat as the Bangladesh top order set the early running. Islam's 70 came off 82 balls and Tushar hit four sixes in his run-a-ball 68. But Lokuarachchi claimed three useful wickets with his leg spin to keep Sri Lanka in the game. His batting then finished the job in style.
Lokuarachchi played a stellar role in a Sri Lanka 'A' win on July 31, 2007. Dhammika Prasad held his nerve to prop Sri Lanka 'A' to a thrilling one-wicket win over Yorkshire at Leeds.
Sri Lanka reached their target of 240 with 10 balls to spare - a relatively comfortable victory in the end, having been in the perilous position of 73 for 6 at one stage.
The win was set up by a superbly controlled yet aggressive partnership between Thilina Kandamby and Kaushal Lokuarachchi who put on 128 for the seventh wicket, hauling Sri Lanka out of the depths and into a position from which they could genuinely go after the target.
Lokuarachchi, who enjoyed an excellent tour with the bat in particular, smacked 77 from 55 balls with seven fours and two sixes while Kandamby was no less efficient in his 77-ball 66. Both fell in quick succession.
However once Lokuarachchi was dismissed by Ajmal Shahzad, they slipped to 210 for 9 - still requiring a further 30 to win. That was when Dhammika Prasad came in handy with the bat.