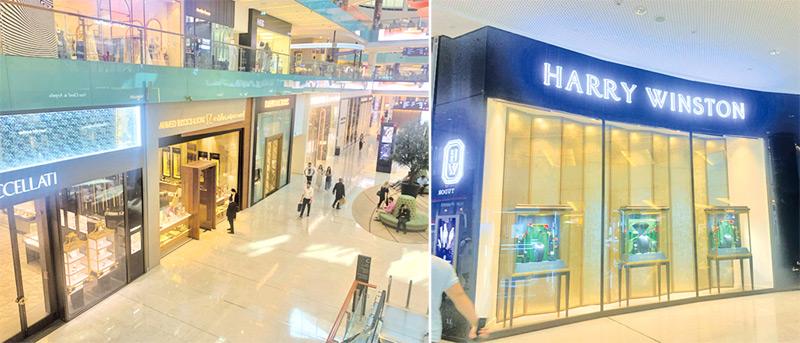 Dubai recently surpassed Antwerp as the hub for raw diamonds according to a statement from the Dubai Multi Commodities Centre (DMCC) CEO's office. Likewise, there is a demand for coloured gems such as rubies, sapphires and emeralds among others. The United Arab Emirates (UAE)'s safety, ease of business culture and other factors have enabled this.
"We are increasingly seeing the demand growing in the coloured gems sector with a lot of youngsters preferring them," said Shaunak Shastree, Managing Director of International Gemological Institute (IGI), Middle East in an interview with the Sunday Observer. 
Adil Iskender of Adnan Jewellers, a veteran of the trade in the UAE for 40 years said, "While the most demanded gemstone is certainly the diamond, there is an increase in demand for coloured stones. We have sold jewellery items that have 'a mix' of multiple gems in one piece."
He said that Dubai has the potential to be a 'one stop shop' to acquire whatever you need. He said, "While diamonds usually have 'fixed prices', coloured stones do not. So, your eye alone is the best judge of this and every gemologist will disagree over what hue and shade a piece looks like. Although diamonds is a slightly different market, there is some overlap and so, Dubai is the ideal location to buy'."
Sapphires  
Usama Ibrahim, a Sri Lanka-based gem merchant has conducted business in Dubai. He said, "Sri Lanka is famous for exporting sapphires: among the 'famous' blue sapphires, you have cornflower blue, peacock blue and royal blue, these being the most sought after. There are colour variations and unlike diamonds which have fixed prices set by big corporations, in the coloured world, there is more flexibility and that gives small business owners more chances."
He said, "With citizens of many countries living and transiting through Dubai, the ease of getting visas compared to Europe, the US or other hubs is a huge pull factor since traders can do a trip on short notice. And, the UAE Dirham is an internationally tradable currency."
Africa and Asia produce many gems: namely Madagascar, Myanmar, Sri Lanka and Thailand. The UAE doubles up as a central location for traders. The International Gemological Institute (IGI) was established in 1998 in the UAE. Specifically for coloured stones, they offer identification reports, which specify if the coloured stone is natural or synthetic, the species and possibly the geographic origin of the coloured stone (if they can determine). 
"Dubai has a level of safety that is hard to come close to and only Singapore can compare," said UAE based Nisal Mohammed of Ceylon Gems. "It gives you peace of mind to know that you're in a country where security is good, especially with such valuable items." 
Easy access
While taking a walk through The Dubai Mall for example, one can see jewellery stores displaying merchandise openly and visitors can walk in and have a glance. In comparison, in other cities such as Antwerp or New York, one might have to go through metal detectors and other layers of security if one doesn't have an appointment. Shastree said that there is a rising demand for gems such as tourmaline, paraiba, alexandrite and tanzanite. But, the most popular stones in the UAE are rubies, sapphires and emeralds, reflecting a similar trend across the Middle East. 
The United Arab Emirates has also been ranked 11th in the World Bank's Annual Ranking of Ease of Doing Business. With a wide array of hotels, an international business culture and demand for complimentary items such as gold silver diamonds and jewellery, we will see the coloured stone trade thrive in the Gulf nation given their growing position as a consumer society.