Sri Lanka's World Cup winning captain, Arjuna Ranatunga was appointed the new chairman of the elite National Sports Council last week. The appointment letter was handed over to him by Minister of Sports, Roshan Ranasinghe.
Addressing the distinguished gathering which included Minister Ranasinghe and Secretary to the Ministry of Sports Dr. Amal Harsha de Silva, the former Sri Lanka cricket captain turned ex-Cabinet Minister at one time said it was an honour to chair the distinguished committee on the invitation of the Minister.

Ranatunga, who won the Observer Schoolboy Cricketer of the Year award twice in 1980 and 1982, said he played for Sri Lanka for 19 years and was then in Parliament for about 18 years.
"For the last two and a half years, I was much relaxed, concentrating fully on my family. Then came this invitation from the Minister to whom I had high regard. But there again, I was thinking about it for some time. There again, I thought I must give something back once again," Ranatunga said.
"I have got all these things in life due to cricket. It is not an individual sport. It is a team sport. But you have played as one team. When I look back at my cricket career statistics, I have played for almost two decades – in over 250 one-day Internationals and over 90 Tests. But I have scored only four centuries in each form. That is because I always put my team ahead of individual achievements," he said.
It was absolutely true as Ranatunga, born on December 1, 1963 has played in 93 Tests, scoring 5,105 runs but has only four centuries and 38 fifties. Similarly, while scoring 7,456 runs in 269 ODIs, Ranatunga had scored only four tons and 49 fifties.
"I will do my level best to uplift the sport in Sri Lanka, helping the talented sportsmen and women in remote areas across the island. At the same time, I will make Wednesday a public day so that sportsmen and sportswomen could reach the National Sports Council directly to iron out whatever problems they have. They could also come up with innovative ideas to develop sports," Ranatunga said.
The other members of the star-studded National Sports Council are Army Commander Lt. General H.L.V.M. Liyanage, Air Force Commander Air Marshall S.K. Pathirana, Navy Commander Vice Admiral Nishantha Ulugethenna, Director General of Sports Amal Edirisuriya, former SLRFU President and Consultant Surgeon Dr. Maiya Gunasekera, former Commonwealth Games silver medalist Sriyani Kulawansa, former Director General of Education (Sports) and ex-AASL President Sunil Jayaweera, former Sri Lanka rugby captain and ex-SLRFU President Lasitha Gunaratna, ex-National Youth Chairman Nalinda Illangakoon, Advisor to the Sports Minister and former Prime Minister's private secretary Sudath Chandrasekera, former Royal boxing captain and local Paralympics chief Major General Rajitha Ampemothtti, business consultant Krishantha Mendis and former Bar Association of Sri Lanka Secretary cum my Royal College batch mate Ajith Pathirana. Sujani Bogollagama has been named as the Secretary of the NSC.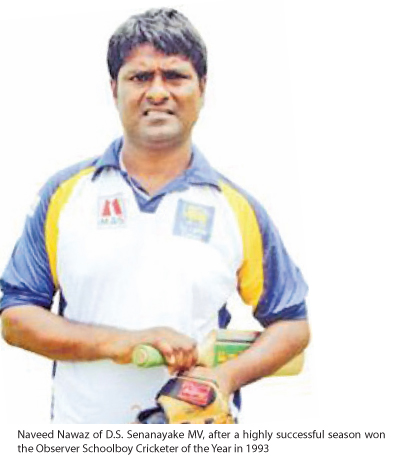 Harking back to the history of the Observer SLT Mobitel School Cricketers of the Year series which has entered its 44th year, this year's selection is expected to take place shortly.
Naveed Nawaz of D.S. Senanayake MV, after a highly successful season, won the Observer Schoolboy Cricketer of the Year in 1993. This was after Sanjeewa Ranatunga (1988), Kumar Dharmasena (1989), Marvan Atapattu (1990), Muttiah Muralidaran (1991) and Sajith Fernando (1992) signalled the second glorious era in the Observer Schoolboy Cricketer of the Year series.
Born on September 20, 1973 in Colombo, Nawaz was a left-handed batsman and a leg-break bowler who first came to the limelight from D.S. Senanayake MV. Despite his impressive school career, he managed to play just one Test and three one-day Internationals for Sri Lanka.
Later he was appointed as under-19 coach of Bangladesh. Under the coaching of Nawaz, in the 2020 ICC Under-19 Cricket World Cup Bangladesh beat India by three wickets to win the tournament.
Nawaz played one Test and three ODIs for Sri Lanka between 1998 and 2002. He was previously serving as Bangladesh U-19 team coach and had guided the team to the ICC U19 World Cup triumph in 2020.
His only Test was against Bangladesh. He had played for his club side for several years before an international appearance with his first and only international match taking place in July 2002, and in 2004 Nawaz ventured into Twenty-20 cricket.
In 2004, he was appointed as the captain of Sri Lanka A side that toured New Zealand and the team included very good players like paceman Lasith Malinga.
On his retirement from International and domestic cricket in 2005 he ventured into the field of coaching first-class cricket in Sri Lanka. He was player-cum-coach of NCC, head coach of Moors Sports Club and has done a good job as the head coach with SSC. His latest contract is being an assistant head coach of the Sri Lanka National team for two years from 2022.
In 2007-08, Nawaz was head coach of the Fingara International Cricket Academy (FICA). He was appointed as consultant coach of the Sri Lanka women's team in 2009 and accompanied them at the Women's World Cup in Australia and T20 World Cup in England.
In 2009, Sri Lanka Cricket (SLC) appointed Nawaz as the head coach of the Sri Lanka under-19 team.
In July 2018, Nawaz was appointed as under-19 coach of Bangladesh and they ended as runners-up in the 2019 ACC Asia under-19 tournament which was held in Sri Lanka. During the tournament Bangladesh U19 team was able to beat the hosts to end as table toppers of group A.
Under the coaching of Nawaz, in the 2020 ICC Under-19 Cricket World Cup Bangladesh beat India by three wickets to win the tournament.
It was Bangladesh's first triumph in an ICC event at any level.
He was appointed as assistant coach for the Sri Lanka national cricket team for two years last April.
Nawaz, before taking over the new role, was functioning as the head coach of the Bangladesh under-19 team, where he led the team to an ICC under 19 Cricket World Cup win in 2020.