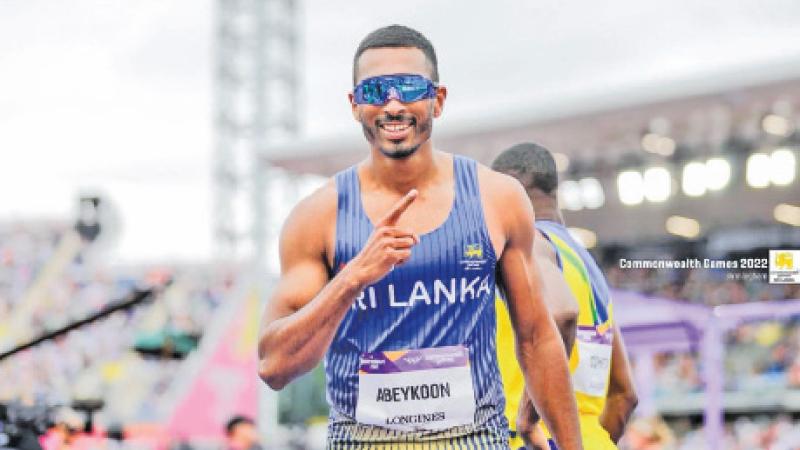 Athlete Yupun Priyadarshana Abeykoon attained iconic status in Sri Lanka when he became the first South Asian to break the magical 10-second barrier after winning the Resisprint International meeting in Switzerland in July clocking 9.96 seconds.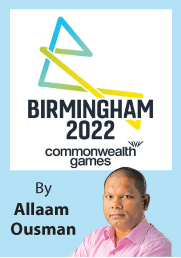 It was the culmination of a tumultuous season for the 27-year-old Italy-based Sri Lankan sprint star who is the national or South Asian record holder from the men's indoor 60m to the 200m events. His epic feat at the XXII Commonwealth Games where he became the first South Asian to win a bronze medal in the men's 100m event was a result of at least three years of planning with his coach Claudio Licciardiello, a former Italian 400m runner and Olympian. Sri Lanka has produced some great sprinters such as Sunil Gunawardena, Chinthaka de Zoysa and Shehan Ambepitiya but Abeykoon is undoubtedly the uncrowned king in Asia after rewriting the script in Birmingham that has changed the face of Sri Lanka athletics forever.
"It was one of the best sprint races I have ever seen for decades. The last time I saw one was when Susanthika Jayasinghe came third in the women's 200m from the seventh lane in the 2007 Osaka World Athletic Championship," said Ambepitiya purring with admiration after Abeykoon finished in a canter to take third place in the men's 100m final running in lane two.
Abeykoon clocked the fastest ever Games time of 10.02 in the heats before sneaking into the final after finishing fourth in the semifinals as one of the fastest qualifiers. "I know how hard it is to run in a semifinal and it is really tough to get into the final. It was a huge win just to get into the final even after finishing eighth," said Ambepitiya who was the first Sri Lankan to feature in the semifinals of both the 100m and 200m in the 2010 Delhi Games.

"This is the best race by a Sri Lankan. It was a huge victory. The biggest upset of the Games. He got the best possible start before winning over the final 60 metres. It was an amazing race. He gave his 100 per cent," said Ambepitiya, downplaying the fact that the final did not burn the track at Alexander Stadium.
Abeykoon's medal-winning time was 10.14 behind Kenya's Ferdinand Omanyala (10.02) and South Africa's Akani Simbine (10.13) whereas Botswana's rising sprint star smashed his own Under-20 world record clocking 9.91 the previous day on his way to winning gold at the 2022 World Athletics U20 Championships in Cali, Colombia.
"He is an exceptional athlete and most think he is the next Usain Bolt as he consistently runs 9.95. He wouldn't have missed the World Juniors for the Commonwealth Games," he added.
"Everyone is going for a medal. Yupun got a really good start. In any championship or Commonwealth Games, elite athletes are not thinking of the timing, only medals. The timing also varies upon the conditions," explained Ambepitiya who won three gold medals in the 100m, 200m, and 4x100m relay at the Youth Commonwealth Games in 2008 Pune.
However, he underscored the fact that Abeykoon wouldn't have become a global star if he had been training in Sri Lanka.
"Yupun's success is because of his team in Italy. If he was training in Sri Lanka, he would not have achieved his goals. Sri Lankans run in only one or two races but Yupun took part in more than 10 races. He was ready at the highest level," said Ambepitiya, highlighting the importance of international competition.
"He had a manager, physiotherapist and a strength and condition coach in addition to a coach. Sri Lanka coaches are also good but they don't have supporting staff. Here the coach does everything," added Ambepitiya who had a short training stint in Jamaica.
Abeykoon's ultimate goal is the 2024 Paris Olympics. "If he can qualify for the finals at the Olympics, it will be good enough. It is very tough but he has two years to prepare for it. Who knows what he will do," said Ambepitiya, who considers Abeykoon to be a professional athlete.
However, Ambepitiya lamented the fact that Sri Lanka may have missed out on another medal in athletics after the non-participation of US-based high jumper Ushan Thiwanka Perera because of visa issues.
"The men's high jump gold medal mark was 2.24m where Ushan Thiwanka has a seasonal best of 2.27 and a personal best of 2.30. He had visa issues but no one was there to help him. We lost a potential medal there," he pointed out.
He was also of the opinion that women's long jump athlete Sarangi Silva should not have skipped the World Athletic Championship held in Oregon, USA before the Games.
"If I was Sarangi, I would not have missed going to the World Championship. You are competing against a quality field and gathering more experience," said Ambepitiya.
Saranga leaped a distance of 6.42 but finished in 13th place after managing to clear only 6.07 in the final.
Ambepitiya lauded all the athletes for performing to their potential. "The bottom line is they would have done better if they had more international competitions like Abeykoon," added Ambepitiya.