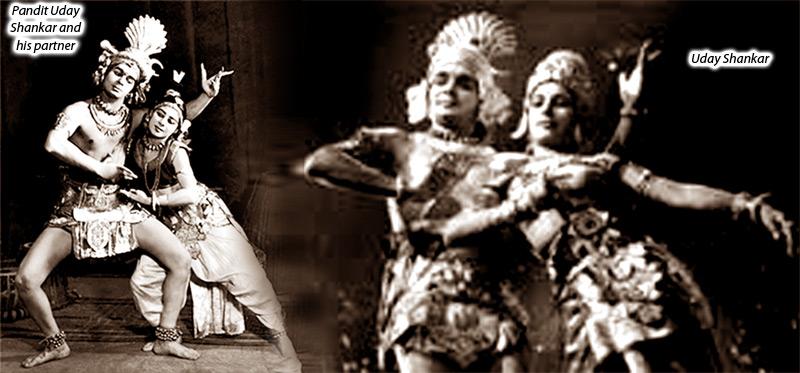 Artiste's life is a struggle. Normally after a lifelong battle their contributions get the social recognition. But after their period, their great contributions and sacrifices are very often forgotten.
Uday Shaker was born in the village of Udaipur, in a rich Zamindahri Brahmin family on December 8, 1900. When he was young he travelled all over India. He travelled from place to place in different states. Because his father was involved in the state service, hence he got the opportunity. Ultimately the family settled down in Jhalawar. When he was small he got numerous opportunities to watch a variety of dances. This was during the Holi festival time.
These dances fascinated and influenced the young mind of Uday. In his childhood he went and lived in his paternal grandfather's house, while his father was away for lecture tours abroad. During his childhood he lived in different states of India such as Rajasthan, Uther Pradesh and Bengal. Different celebrations of numerous festivals influenced young Uday Shankar.
With the young boys he had a carefree life: swimming in the river Ganga and viewing street dances like Nautanki and Baiji. Mother couldn't control son much due to the restricted life of the female freedom. All these in his inner subconscious mind influenced and molded his own creativity ideas, which helped him develop his own creativity dances later in his life.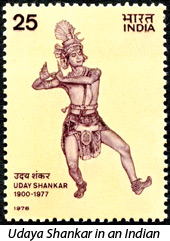 Many orthodox Hindu families didn't accept his pranks. Whatever it is, one drawing master realised his inborn talents, and helped him cherish to develop his talents. His mother had no daughters, so she adorned her elder son Uday as a female. Just for amusement he dressed himself as a woman and danced as a Rajesthan female dancer. He also performed his famous Malwari dance in Paris. No one believed that it was a male dancer who danced as a female. Almost at the end of First World War, his father returned to India from London. And their family shifted to learn Jhalawar. His father realized his son's exceptional talent in painting, Indian music and Indian instrumental music.
In 1918 he was sent to the J.J school of arts, Bombay, and in the year 1920, Uday sailed to London to learn art at Royal art school, where his exceptional talent was recognised The principle of the J.J school of arts asked him to go and study magnificent drawing paintings and miniatures in the British Museum. With the influence of certain Indians he realised the rich culture of India. His study and discoveries of British museum thrilled him.
During that time only he was mainly influenced by aesthetic arts of Indian painting, music, musical instruments and dance. He was inspired and he was the first Indian to have won two prizes for self portrait and as a nocturne. Moreover he got a scholarship to Rome where he got an opportunity to meet Anna Pavlova. Unexpectedly the fate brought both of them together. She requested Uday to choreograph a dance show; he also agreed to choreograph two dances and danced with herself and became a partner in his dance show.
By his hard work, he finally choreographed two items, namely Radha- Krishna, and Hindu marriage. Both these were produced in London and gained the international fame. Actually it was the starting point for his dance professional dance performing career. Because of such success was a breakthrough in his dancing career. Anna Pavlova invited him to join with in her American tour. But unfortunately less opportunity was given to him by Anna Pavlova's troupe in the American tour. Due to such disappointment with them he left Anna Pavlova' troupe as soon as he returned from the American tour. Then he returned to Paris and worked hard work and practised and rehearsed his own imaginative creativity dance based with rich Indian culture links and traditional items. . During that period his exceptional talent was very much influenced by his Ananda K. Commaraswamy's Mirror of Gesture English translation of Abiynaya Darpana of Nandikeswara . That induced him to create Indian dance which is one of his most famed outstanding solo dance product.
One lady called Simike, a pianist, joined his troupe to help him in the orchestra and in the dance troupe. In 1925, he performed at the Exposition of International in Paris. It gave an opportunity for him to see the dances of different countries including Africa, America, Arabia, Java, and Bali including the Kandyan dance of Sri Lanka. All these influenced his creativity dance form. Meanwhile, his graceful creative dances also attracted the local audience of Paris which provided an opportunity to have his show all over from France.
Later on his return to his birth country India and studied the depth of Indian art and watched the performances of court dancers, musicians, and collected the excellent collection of Indian crafted dance jewellery, research Indian books and variety of Indian classical and folk Instruments.
He was very much taken up by the folk dances and attracted by the asthetic essence. He was very much attracted by Kathakali. He also saw the majestic magnified sculptures of God poses and temple decorative sculptural poses in temples and cultural citadels.
He visited the famous temples such as Chidamparam and Knorak including Ajantha, Ellora, Haliberd. He visited Shanthiniketan where he met Rabindranath Tagore.
His elder brother Ravi Shankar once said referred about his younger brother, 'To me he was a superman and those years with him did a great deal not only to shape my artistic and creativity personality , but also to form me as a total human begin….it was he taught me to understand and appreciate our ancient tradition and art, and all our culture and all our culture and my apprenticeship under him in stage craft lighting set design and general showmanship was of great value to me in later years'.
After the second world war Uday Shankar involved in producing his own film Kalpana which proved a proved a financial flop. Being a dedicated artiste he took a lot of pain in practices and rehearsals before his shows to make them a success. Once his wife Aloma said "I owe to my husband a new vision, of life and art creation and presentation." With the passage of time in 1960s, he moved to Calcutta, and there he operated his excellent dance troupe, and later his health started deteriorating. Once he was performing in Assam, he got a heart attack. Following a performance in USA he passed away on September 26, 1977.