Chanaka Perera continued to hold his top position at the July SLG Golf Ranking Tournament with a tally of 297 from four rounds.
Though starting behind with a first round score of 76 he came back strongly to take the lead.
This tournament for the national and emerging squads was held at the RCGC course last week.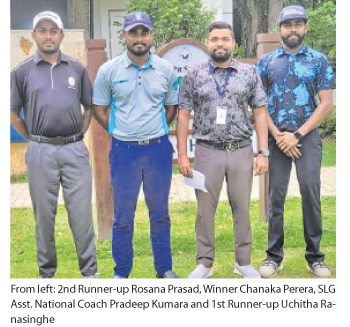 Uchitha Ranasinghe 302 finished first runner-up while Rosana Prasad 307 finished second runner-up. Young Reshan Algama obtained 309 playing off a handicap of five and displayed improvement with every outing. (TBR)
Scores:
1. Chanaka Perera:
76, 70, 77, 74 =297
2. Uchitha Ranasinghe:
71, 77, 79, 74 = 302
3. Rosana Prasad:
79, 71, 81, 76 = 307
4. Sampath Kalum:
74, 79, 79, 76 = 308
5. Reshan Algama:
80, 75, 79, 75 = 312
6. Nilantha Waiddyaratne:
79, 77, 77, 79 = 312
7. Chalitha Pushpika:
74, 86, 81, 75 = 316
8. RMS Rupasinghe:
80, 78, 80, 83 = 321