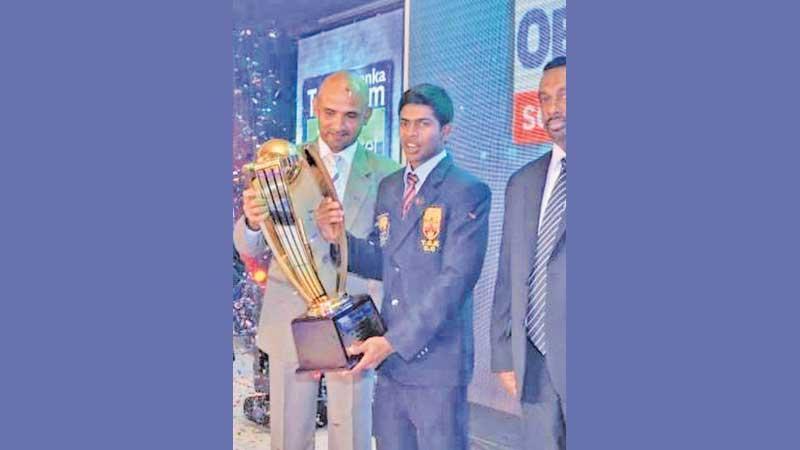 Sri Lanka has been looking for talented cricketers to fill vacancies in the national team. But that has not been an easy task, unlike in the past mainly about three decades ago, where extraordinarily rich talent directly marched into the national team from school level.
But after a long wait, it seems that Sri Lanka has found a number three batsman who displays some sort of class. Although it is too early to make a full review, it seems that the ICC T20 World Cup which concludes in the UAE today has given Sri Lanka some hope in batting.

Charith Asalanka, who won the Observer SLT Mobitel Schoolboy Cricketer of the Year award in successive years - 2015 and 2016, as a promising star from Richmond College, Galle - became Sri Lanka's find at the ICC T20 World Cup.
The one-drop batting slot is a very vital link in any team. In the Sri Lanka national team there were two notable batsmen who held this No. 3 batting position - initially by Asanka Gurusinha and then by Kumar Sangakkara. But since the retirement of Sangakkara, we have been experimenting with several players without much success.
Perhaps, it is too early to make a judgement but the role played by Asalanka at the ICC T20 World Cup is definitely a positive sign. If Asalanka blossoms like that in the future too, Sri Lanka could heave a sigh of relief.
Sri Lanka's first and the original awards ceremony for teenagers - the Observer SLT Mobitel School Cricketers of the Year contest - would open a new chapter as it has remained the only awards show to face Covid-19 pandemic with courage and hold the Mega Show uninterrupted.
It has been mainly due to the SLT Mobitel's lavish sponsorship to foster school cricket despite difficult economic times for almost every organization not only in Sri Lanka but the world over.
Not only schoolboys, parents and public, also consider the Observer-SLT Mobitel School Cricketer of the Year title as an unofficial guarantee for a schoolboy to sport the Sri Lanka cap.
Last year marked the 30th anniversary of winning the Observer Schoolboy Cricketer of the Year title by a stylish batsman who later became Sri Lanka skipper – Marvan Atapattu.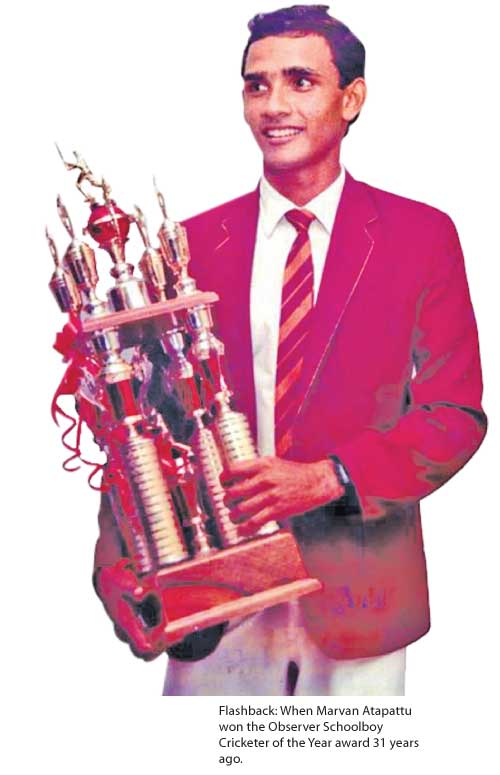 Among the many who believes in the glory of winning Observer Schoolboy Cricketer of the Year is former Sri Lanka captain and ex-national coach Atapattu.
He feels that the Observer Schoolboy Cricketer title he won in 1990 as a 'certificate or a guarantee' that he would play for Sri Lanka.
In a recent interview, Atapattu said that he considers winning of the Observer Schoolboy Cricketer title was a turning point in his career that transformed him from school cricket to international cricket.
"I had been performing well and scoring consistently for Ananda as a schoolboy cricketer and many considered me as a future Sri Lanka prospect. Although I too had felt that way that I had a chance, there was no guarantee I could get that," he said.
But Atapattu said his crowning glory as the Observer Schoolboy Cricketer of the Year 1990 gave him an assurance that he would play for Sri Lanka.
"All those players who had won the Observer Schoolboy Cricketer of the Year title before me had gone on to play for Sri Lanka with distinction. Hence, when I won the title, I too knew that I could join that select band, provided I work hard," Atapattu recalled about the early stage of his national career.
"I was always considered to be a prospect to play for Sri Lanka. Winning the schoolboy cricketer title was a source of encouragement that gave me tremendous inspiration. Hence, I worked harder and dedicated myself to achieve that goal," he said.
"I finally made it to the Sri Lanka team shortly after winning the Observer Schoolboy Cricketer of the Year title," the former Sri Lanka opener, who turns 51 on November 22, said.
Young Atapattu, only a few months after winning the Observer Schoolboy Cricketer of the Year 1990, was selected to make his Test debut against India in the one-off Test in Chandigarh on November 23, the same year.
Atapattu unfortunately had a disastrous beginning to his career but later played many star-studded innings.
His inauspicious Test debut would have been too hard to absorb - scoring just a run in his first six Test innings. In reply to India's first innings total of 288 all out, Sri Lanka were bowled out for 82 on his Test debut. There were five Sri Lankan batsmen who were out for 'ducks' in the first innings - Hashan Tillakaratne, Rumesh Ratnayake, Graeme Labrooy, Jayananda Warnaweera and debutant Atapattu.
Following on, Sri Lanka were bowled out for 198 runs in the second essay. Once again five batsmen failed to open their accounts – Asanka Gurusinha, Rumesh Ratnayake, Labrooy, Warnaweera and Atapattu.
Despite his failure in the first three Tests of his career, there was no stopping him when he finally found his natural form and rhythm to reach the highest level. Playing in 90 Tests for Sri Lanka, Atapattu aggregated 5,502 runs at an average of 39.02.
His Test career was illuminated with 16 centuries, including six double tons and 17 fifties with a highest score of 249. Atapattu had played the role of a dependable Test opener for 17 long years until 2007.
Atapattu feels that unwanted competition and pressure to win matches at any cost has prevented schools from producing talented players to feed the national pool.
"It is evident that most school teams go all out to win matches, rather than aiming to produce top cricketers who could play for Sri Lanka. In an inter-school match or at any level of competition for that matter, one team has to win. But that does not necessarily mean that the standard of that particular school team has improved. What is important for a school is the number of players they produce to play for Sri Lanka," the veteran opener said.
Compared to his school days, Atapattu sees a huge gulf between present day school cricket and international level. "You can hardly identify a schoolboy cricketer and predict that he would play for Sri Lanka," Atapattu said.
He does not fault the players but felt that improper guidance and bad coaching players have been forced to undergo and pressure to win matches at any cost, have killed young talent.
"It is not fair to put the blame on players. It is the wrong guidance and coaching they have received that has put them in a situation like that. Old boys, principals, school masters and coaches are only interested in winning matches, rather than producing quality cricketers to play for Sri Lanka. That is where the problem lies," he pointed out.
Atapattu said players switching schools and coaches trying to 'import' outstanding players from outstation schools to make champion teams has also affected school cricket. "Offering a chance to a top player or two from the outstations could be approved as an inspiration to outstation cricketers," he said.
The reliable former Sri Lanka opener renowned for his superb technique said they had huge respect for coaches during their era. "I wonder whether the players have the same respect for their coaches now. Some teams say they have obtained the services of level one coaches but their ability to produce and offer proper guidance and coaching to the players could be questionable," he said.
Voting for the Most Popular School Cricketers of the Year is in its sixth week and is likely to conclude in four more weeks. The voting coupons would continue to appear in the Sunday Observer, Daily News, Dinamina, Thinakaran and Tharuni publications of the ANCL.
Readers of the Sunday Observer have been voting for this popular contest for the past 42 years.
SLT Mobitel powering the event for the 15th successive year, will be only the third sponsor in the history of the Observer Schoolboy Cricketer of the Year contest series after Warner-Hudnut and Bata.
Former Sri Lanka Test captain and present ICC Chief Match Referee, Ranjan Madugalle won the Most Popular Schoolboy Cricketer of the year 'crown' when Warner-Hudnut sponsored the inaugural event in 1979.
It's your turn to identify tomorrow's cricketing heroes and vote for them!