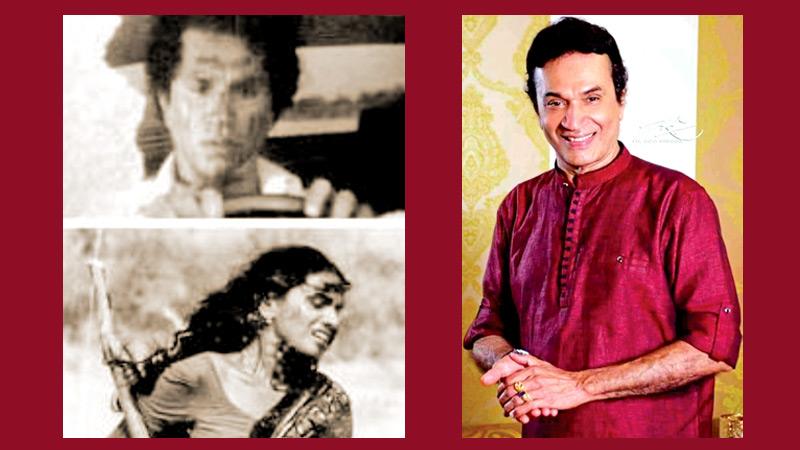 The diamond set on the top of a crown gives a glory and enriches the beauty. Suffice to say that renowned artiste Ravindra Randeniya has emanated a vibrant ray of light on the Sinhala Cinema to adorn the Cinema culture of Sri Lanka.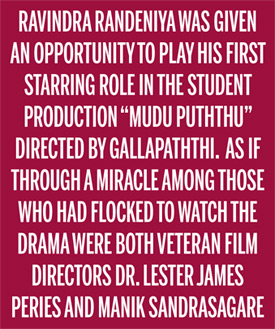 Liyanage Boniface Walter Perera better known by his stage name Ravindra Randeniya was born in Kelaniya on June 5, 1945 to a business family. It was St.Francis's College from which he received his education. Two years later he was admitted to St. Benedict's College in Kotahena. As a student he was a book-worm. He has read literary creations penned by Martin Wickremasinghe, Prof. Ediriweera Sarachchandra, Kumaratunga Munidasa and Wimalaratne Kumaragama to broaden his view.
As an actor
Focusing on his journey as an actor we should not give a blind eye to the "Lionel Wendt." It was Lionel Wendt in which Ravindra Randeniya began to flourish and shine. In 1969, he had joined the Lionel Wendt Art Gallery to acquire a proper knowledge of drama and theatre. He had chosen screen writing, directing and stage decor as his main subjects but had not learnt about acting.
Later he was interested in acting while attending one of the classes conducted by the veteran dramatist Dhamma Jagoda. As stressed by the veteran actor Ravindra Randeniya, "Jagoda had gone to America on a scholarship the year before he founded "The Lionel Wendt Theatre Workshop." It is Dhamma Jagoda who introduced the Method Acting to the Sri Lankans.
Ravindra Randeniya was given an opportunity to play his first starring role in the student production "Mudu Puththu" directed by Gallapaththi. As if through a miracle among those who had flocked to watch the drama were both veteran film directors Dr. Lester James Peries and Manik Sandrasagare. They, after having noticed Ravindra's creative spirit has cast him in their films. In the film "Kalu Diya Dahara" (1970) directed by Manik Sandrasagara, Ravindra Randeniya played the role of a radical plantation worker.
Two years later Dr. Lester James Peries cast him as a hermit in the film titled "Desa Nisa". Going deeper into his performances "Ektem Ge" directed by Herbert Ranjith Peries is notable. No doubt that last sequence of the film had moved the audience into tears. Sarath (Ravindra) leads the life of a recluse immersing himself in his unwashed clothes, cigarette butts and empty Arrack bottles. In this film, Sarath (Ravindra) comes to a village as a young bachelor who works as a supervisor. Later he falls in love with a young village girl named "Mala". But as if through an error of Sarath's destiny, she takes his love for granted. Eventually Sarath determines to lead a solitary life in a lighthouse cut off from the society.
Obviously this is the sequence in which Ravindra switches from the role of a lover to the role of a broken hearted-lover. Even the theme song of "Ektem Ge" film has become popular among the youth. In the film "Duhul Malak" by Vijaya Dharmasiri, Ravindra Randeniya gives blood to the character "Rohan Athukorala". This films revolves around a psychological background which implies the sexual desire of a woman's mind. To my question about the role of Rohana, he said thus", The way I played the role left no room for vulgarity. No one thought that my character to have been immoral, even though what he was doing was in effect immoral."
We can witness Ravindra Randeniya's amazing performance in the film, "Veera Puran Appu" directed by Dr. Lester James Peries. In the film, Ravindra Randeniya plays the main role Veera Puran Appu. Malini Fonseka is cast as "Bandara Menike". Obviously this film unlike most of the films has required much physical strength. In this film there appears "Veera Puran Appu (Ravindra) on horse back with a white piece of cloth wrapped around his head, holding a gun in one hand and reins in the other hand.
Surely you may have been astonished by the sequences in which Veera Puran Appu (Ravindra) rides his horse like a well seasoned horseman. That is why this film can hold the audience spellbound. That is why the audience can empathise with the character played by him. To be honest, the mind-blowing performances by Ravindra mingled with the theme song have aroused our patriotic feelings. The well known fact is that this versatile actor Ravindra Randeniya has won many accolades and awards for his versatility but the unknown fact is that never in all his life had he asked films directors or film producers for opportunities for films.
Baptism by fire
The renowned actor Ravindra Randeniya has amased the audience by doing all the stunts alone. Only a fistful of actors can be seen doing their stunts alone to live the character. Indeed the veteran actor Ravindra Randeniya is one of the best character actors. "I tried to live a better life but you did not allow me to do that. Hereafter I am not Siripala , I am Maru Sira who brought you death". If you are an avid film-goer, you can remember these lines even now. If we draw our attention to the film "Siripala saha Ranmenika", Ravindra Randeniya can be seen playing the main role of "Siripala". In this film, he has jumped off the roof of a moving train directly on the ground.
The amazing fact is the courage he had as an actor. Not only in "Siripala Saha Ranmenika" he has done his stunts alone. In "Soora Saradiyel (1968)" directed by Anton Gregory, he received even deadly injuries. Ravindra Randeniya got shot badly in his back in this film. One of the metel pieces had also gone near his lungs. Even now his performances are acclaimed by many mainly because of his dedication.
In one of the sequences of the film "Bambara Petikki" (1984), Ravindra Randeniya can be seen jumping off the Kalutara Bridge to the river and going 25ft deep into the water. Such fearless actors are rare ! Indeed it can be said that the blood, tears and sweat shed by artistes such as Ravindra Randeniya on behalf of the Sinhala Cinema should stay in the sacred place of our hearts forever.
"What if you ask a bird to fly after robbing his wings? Obviously in vain "As stressed by actor Randeniya, the main two weapons with which actors portray characters are voice and body. But in the these films "Siri Medura" directed by Parakrama Niriella and "Janelaya" directed by Chandran Rathnam, the versatile actor Ravindra Randeniya made history by breaking the Status Quo.
Ravindra Randeniya plays the role of Sampath Samarawickrama in "Siri Medura". Sampath is a disabled person. Neither can he make a single movement nor utter a single word. But the miracle is the fact that audience can perceive Sampath's inner feelings and emotions which depict through his face. To the question raised by me about the facial expressions he told, "Not that I deliberately express my feelings through my face but when I get into the character, the facial expressions get manifest to the audience. That happens naturally."
Indeed only a handful of actors and actresses can live the characters by delving into the pulse and the conscience of the characters. The main tool Ravindra had used is facial expression. In 1990, Ravindra won the Sarasaviya Best Actor Award.
The film "Janelaya" is another challenging film. When we watch this film, we never feel that Weerasinghe (Ravindra ) cannot speak though he does not deliver even a single line. Weerasinghe has been brought out as a silent killer. From my perspective, there can be seen two major factors which contribute to the uniqueness of this film. Be that as it may, surely there must be a dozen of reasons for its uniqueness. First is, as I felt, that we can see only two actresses and five actors throughout the film. The other factor is that there are no dialogues for the character of Weerasinghe (Ravindra).
Indeed films of this kind are not in our memory. Razi Anwar plays the role of Salinda. Salinda is a school-going child but later he becomes a witness to a murder which happened in front of his apartment. Unfortunately Salinda's parents turn a deaf ear to his words when he confides what he has witnessed to his parents. The murder, as revealed by Salinda, is committed by Weerasinghe.
Significantly the character of Weerasinghe has been concealed from the audience. But only after the conflict begins to build between Weerasinghe and Salinda, the audience can see him directly. In this film, we can see a closeup of Weerassinghe's( Ravindra) face when Mrs. Weerasinghe (Anoja) reveals that the child (Anwar) has witnessed the murder.
"I am too sure that little one (E podi eka) might have seen the murder. That little one might have told about this to everyone." She delivered these lines to her husband Weerasinghe.
Weerasinghe (Ravindra) does not utter even a single word but keeps on smoking his cigarette. Perhaps you might agree with me on the point that dialogues fail to convey the emotions and feelings that depict through his face. In another sequence of that film, the child stumbles over the corpse of the man murdered by Weerasinghe. There can be seen worms coming out of every hole of the corpse. Finally this unrelenting chase ends with Weerasinghe being penetrated with iron rods. The moods of the audience too oscillate between anger at Weerasinghe and sympathy of the child.
Dadayama
"Now fades the glimmering landscape on the sight. And all the air a solemn stillness holds. Jayanath's eyes flamed with anger as he saw Rathmali (Swarna) drenched with sweat and brimmed with hatred. She was like an iron woman standing alone with a pole in her hand. Again silence, no background music except for the sound of the car engine. Jayanath gunned the engine and began to move forward. Rathmali, with all her might and effort like an iron woman, gnashing her teeth, smashed the windscreen of the red-coloured moving car with her pole. Again silence, no background music except for the sound of the car engine. The whole audience is on the verge of climax.
"Through the cracks of the windscreen Jayanath glanced at Rathmali who got injured was lying on the ground. Rage and hatred in Jayanath's mind depicted through his face. His eyes reddened with rage were likely to jump out of his eye-sockets. Jayanath began to move forward like a monster. Hearts of the audience began to beat as fast as a bullet train. Oh Alas ! This heartless brutal Jayanath killed Rathmali by running over her in his car."
Ravindra Randeniya plays the main role of Jayanath in this film. And Swarna Mallawaarachchi plays the role of Rathmali. The film "Dadayama" directed by Vasantha Obeysekara in the year 1984 is regarded as a milestone of the Sihala Cinema. Suffice to say that Adeline Vitharana's tearful story has been engraved in our hearts as an unforgettable memory thanks to this film. It is because this film is based on the Adeline Vitharana's murder.
Winding back the clock to that vanished golden era, Ravindra told that Vasantha Obeysekara had warned him that people would spit on his face. "Obeyesekere warned me about taking this role: 'People may spit on you," The main reason for this is that the role of Jayanath can be viewed as one of the most heartless and cruel characters. It is significant to mention that In 1984 Ravindra Randeniya won the Sarasaviya Best Actor Award for his performances in the " Dadayama".
Advice for budding artistes
As one of the best character actors Ravindra Randeniya has engaged himself in the Sinhala Cinema for more than 40 years. The lessons we can learn from him are many.
"Acting is not a piece of cake at all. It is a complex and vast subject. Simply acting is the art of being consciously unconscious. That cannot be done by everyone. Those who are interested in the fields of Cinema and drama should not join this field to build up an image for themselves. As you perform well to do the maximum justice to the film, that image will build naturally."
Ravindra Randeniya said, "be conscious of your body, be sensitive to feelings, make observations and study your area well.
Obviously the films adorned with Ravindra Randeniya's versatility are many. For example "Re Manamali", "Maya", "Duhul Malak", "Tharanga", "Podi Malli", "Paramitha" and "Sandakada Pahana". He has won the Presidential film Awards for Podi Malli, Paramitha, Dadayama and the Sarasaviya awards for Dadayama, Maya, Sandakada Pahana, Siri Medura, Seilama, Bawa Duka. He has won "the Prathibha Prabha Lifetime" and U. W. Sumathipala Lifetime for his contribution to films. Actor Ravindra Randeniya is a man of talents who shines in the Sinhala Cinema.