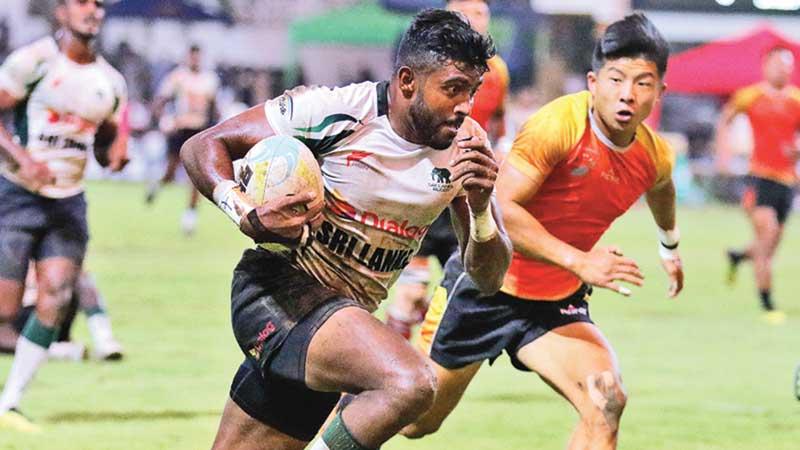 Last Sunday the Central Province Rugby Football Union had their AGM on zoom and the last year's committee was re-named, with only a committee member Major Kanishka Ambeyagala stepping down.
There are three Trinitians in the main posts, Pradeep Basnayake and Kavinda Jayasena, both Lion winners re-elected as President and Secretary along with Rifaz Rafeek the Treasurer.
The rest of the committee members are patrons Mohan Samarakoon, Edwin Viper Gunarthne, Nihal Viper Gunaratne, vice president Manjula Samarakoon with committee members Sarath Ranaweera, Suranga Dela, Thusitha de Silva, Milroy Mendis, Dr. Chamu de Silva, YMS Ratnayake, Anil Jayasinghe, Sarath Madugalle and Anura Mallawarachchi.
Pradeep Basnayake played for Trinity College in the years 1994 and 1995, and led Kandy SC and Sri Lanka He is a double International who represented the country in rugby and basketball.
He is a world rugby level II course holder who played for Kandy SC for ten years and many years for the country as a top class forward.
Kavinda Jayasena played for Trinity College for many years and later for Kandy SC, Havelock SC and Sri Lanka. He is an IRB commissioner and present overall manager of Trinity rugby.
The Central Province Rugby Football Union was established in 1992, with founder members Kandy SC, Dimbulla A & CC, Dickoya MCC and Peradeniya University. Clubs like OTSC, Kandy Youth SC were in the scene. Later they included clubs like Katugastota RFC, Mavilmada RFC, Matale RFC, Nuwara Eliya RFC and Pilimatala RFC.
By 2018 there were 18 clubs playing under CPRFU in the Up-Country league. Some 52 schools are engaged in the game.
In the early days Central Province Rugby Football Union had their own referees association in 2000 with almost 26 members enrolled, out of which there were eight 'A' Division panel referees.
In the good old days probably started during the leadership of Y.C. Chang, the practice was that the Central Province Rugby Football Union organized the Clifford Cup Knockout Tournament in Kandy in order to conduct a major trophy in the outstations to develop rugby in other provinces at grass root level. Unfortunately this has not been the case since 2010.
It must be recalled that in 2009 a Training Program was held for over 250 school players under the age of 15 years under the Sports Foundation sponsorship.
They underwent a rugby training clinic at Nittawela organized by the CPRFU. This was one of the biggest ever junior coaching camps conducted by the CPRFU. Those in charge of the program were the Rugby Development officers from the CPRFU.
The people who gave a big support for the CPRFU from its inspection were the late Lionel Almeida and the late Maurice Perera the man who scored an impressive first by sending the first ever women's team to participate in a tournament in Thailand.
Then there was the late Dr. Sarath Kapuwatta, Dharmasiri Madugalle, Iswan Omar, Hafiz Marikar, Lesley de Zoysa, Trevor Nugawella, Sarath Soysa, Ken Murray, Mohan Samarakoon, Edwin Viper Guanratne, Tuan Dole, Harin de Costa, Anil Jayasinghe, Senaka Alwathugama, Kumar Dias de Singhe, Sarath Madugalle, Nihal Viper Gunaratne, CPP Raj and Manjula Samarakoon to name a few.