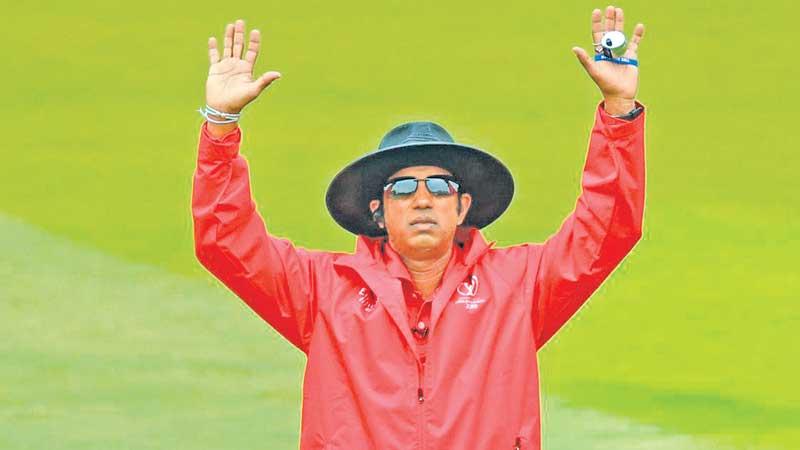 The postponed 42nd Observer-SLT Mobitel School Cricketers of the Year mega awards ceremony will be held on April 20.
The health authorities have given the green light to hold the Mega Show on April 20 and the organizers the Sunday Observer, together with the sponsors Sri Lanka Telecom Mobitel are finalizing all arrangements for the big day.
A high profile meeting was held at Lake House last Tuesday, attended by the officials of the ANCL and Sri Lanka Telecom Mobitel, together with the event organizers.
Meanwhile, former Observer Schoolboy Cricketer main Award winner turned ICC Elite Panel umpire Kumara Dharmasena is about to complete a great milestone in his distinguish career, this time as an international umpire.
The former Sri Lanka Test all-rounder, who will celebrate his 50th birthday next month (on April 24), needs to stand in only six more matches as an ICC elite panel umpire to complete the rare milestone of 200 Internationals. So far, he has officiated in 67 Tests, 105 ODIs and 22 T20s to combine 194 internationals as an ICC elite panel umpire.
He will get a golden opportunity to extend this by two more Tests when Bangladesh tour here next month. In fact, Dharmasena will be umpiring the third day of the first Test against Bangladesh on his 50th birthday.
In his last interview with the Sunday Observer, Dharmasena said he was looking forward to that milestone as an international umpire. "I do not have too many future plans as we are getting older. I take it year by year. Everything came to a standstill last year due to the Covid-19 pandemic but now catching up slowly. The ICC recognizes my work and I am happy with it", he said.
After he retired from international cricket in November 2006, Dharmasena took to umpiring. Three years after his retirement as a player, he made his international debut as an umpire in 2009, officiating in an ODI between India and Sri Lanka at Dambulla, Thus, Dharmasena became the youngest ever Sri Lankan to umpire in any form of international cricket.
He stood at the 2011 ICC World Cup and in the same year, he had the honour of being appointed to the ICC's Elite Panel of Umpires.
The greatest moment in his career as an international umpire came in 2012 when he was adjudged the ICC's Umpire of the Year to receive the David Shepherd Trophy.
Dharmasena achieved another first when he officiated at the 2015 ICC World Cup tournament as he was called up to umpire the final. Thus Dharmasena became the first person as both a player and umpire in an ICC World Cup final after he played a notable role in Sri Lanka's World Cup triumph as a member of Arjuna Ranatunga's invincible team of 1996.
According to Dharmasena, the Observer Schoolboy Cricketer of the Year title he won in 1989 inspired him to excel in the international arena. "That was one of the greatest moments in my cricket career. It was a big inspiration for me to win the Observer Schoolboy Cricketer of the Year title. It helped and encouraged me to work hard to win my Sri Lanka cap in next to no time," he said.
Dharmasena believes that winning a major award such as Observer Schoolboy Cricketer of the Year gives a great confidence for a schoolboy cricketer to go places.
"It would definitely make young schoolboy cricketers more determined to reach the top. It gives tremendous confidence for any cricketer searching for success in the big league", he said.
Dharmasena feels that outstanding cricketers with exceptional performances and milestones are hard to find nowadays, compared to his era. He feels that could be the reason that has prevented schoolboy cricketers marching directly to the Sri Lanka team.
"In recent times we have not seen schoolboys directly marching to the national team, unlike our playing days," he said.
He is of the view that the present day challenge for schoolboy cricketers is greater in their future careers and as a result, only a few outstanding cricketers would remain in the game once they leave school.
"I was lucky to seek direct employment at Hatton National Bank (HNB) when I finished my school career at Nalanda. The HNB offered me employment and gave all the support to pursue my career as a club cricketer and then as an international cricketer. But present day schoolboy cricketers hardly get that sort of support", he added.
Born on April 24, 1971 in Colombo, Hadunnettige Deepthi Priyantha Kumara Dharmasena is one of the best all-rounders produced by Nalanda. He had four memorable First X1 school seasons for the Campbell Place school.
Dharmasena narrowly missed the chance of becoming the first to win the Observer Schoolboy Cricketer on four successive years.
Apart from winning the prestigious title in 1989, he had been adjudged runner-up thrice to Sanjeewa Ranatunga of Ananda College in 1988, Marvan Atapattu also of Ananda College in 1990 and to Muttiah Muralitharan of St. Anthony's College, Katugastota in 1991. It was a proud record which is hard to shatter.
Having ended his school career, Dharmasena became a permanent member of Bloomfield Cricket and Athletic Club in the domestic inter-club Premier league season. Merely three years after winning the Observer Schoolboy Cricketer of the Year title, young Dharmasena made his Test debut in Sri Lanka's second Test against South Africa at the SSC ground in September, 1993.
He made his Sri Lanka ODI debut on August 24, 1994 in the fifth ODI against Pakistan at the Premadasa Stadium capturing 2 for 34 off nine overs. He has aggregated 868 runs in 31 Tests with three half centuries and captured 69 wickets with 6 for 72 as his best innings analysis. Dharmasena represented Sri Lanka in 141 ODIs, aggregating 1,222 runs with four half centuries.
Dharmasena has captured 138 wickets in ODIs with his of breaks, delivered with a slightly unorthodox action that had been a blessing to the Sri Lankan team in many ODIs.
He is better known for his inspiring acts as a team man, motivating his fellow players even at difficult times. Hence, he was nicknamed 'Unanduwa' by his teammates.
"If you don't enjoy the game and don't dedicate yourself towards it, you won't be successful. Believe in yourself, work hard with dedication and you will find success", was his advice to the emerging schoolboy cricketers who keep dreaming of a Sri Lanka cap.
Meanwhile, the much looked forward to key matches of the 2020/21 inter-school season is now on, followed by the Sri Lanka Schools Cricket Association (SLSCA) conducted one-day limited over tournament matches. Simultaneously, the contest for the 43rd Observer-Mobitel Most Popular School Cricketer titles would turn out to be a keen tussle.
Voting coupons for 2021 will soon be published in the Lake House national newspapers - Sunday Observer, Daily News, Dinamina and Thinakaran. The Observer-SLT Mobitel School Cricketer of the Year Mega Show is sponsored by SLT Mobitel.
Meanwhile, the first ever Mustangs trophy Royal-Thomian T20 limited over cricket encounter will be played at the Mahinda Rajapaksa International Cricket Stadium (MRICS) in Sooriyawewa, Hambantota on May 10.
Though the Royal-Thomian cricket history goes back to 1879, this will be the first time the two teams are meeting in a T20 day-night match commencing at 7 pm on May 10.
The Battle of the Blues three-day encounter between Royal and S. Thomas' will be played at the MRICS prior to the T20 game on May 6, 7 and 8.
The Observer-Mobitel School Cricketers of the Year 2021 will be launched shortly with the commencement of the inter-school matches from this week.
The Sri Lanka Schools Cricket Association (SLSCA) will confine its current tournament matches to one-day games. A team will get up to a maximum eight tournament matches including five in the qualifying round league. The final round matches will be from the quarter final knockout stage.
Chairman of Sri Lanka Telecom and SLT Mobitel, Rohan Fernando has always promoted sports activities in Sri Lanka and also given every possible assistance to the Mega Show which will march forward with more power and strength.
SLT Mobitel is sponsoring the show for the 14th successive year at a time when the company is heading towards new horizons under the dynamic leadership of Fernando, the former Thomian ace rower.
The management of Lake House has strongly backed the Mega Show.
Its Chairman, W. Dayaratne PC and the team of Board of Directors – Dharma Sri Kariyawasam (Editorial), Rakhitha Abeygunawardhana (Legal and Administration), Janaka Ranatunga (Finance) and Canishka Witharana (Operations) have always been a tower of strength to take the Observer-Mobitel School Cricketers of the Year forward.