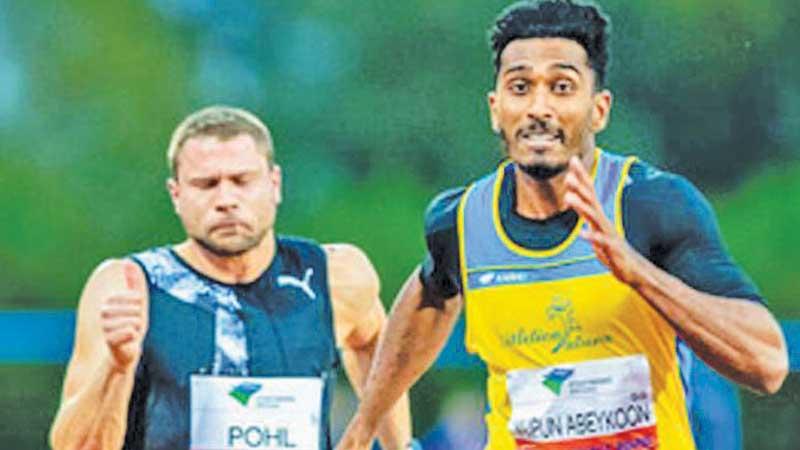 Sri Lanka's fastest man Yupun Abeykoon finished his Indoor athletic series with the Poland Orlan Cup Athletic Championship last week as he ended in fourth place in the final meet that gave him ample exposure in the event.
Abeykoon was fortunate to have run along with leading runners in the 60m event. There were Michael Rodgers from the USA and Jacob Marshall from Italy who are among the best in the world.
Abeykoon finished the race in 6.66 seconds which was equal to the third finisher while Rodgers finished in 6.52 seconds.
Abeykoon was also able to set a new Sri Lanka record in the event with 6.59 seconds. This shattered his own record of 6.78 seconds set in 2017.
The 26-year-old athlete Abeykoon came to the limelight last year after setting a new National and South Asian record in the 100m at an International meet held in Dassau, Germany.
His time of 10.16 seconds bettered the previous record of 10.22 seconds held by Himasha Eshan in 2016.
Abeykoon who is based in Italy since 2015 is endeavouring to enhance his timing so that he can qualify for the Olympics and is currently training under Raparelli and Licciardello in Italy.
Abeykoon represented Sri Lanka at the South Asian Junior Championship in 2013 held in Ranchi and was in the 4x100m relay team at the World Military Games in 2015 that won a bronze medal.
His last appearance for Sri Lanka was in the South Asian Games when he anchored the 4x100m relay team that won the gold medal.