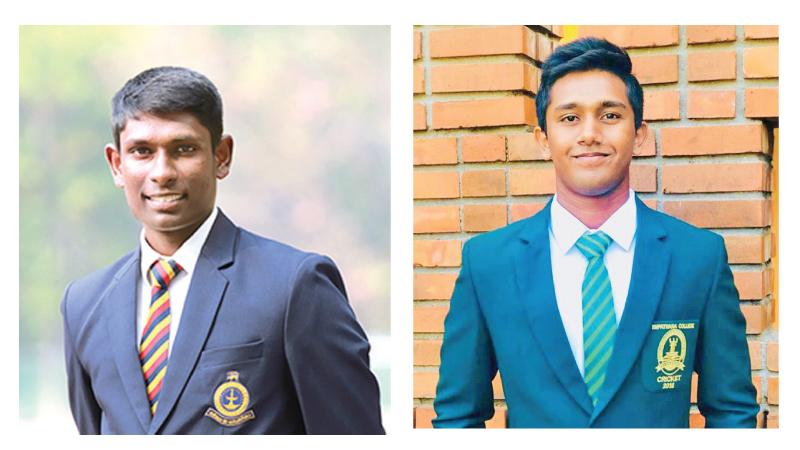 Thurstan College hold a slight edge over Isipathana College when they pad up for the 57th Battle of the Brothers' big match at the SSC ground at Maitland Place on February 28 and 29.
This annual encounter has seen 27 consecutive draws and with the hope of breaking this hoodoo has decided to limit the first innings to 60 overs per side two years ago. The decision brought in good results last year when Thurstan College won the game in a thriller and hope to repeat it this year too..
This season Thurstan has played 13 matches from which they have recorded three outright wins, six first innings wins and had to settle with four draws. On the other hand Isipathana has completed 15 matches too and was able to gain only a single outright win and six first innings wins.
Jayavihan Mahavithane leads Thurstan while Isipathana is led by Leshan Amarasinghe. Both these players have taken part in last year's battle too and are hoping to display their best talents on the field.
Mahavithana said his team is packed with a strong frontline batting unit and a good set bowlers to deliver the goods for him to repeat last year's achievement.
Amarasinghe the Isipathana captain said that last year they fared badly but have learnt from the mistakes and prepared to face Thurstan well this time to offer a big challenge.
He said the batting is in fine form and expect to do well while the bowlers too have done well this season.
Thurstan are the hosts this year and the match is sponsored by HNB Finance and Dialog Axiata.
Squads:
Thurstan: Jayavihan Mahavithane, (Captain), Bawamtha Jayasinghe, Binura Ranatunga, Lohan Liyanage, Navinda Fernando, Dhananjaya Prasad, Prasanna Pushpakumara, Punhila Kumara, Thineth Prabudda, Vihanga Jayanama, Avishka Kaushalya, Ranesh Silva, Samith Nardina, Hirudith Hemachandra, Nipun Kadirana and Vihas Thewmika
Isipathana: Leshan Amarasinghe (Captain), Dinet Dissanayake, Gagana Chalangan, Isuru Sandamal, Kavindu Amantha, Lisuru Veenath, Lomitha Ravindith, Mandeepa Bimal, M Nevindu, Ravindu Ratnayake, Saveen Dantha, Savinda Sithsar, Sithira, Sithuka Gunewardena, Thevinda Dikwella