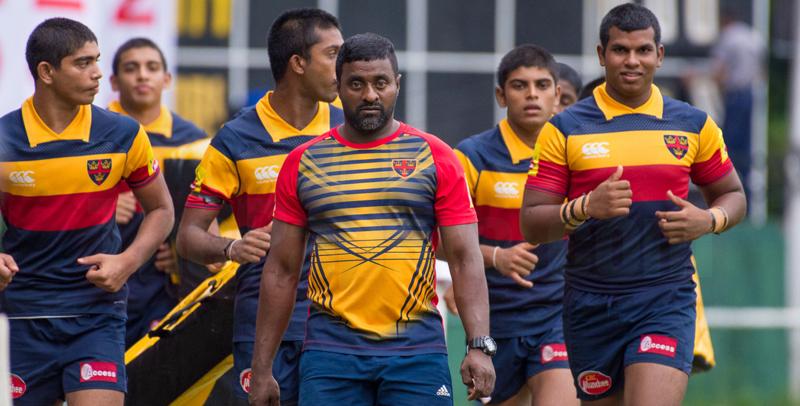 The entire Committee of Trinity College's policy making Old Trinitians Rugby Scrummage (OTRS) has tendered its resignation apparently realizing that the school's once famed rugby team was in the doldrums and not playing up to the expectations of their adoring followers.
The resignations coincide with the current showing of the team which just managed to hang on to a slot in the second round of the inter-school League tournament.
The resigned OTRS Committee comprised Dharshana Munasinghe (chairman), Asanka Ranhotty (secretary), Tyrone Smith (vice chairman), Hemanga Karunasena (vice chairman), S. Inoch (treasurer) and Rohan Abayakoon (Immediate Past Chairman).
According to the resigned Committee they implemented a structure at Trinity where the coaches at all age levels were accountable to a Technical Committee while enlisting an overseas recruit Niel Foote as the Director Rugby.
A spokesman for the outgoing Committee said that under Niel Foote it implemented a project for Under-10 players and the sustainable plan produced quality rugby exponents with good basic skills for the senior team which propelled Trinity to win four Bradby Shields in a row among other achievements.
He said the Committee also enticed sponsors to meet expenses connected to coaching, nutrients, equipment and medical needs, but subsequently it realized the sustainable plan collapsed since 2016 resulting in Trinity having a disastrous two years by their own standards. In their letter of resignation the Committee has conveyed to Trinity College principal Andrew Fowler-Watt that there was plenty of time left for the school to restart and put the sport on the right path ahead of the 2019 season and that a replacement Committee would hopefully be able to provide the "desired results".
"The progress of rugby at Trinity has not been up to the expectations of many for which OTRS is partly accountable. We reiterate that the decision to abrogate from duties was taken in the best interest of rugby at Trinity and its wider fraternity who believe that there are many eminent Trinitians who could contribute better towards the school by being part of a new OTRS Committee", the letter of resignation stated.
Trinity is one of the oldest, and at one time arguably the most colourful team, to grace the schools arena. But with rival schools coming to the party, Trinity rugby lost its gloss in recent years which the resigned Committee took stock of.
"Most private schools around the world are associated with a particular brand. With a rich rugby history of 114 years, Trinity is synonymous with rugby. While Trinity will always be looked at as an all-round school, its brand would undoubtedly be rugby.
"As such, the school must attract the best rugby talent in the country irrespective of geographical limitations. In a fast evolving world, we must adopt to change and do its utmost to protect our brand", the Committee has emphasized in the letter to Fowler-Watt.