The much looked forward to Rugby World Cup also known as the Webb Ellis Cup arrived in the host country France this week ahead of the opening ceremony with the showpiece scheduled to kick off on September 9.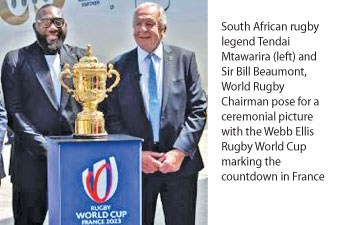 The prized Trophy was brought to the French capital by Emirates airline which is the official airline and as many as 10 cities in France will host the matches.
France, Italy, Namibia, New Zealand, Uruguay, Ireland, Romania, Scotland, South Africa, Tonga, Australia, Fiji, Georgia, Portugal, Wales, Argentina, Chile, England, Japan and Samoa are in the fray with South Africa as the defending champions.
On touchdown in the host country, South African rugby legend, Tendai Mtawarira who was part of the winning team at Rugby World Cup 2019, handed over the Webb Ellis Cup to Jacques Rivoal, President of the France 2023 Organising Committee in the presence of Sir Bill Beaumont, World Rugby Chairman and Cedric Renard, Emirates Country Manager in France.
Boutros Boutros, Emirates' Divisional Senior Vice President, Corporate Communications, Marketing and Brand, said: "As the Official Airline and Worldwide Partner of Rugby World Cup 2023 we are very proud to pass the coveted Webb Ellis Cup to the host nation and officially kick start the countdown to one of the most followed and anticipated rugby tournaments in the world.
Rugby truly brings communities together and we look forward to connecting with fans from all over the world."
France will confront New Zealand in the opening match.