Elangana Fernando, aged 12, the youngest daughter of C.P.S. Rohana Fernando, seeks financial assistance to treat and manage his daughter's kidney disease.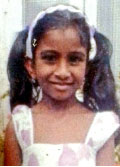 She is at high risk with one kidney completely defunct and complications with the other. The child has already undergone three surgeries on account of her medical condition. She has been a patient at the Children's Hospital, Colombo.
Her father resides at No 242, Katubedda Moratuwa, Tel. 9774870821.
He requests those who wish to help support her daughter's recovery. His People's Bank Account No is 091200152809132.