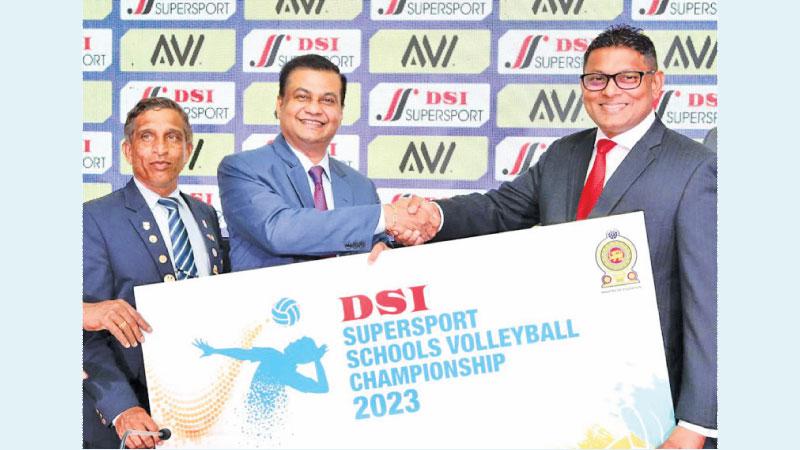 The 21st DSI Supersport Schools Volleyball Championship in association with the Sri Lanka Volleyball Federation and the Schools Volleyball Federation is set to get underway from May at district level. These matches are scheduled to be completed before June 20.
Matches will be contested in the U-13 to U-19 categories.
This year the organizers have decided to play the national level matches at the Sugathadasa indoor stadium.
Speaking at a briefing president of the Volleyball Federation Kanchana Jayaratne said that DSI has played a major role in promoting the national sport from grass root level.
"We all Sri Lankans should pay our gratitude to sponsors DSI Supersport for playing a major role helping the national sport for over two decades," said Jayaratne.
Thusitha Rajapakse Managing Director of D. Samson & Sons speaking said that it is a great pleasure to be involved with the national sport.
"Volleyball being a sport that can be played within a small space is an ideal sport that can be promoted from grass root level. That is the main reason our organization got involved with it and it had brought the best results for us to be happy.
"As such our organization hopes to continue our sponsorship with the sole intention of promoting the national sport to reach international heights," said Rajapakse
The Championship which began in 1999 saw only 198 teams in action but the enthusiasm and interest shown by school heads and sports masters helped to increase the number of teams year after year and according to the present organisers they expect the number to reach a record number of teams to go past 5000 mark.
Winners of these matches qualify for the provincial matches that are to be completed by August 23. The finals of all matches are scheduled to be worked off on September 23 and 24 at the Sugathadasa stadium
Entries for the tournament could be handed over to any DSI showroom in the country before April 25. Applications can also be posted to the Marketing Department at No. 257, High Level Road Navinna, Maharagama.