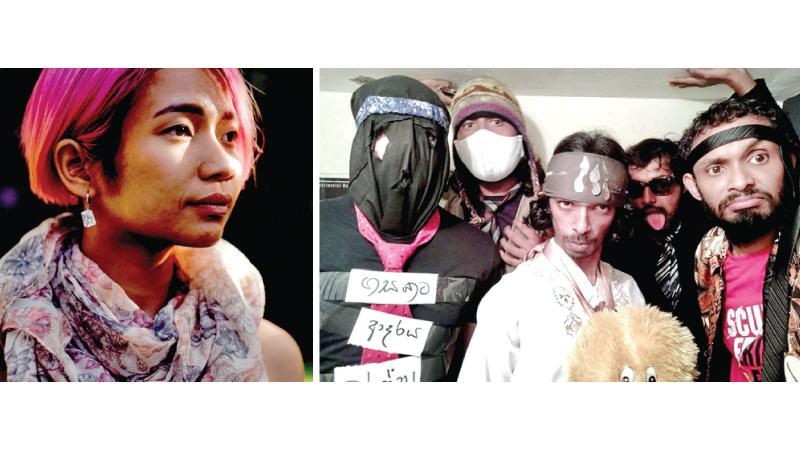 Things got extremely groovy on Wednesday, March 8, when Orange Mango took the stage at the Goethe Institut's Thattu Pattu musical evening. Thattu Pattu is a music project by the Goethe Instiut to promote fringe genres of music in Sri Lanka. The project had previously featured experimental musicians Serendib Sorcerers and underground artistes like OJ Da Tamil Rapper and Bo Sekid, among others.
Last Wednesday's Thattu Pattu featured Kai Wattanabe, a Sri Lankan-Japanese improvisational sound artist based in Berlin. Kai Wattanabe uses a number of instruments and objects to create audio sculptures mimicking the natural world. Her musical arsenal were a Ukulele, Kalimba, bells, seed pods, flute, harmonica, tambourine, microphone, FX pedals and a glass of water.
Her first rendition took us through a tropical rainforest alive with the chirping birds and then she plunged us into the depths of the sea where we heard a pod of whales. With just strum and a flick she puts her FX gadgets into their loops and phases; playing with the sound waves she shifts moods from magic to mystery.
It was Orange Mango's first show of the year and definitely not the last seeing as the new band has gained quite the following in a short time. Orange Mango is made of Sarani Perera (Music Matters, Owltreeo and the Soul) on Guitar, Sithija Dilshan (Owltreeo and The Slipping Chairs) on drums, Riyal Riffai (Paranoid Earthling and Dot Dotay) on Bass, Uvindu Perera (Music Matters and The Soul) on Bass and Vocals and Dinelka Liyanage (Gum Gum and No Deal) on Keys and Vocals.
I had the opportunity to meet the band before the show and watch them do their sound testing. Alongside the horseplay, Orange Mango's chemistry was great and this synergy was carried into their performance. The band kicked off with their now popular 'Tharunyata Adala Naha Thaley' punctuated with high pitched howls and barking. The crowd got really pumped up with 'Mama Issek' a song sung from the point of view of a shrimp, followed by 'Dabala', 'Mama Diya Bubulak' and 'Gathawana Kalaya'. Orange Mango's aesthetics and experimental sound is tinged with noticeable influences such as Electro Pop, Noise Rock, Post-Grunge, Funk, Scat Jazz and Baila.
While their lyrics sound idiomatic at times, Orange Mango has a profound social message and a careful listener will be able to hear the turmoil and confusion of modern life in those insipid chants. In terms of entertainment, they are a unique band that can work up a crowd of adults to dance like kindergartners.