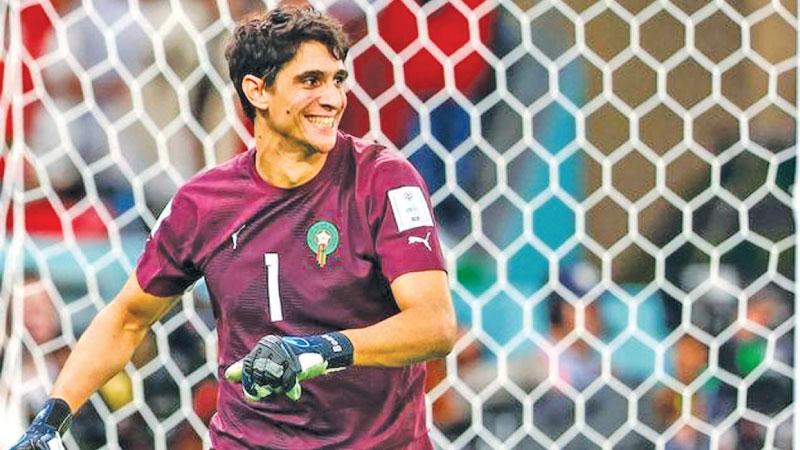 It's not every day that you displace a global icon. His name also seems to denote his flair for the dramatic, something he has proved time and time again during his foot career. Then again, not everyone is like Moroccan goalkeeper Yassine Bounou who has been one of the breakout stars of the 2022 World Cup in Qatar.
Bounou is a Moroccan professional footballer who plays as a goalkeeper for the Morocco national team and La Liga club Sevilla. The 6-foot-5 shot-stopper, better known by his footballing moniker, Bono, thrust himself into the global sports consciousness after holding Spain scoreless in the Atlas Lions' penalty shootout win in the Round of 16 of the FIFA 2022 World Cup.
Bounou pulled out each and every trick in his toolbox against Spain, hurling verbal jabs at Spain's players as they walked up to the penalty spot. That's the advantage of being able to speak the same language as your opposition.
He backed it up in the next match against Portugal, keeping a clean sheet as the Atlas Lions won 1-0 to progress to the semifinals, the first time an African side had advanced that far in the tournament. They couldn't continue their stunning run past the semis after a 2-0 loss to France, but Morocco and its goalkeeper earned a place in the heart of fans worldwide.
Nickname "Bono"
He first nabbing the Zamora Trophy as La Liga's top goalkeeper, then following it up by becoming one of the Atlas Lions many heroes. Bono became, for a fleeting moment, the most famous Bono on the face of the planet. That's a pretty impressive accomplishment, particularly when your competition is the frontman of a band that has sold over 170 million records worldwide.
Bono's game has done plenty of talking in the last year's World Cup; matched up against 2018 World Cup finalists Croatia, Canada, Spain and Portugal, Bono did not allow a single opposing attacker to find the back of the net up until the semis against France. The only goal he has conceded came from the foot of one of his defenders.
Still, it's that four-letter name that sticks out to so many. Here's the back story behind why Bounou opts to go by Bono on the football pitch.
The winding road has always been the journey Bono has most preferred over the course of his footballing career. Morocco's spindly No. 1 was born Bounou was born in Montreal, Quebec on April 5, 1991 to Moroccan parents. His family moved to Casablanca when he was three, settig the stage for his whirlwind playing career.
He spent most of his senior career in Spain, making over 100 La Liga appearances for Girona and Sevilla, and 56 in the Segunda Division for Zaragoza and Girona. He won the UEFA Europa League with Sevilla in 2020.
Early Career
His father is originally from the region of Taounate. He began playing in the streets as a child. Bono joined Moroccan side Wydad Athletic Club Casablanca as an eight-year-old in 1999 and ended up making 11 appearances for the club before taking his talents to Spanish giants Atletico Madrid.
He liked to play using his feet, but due to his height it was later suggested he become a goalkeeper; a challenge he accepted. His goalkeeping idols were Gianluigi Buffon and Edwin van der Sar. His parents initially had mixed feelings regarding their son spending so much time playing football, but they later became more supportive as his talent became more evident.
At 17 years old, his goalkeeping skills were spotted by a scout from OGC Nice, and he signed with the club; however due to bureaucratic problems he ended up not playing for Nice, and he returned to Wydad AC. In 2011, he made his senior debut in the club, after having been promoted to the first-team a year earlier.
International Career
Bounou has been a full international for Morocco since 2013. Having previously played for the under-23 team at the London 2012 Summer Olympics, he has represented his nation at two FIFA World Cup and three Africa Cup of Nations tournaments.
Bounou was eligible to represent Canada or Morocco, but opted to represent the latter, appearing with the under-20 team at the 2012 Toulon Tournament, playing in one match during the competition.
In an interview, Bounou said that he had been contacted by the manager of the Canada national team, Benito Floro, but that this ultimately did not materialise. Moreover, he said to the interviewer that he grew up in Morocco, and deep down dreamed of representing the Moroccan national team.
On August 14, 2013, Bounou was called up to the main squad for a friendly match against Burkina Faso. He made his debut in the following day, playing the entire second half of an eventual 1-2 defeat in Tangier.
In May 2018, Bounou was named in Morocco's 23-man squad for the World Cup in Russia. At the 2019 Africa Cup of Nations in Egypt he was first choice for Herve Renard's team, keeping clean sheets in 1-0 wins over Namibia and the Ivory Coast to qualify for the last 16.
Bounou was also called up for the 2021 Africa Cup of Nations in Cameroon. At the tournament, he made headlines for his defence of Arabic and refusal to speak to the press in French or English; a jab at the African Nations Cup for not having hired a single Arabic translator.
On November 10, 2022, Bounou was named in Morocco's 26-man squad for the 2022 FIFA World Cup in Qatar. He made two saves during the round of 16 penalty shoot-out against Spain, leading to Morocco qualifying for the quarter-finals for the first time in their history, where they won 1–0 against Portugal, becoming the first African team to reach the semi-finals.
He kept three clean sheets, joint best with Jordan Pickford of England and Emiliano Martínez of winners Argentina; he was the first African to reach three clean sheets at a World Cup. His international career record: Morocco Under 20 – 4 appearances in 2011 – 2012; Morocco Under 23 – 4 appearances in 2011 – 2012; Morocco – 52 appearances in 2013 – 2023.
His international appearances for Morocco national team at present is 52 and spread for a decade: 2013 – 1; 2014 – 0; 2015 – 3; 2016 – 2; 2017 – 2; 2018 – 4; 2019 – 10; 2020 – 4; 2021 – 8; 2022 – 18.
Morocco's Smiling Hero
The Moroccan national team was in the semifinals of the World Cup – a first for both African and Arab countries. Pundits have been unanimous in their analysis: The Atlas Lions have advanced this far because of their stellar defending. The football team has conceded just one goal in the tournament – an own goal against Canada.
A compact 4-1-4-1 defensive bloc has squeezed out any space that could be found between the lines in midfield and defence.The only thing more frustrating for their opponents than their impermeable defending is glancing over at Morocco goalkeeper Yassine Bounou and realizing that he is smiling through it all.
Take the tense shootout in the last 16 against Spain, for example. The 31-year-old was photographed shooting a toothy grin, while mid-air, at Sergio Busquets before successfully parrying Spain's third penalty kick.
It was one of about a dozen wry smiles he shot the Spanish and Portuguese players throughout the knockout stages."If he's not smiling, there's a problem," Christophe Revel, Bounou's former goalkeeping coach for the Moroccan national team, revealed to Radio France International.
In most of his sit-down interviews, the goalkeeper sits back cross-legged and thoroughly thinks through his answers before responding pensively. If he weren't a footballer, it is very easy to imagine him with a career in academia.
But Bounou's laid-back attitude does not come from a place of arrogance. Rather, his serene personality originates from being exposed to high-pressure situations early in his career.
After joining Wydad AC, Bounou quickly rose up the ranks of Morocco's most successful football club. Still, nothing could have prepared him for his eventual professional debut, which came in the second leg of the 2011 African Champions League final against Tunisian giants, Esperance Sportive de Tunis.
"It was difficult for that to be my first match. I felt like if the game went poorly, my career could have gone one way, and if I did well, it would have gone the other way," he told Moroccan TV channel M24TV prior to the World Cup.
He pulled off a string of saves but was beaten by a world-class effort from Ghanaian fullback Harrison Afful. Despite the result, his performance on the night caught the eye of Atletico Madrid scouts who offered him a contract to play for Los Colchoneros.
The Madrid club initially proposed a salary less than what he was getting at Wydad and they were also clear he would play third fiddle to Thibaut Courtois and Jan Oblak. Proving his ambition, Bounou jumped on the opportunity.
Predictably, Bounou needed successive loan spells to second-division club Real Zaragoza and then a horizontal move to Girona FC to earn game time. His toils in the second division were happily punctuated with Girona's promotion to La Liga, which eventually earned him a move to one of Spain's biggest clubs, Sevilla FC. He has blossomed into a world-class keeper ever since.
During the 2021-2022 Liga season, Bounou posted a save percentage of almost 78 percent, which was the sixth-best in Europe. Throughout 2021, he also kept more clean sheets than any goalkeeper in Europe when counting matches for club and country – 32 in 59 matches.
"He's a top keeper," Revel said. "He's mastered one-on-ones, he quickly goes to the ground, he has great feet and he can read the aerial game well, too. Most importantly, he is cold-blooded … if he had been the goalkeeper for Belgium or England, he would be a star, but Morocco is not the most followed nation."
Off of the pitch, the relaxed net-minder has learned to become more of a leader. At Sevilla, he plays a "big brother" role for the two other Moroccan internationals at the club: Youssef En-Nesyri and Munir El Haddadi.
His relationship with the former is particularly strong, to the point that when he received his player-of-the-match award in the World Cup quarterfinal win over Portugal, Bounou turned right around and dedicated the trophy to En-Nesyri.
As a public figure, Bounou has also demonstrated that he understands that it is now paramount to be careful of his public image."We have a responsibility to play well, but also be aware that we represent Morocco abroad and the people we meet view us that way," he added in the interview with M24TV.
Club Atletico Madrid
On June 14, 2012, Bounou moved to La Liga club Atletico Madrid, being initially assigned to the reserves in Segunda División. He appeared regularly for the team on the bench as a third keeper, and signed a new four-year deal on May 31, 2013.
In the summer of 2014, after profiting from Thibaut Courtois and Daniel Aranzubia's departures, he was definitively promoted to the main squad. He made his first-team debut on July 24, 2014, in a 1–0 pre-season friendly win against Numancia.
Club Real Zaragoza
On September 1, 2014, Bounou was loaned to the Segunda Division's Real Zaragoza, in a season-long deal. Kept out by Oscar Whalley for the first half of the campaign, he made his debut the following January 11, in a 5–3 loss at UD Las Palmas, and finished the season with 16 appearances.
In the play-offs, after Whalley's performance led to a 0–3 home loss to Girona FC in the first leg, Bounou replaced him in the second for a 4–1 win and advancement on away goals, Zaragoza lost the final by the same rule to UD Las Palmas. On July 23, 2015, he returned to the Aragonese side, again in a one-year loan deal.
Club Girona
On July 12, 2016, Bounou signed a permanent two-year contract with fellow league team Girona. He played exactly half of games in his first season – sharing with Rene Roman – as they were promoted in second place. In January 2019, now first choice at the top-flight club, he extended his contract until June 2021.
Club Sevilla
On September 2, 2019, after suffering relegation with the Catalans, Bounou joined Sevilla in the top tier, on loan for one year. Second-choice to Tomas Vaclík in the league season, he played regularly in the domestic cup and as the side won the 2019–20 UEFA Europa League, earning plaudits for his performance against Wolverhampton Wanderers in the quarter-finals as he saved a penalty from Raul Jimenez to earn a 1–0 win, also in the 2–1 semi-final win over Manchester United, and eventually his decisive save of Romelu Lukaku's one-on-one strike, to win the final 3–2 against Inter Milan.
On September 4, 2020, Bounou signed a permanent four-year contract with the Andalusians. The following March 21, in the last minute of a match against Real Valladolid, he scored his first goal as a professional goalkeeper to secure a 1–1 draw.
In the year 2021, Bounou kept 32 clean sheets in 59 games for club and country, the most for any goalkeeper in Europe's top five leagues. Second place was Ederson of Manchester City and Brazil, with 30 in 59.
On February 27, 2022, Bonou assisted a goal by international teammate Munir El Haddadi in a 2–1 win over Real Betis in the Seville derby, With this pass, Bono reached his fourth contribution with Seville (three passes and a goal). In April, his contract was extended by one year to 2025.
His senior career statistics at club level include: Wydad AC – 11 appearances in 2010 – 2012; Athletico Madrid B – 47 appearances in 2012 – 2014; Athletico Madrid in 2014 – 2016; Zaragosa (loan) – 35 appearances in 2014 – 2016; Girona – 83 appearances in 2016 – 2020; Sevilla (loan) – 6 appearances in 2019 – 2020; Sevilla – 82 appearances in 2020 – 2023.
Honours and Orders
The individual honours bestowed on him include: La Liga Zamora Trophy in 2021–22; UEFA Europa League Squad of the Season in 2019–20; La Liga Mid-Season African MVP in 2021–22; La Liga African MVP in 2021–22; La Liga Team of the Season in 2021–22; IFFHS Africa Team of The Year in 2022; Best Moroccan goalkeeper abroad in 2021–22.The orders conferred on him include Order of the Throne in 2022.
(The author is an Associate Professor, international scholar, winner of Presidential Awards and multiple National Accolades for Academic pursuits. He possesses a PhD, Mphil, and double MSc. His email is [email protected])