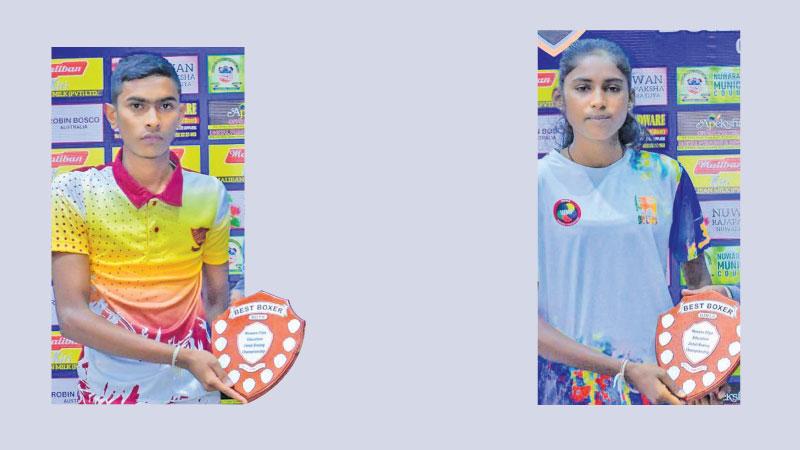 Sri Perakum Vidyalaya boys and girls emerged champions at the inaugural Nuwara Eliya Education Zonal Boxing Championship held at the Municipal Council Indoor Stadium in Nuwara Eliya.
Boxers from Sri Perakum, a type-2 school in Nuwara Eliya with a student population of barely over 100, dominated the competition winning five gold medals apiece.
It was a historic day for school boxing in Nuwara Eliya where the sport was introduced a couple of years ago by former Peradeniya MMV Stubbs Shield champion and international 3-star referee Susantha Weerasena.
An Assistant Director of Education in Nuwara Eliya, his untiring efforts to promote boxing have seen some 20 schools taking up the sport with enthusiasm resulting in the formation of the Nuwara Eliya Education Zonal Boxing Association and over 100 students participating in this inaugural competition.
Mayura Theekshana of Sri Perakum, a Year XI student, was adjudged the Best Boxer (boys) while Balakrishna Dilrukshini of Sumana National School received the Best Boxer (girls) award. A karate black belt, Dilrukshini is a member of the junior national pool in karate. DGS Wagisha of Gamini National College who lost a narrow decision to M Partheeban of Sri Perakum won the Best Loser (boy) prize while S Thakshila of Good Rest Convent who gave a plucky display against Dilrukshini was consoled with the Best Loser (girl) award.
Brian Sonali of Sri Perakum Vidyalaya created history last year when she won the gold medal on her debut at the LV Jayaweera meet. Sri Perakum boys won five golds, one silver and one bronze medal while the girls clinched give golds, one silver and two bronze medals.
"We started boxing in 2020 after it was introduced by Susantha Weerasena. We have very limited facilities. My O/L batch-mates donate gloves and punching bags. We are doing well in volleyball but we hope to go places in boxing," said Sri Perakum principal Lakmini Lasanthika who is their boxing coach as well.
A past pupil of Gamini NC where she excelled in badminton, table tennis and volleyball, Lasanthika is a dancing teacher with a degree in social science who has been on the Sri Perakum staff since 2010.
She is now passionate about boxing like most schools in Nuwara Eliya.
Sumana National School won a total of seven gold, seven silver and three bronze medals while boxers from Good Rest Convent, a type-C girls school, caught the eye winning a total of seven medals comprising one gold, three silver and three bronze medals.
"We are mad over boxing now thanks to Susantha Sir. We want to continue to aim for glory," said their school boxing coach Naluja Vijayaratnam, a teacher of history and social sciences at Good Rest.
---
Final results:

Boys:
(35-37kg): G Atchayan (Kotagala MV) bt R Gawtham (Sri Perakum V);
(39-41kg): M Thilukshan (Kotagala MV) bt D Dilshan (Sumana NS);
(44-46kg): A Trider (Kotagala MV) bt J Neshan (Dimbula TMV);
(46-48kg): C Godvin (Carlaback TV) bt EADR Roshminda (Sri Perakum V);
(44-46kg): RMM Theekshana (Sri Perakum V) bt Premkumara (Maddumabandara MV);
(48-50kg): M Partheeban (Sri Perakum V) bt DGS Wagisha (Gamini NC);
(52-54kg): M Rinath (Yathanside TMV) bt SMJ Adithya (Sumana NS);
(63-66kg): RMSR Lakshan (Gamini NC) bt M Kishor (Great Western MV);
(54-57kg): MRO Pasindu (Sumana NS) bt MFM Samri (Sri Vajiragnana MV);
---
Girls
(37-39kg): LMS Bandara (Sri Perakum V) bt K Harshmitha (Good Rest Convent);
(41-43kg): SMM Miloni (Sri Perakum V) bt PWD Sasmitha (Sumana NS);
(45-47kg): TSI Madushani (Siri Perakum V) bt R Kavihashini (Holy Trinity CC);
(63-67kg): Thirachelvam Vishwani (Kotagala MV) bt HM Nikini Nawodya (Sumana NS);
(37-39kg): V Soumiya (Sri Perakum V) bt S Dhamayanthi (Dimbula TMV);
(41-43kg): K Thilagesurary (Holy Trinity CC) bt N Varunitha (Nawalar);
(54-56kg): K Dhushanithi (Dimbula TMV) bt KTA Parami (Girls High School);
(48-50kg): S Gonamathi (Dimbula TMV) bt MT Liyanage (Girls High School);
(52-54kg): B Dilrukshini (Sumana NS) bt S Thakshila (Good Rest Convent);
---
Boys
(48-50kg): S Thilakshana (Holy Trinity CC) bt WAS Radhika (Siri Perakum V);
(33-35kg): Y Thilukshana (Kotagala TMV) bt R Rukshan (Dimbula MV);
(29-31kg): SMN Milan (Sri Perakum V) bt NGCD Dharmadasa (Dharmapala MV);
(33-35kg): YGR Thikshana (Sri Perakum V) bt S Krishan (Dimbula TMV);
(44-46kg): S Danush Kumar (Dimbula TMV) bt GHR Damsara (Sumana NS);
(57-60kg): DKK Nimash (Gamini NC) bt SM Sahil (Sumana NS);
(54-57kg): YM Perera (Maddumabandara V) bt MN Karunaratne (Siri Perakum V);
---
Girls
(37-39kg): UB Sonali (Siri Perakum V) bt TA Zainab (Good Rest Convent);
(44-46kg): LYV Damiluni (Sumana NS) bt AGI Satharani (Girls High School);
(54-57kg): R Vejini (Good Rest Convent) bt J Thivanija (Holy Trinity CC)