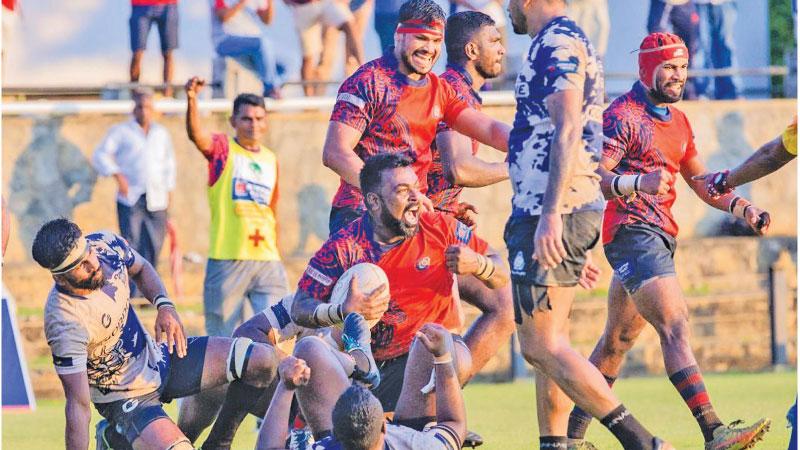 Pressure and tension that can come at a high profile rugby tournament was what brought out the best in CR and FC to lift the Clifford Cup after a lapse of 17 years last Sunday at the Race Course ground in Colombo.
"We were under a lot of pressure in the semi finals and I was pretty sure we were going to go through and win because that was the pressure point, the knock-out stage and we had never gotten to that stage in a long time," CR's play-maker Chathura Seneviratne told the Sunday Observer after the final against Navy that his team won 24-18.

He landed an unbelievable 57-metre penalty ten minutes before the end that put them into the lead 19-18 from where the Red Shirts scored a match winning try almost on the stroke of full time through a rolling maul with prop Lahiru Pavithra doing the honours.
Seneviratne recalled that the 23-20 semi final win over Police SC helped them overcome a situation that only a team determined to move on could do.
"That win took a lot of pressure off the team and gave us the opportunity to go out there and do our best in the final. That's all we asked everyone to do.
"When I saw the match-day morning newspapers it really motivated me. In our CR team we had two experienced players and one of them was my captain (Kavindu de Costa) and the rest were very young, even younger than me. This made me really want to lead from the front," said the 24-year old Seneviratne who first played for Kingswood College and graduated at St. Joseph's College where he perfected kicking to a higher level.
His bullet-like 57-metre penalty stunned everyone at the ground and none could have been more elated than De Costa.
"It was another pressure situation and we were trailing Navy 16-18 and my captain Kavindu de Costa came behind and said 'Chathu we trust you and you can do it. Goes over or not it is fine with me, so don't put yourself under undue pressure. Just take it as a normal kick'. His words meant a lot to me," Seneviratne recalled.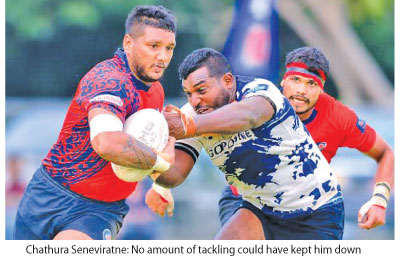 But the sensational goal-kicker said it was also a different story away from the playing field with the backstage team that comprised of CR's charismatic coach Dushanth Lewke.
"Our preparation was mainly due to the coaching staff on the fitness side and getting the combinations right. A person like head coach Dushanth Lewke, three-quarters coach Lasintha de Costa our captain Kavindu de Costa being with us and keeping that humour going in the dressing room gave us the confidence we required.
"That was also a huge part because stability of the team and the players' faith in the coaching staff were very important. Rugby is all about confidence," Seneviratne revealed.
Asked if he or CR and FC can now relax after a mission well accomplished, Seneviratne said his team will take nothing for granted.
"I really wanted to go out and show my potential. That has been inside me in rugby, but you cannot afford to relax and that's what I have learned right throughout my rugby career as a youngster.
"Personally the occasion was more special to me as I won this (Clifford) Cup in front of my beloved mother and wife. It will be a very special moment in my life," said Seneviratne whose place-kicking was largely shaped by former Sri Lanka full back Ajith Silva.