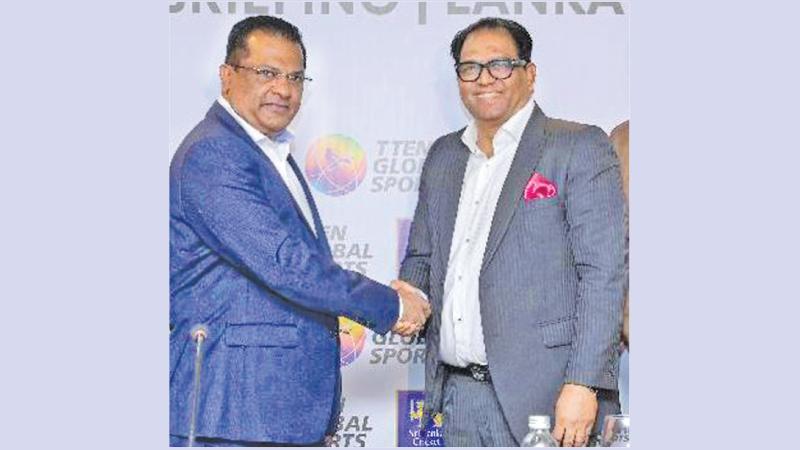 Sri Lanka's domestic cricket set-up is destined to reach another revenue-earning phase hot on the heels of the T20 LPL in the form a 10-over championship scheduled to get underway in June next year.
The details of the new tournament were revealed to the media by both Sri Lanka Cricket (SLC) and its partner T10 Global Sports last Sunday.
Six franchise teams will contest the tournament like in the LPL and the matches will be played at venues in Colombo, Hambantota and Pallekele.
Both SLC and T10 Global Sports believe the T10 format is the fastest growing segment in cricket that was started by Shaji Ul Mulk who is the chairman of the T10 League and originally launched as the Abu Dhabi T10 League in the United Arab Emirates 2017 and owned by T Ten Sports Management.
Players from Bangladesh, the West Indies, New Zealand, Afghanistan, England, Ireland, Pakistan, Sri Lanka, India, Australia and South Africa take part take part in the Abu Dhabi T10 League playing for various franchise teams.
The six teams to contest the Sri Lanka T10 League will have both local and foreign players like in the LPL and the teams will be named after the provinces.
Chris Gayle, Rashid Khan, Eoin Morgan, Andre Russel, Shane Watson, Brendon McCullum, Moen Ali, Chris Lyn and Suresh Raina are some of the players that kick-started the T10 championship in Abu Dhabi.
Sri Lanka Cricket president Shammi Silva said that the Lanka T10 League will not only attract overseas stars but also help the island to unearth more bright young talent to sustain the growth of the sport in the country besides raking in an income for development activities.
"Whatever we do we want to make sure that future cricketers benefit and we are able to get an income to further out development activities," said Silva at the launch held at the Cinnamon Lakeside in Colombo last Sunday.